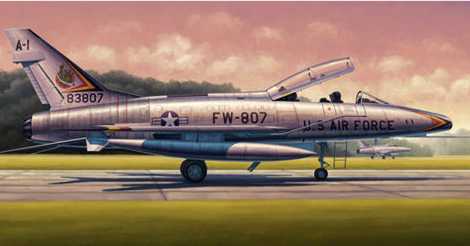 "Butcher Boy II," 510th FS, 405th FW, Takhli RTAB, 1962
F-100D Super Sabre flown by the U.S. Air Force Thunderbirds flight demonstration squadron in the mid-1960s
F-100D that flew with the 354th Tactical Fighter Wing's 352nd Tactical Fighter Squadron "Yellow Jackets" out of Myrtle Beach Air Force Base in the late 1950s
F-100D flown by the Arkansas Air National Guard's 188th Tactical Fighter Group in the 1970s
U.S. Air Force's 48th Tactical Fighter Wing when it was stationed at RAF Lakenheath, Suffolk, England, in 1963
"Thor's Hammer," an F-100D flown by the USAF's 309th Tactical Fighter Squadron, 31st Tactical Fighter Wing, when it was stationed at Tuy Hoa Air Base, South Vietnam, in 1970
F-100F Super Sabre flown by the "Misty" Fast FAC (Forward Air Controllers) detachment commanded by Major George "Bud" Day
The planes weapons included AIM 9B Sidewinder missiles, MK 82 bombs, BLU-27/B napalm and AGM-12 Bullpup air-to-ground missiles. Also the F-100 used a ALQ-31 ECM, Electronics Counter Measures, Active Electronics Jammer.
"Triple Zilch," 20th TFW, Wethersfield Essex, England, 1957
Triple Zilch - an F-100D flown by Col. Raymond Toliver, the commander of the 20th Tactical Fighter Wing, which was stationed at RAF Wethersfield, Essex, in 1957. This plane had markings, including the emblems of the 55th, 77th and 79th squadrons
455th TFW, Republic of China Air Force, 1977 an F-100A flown by the Republic of China Air Force (Taiwan) - the only air force other than the USAF to use the F-100A. This plane had 1977 markings of the 455th Tactical Fighter Wing stationed at Chiayi Air Base
Wing Commander Col. George Laven Jr., 479th TFW F-100A flown by Col. George Laven, Jr. - the 479th Tactical Fighter Wing commander who was a 5-victory P-38 Lightning ace with the 49th Fighter Group in World War II - stationed at George AFB in 1957
Lt. Col. Harold Comstock, 481st TFS, Tan Son Nhut, 1965
The first-ever 1/72 scale die cast F-100 Super Sabre. The "D" variant flown by Lt. Col. Harold "Bunny" Comstock - who achieved ace status in World War II flying a P-47 with the famed 56th Fighter Group and went on to command the 481st Tactical Fighter Squadron over Vietnam - stationed at Tan Son Nhut Air Base in 1965. This plane had markings, including skull nose art, mission markings, and seven iron cross kill symbols representing Comstock's WWII victories;
Maj. Don Schmenk, 31st Tactical Fighter Wing, Tuy Hoa, 1969
Mary Jane, a "D" variant of the F-100 Super Sabre flown by Major Don Schmenk - who flew 235 combat sorties - of the 308th Tactical Fighter Squadron, 31st Tactical Fighter Wing, stationed at Tuy Hoa, RVN, in 1969-70. This plane had markings, including "Mary Jane" (Schmenk's wife) and Sniffles the Mouse on the left nose and "Carol Ann" (crew chief's wife) on the right nose.