Survival Equipment - Survival Supplies
Real Sports Cars for Sale
The last updates on the museum listings were added 18 Jan 2011
Due to legal changes in Illinois, I will not be updating this list until further notice.
These museums change their information and locations very often.
Please try to contact the museum before you try to visit it, it may not be there anymore.
Carolinas Aviation Museum
The museum is located at Charlotte Douglas International Airport (4108 Airport Drive), Charlotte, NC 28208. Phone is (704) 385-4882.
Hours of operation:
Sunday: 1 PM - 5 PM
Monday-Friday: 10 AM - 4 PM
Saturday: 10 AM - 5 PM
The museum has three flying aircraft: Piedmont Airlines DC-3 and two OV-1Ds. In addition a three-place 1940's State Airline Bellanca 14-9L and a SNJ Texan are being restored to flying condition.
Static aircraft include the Wright Glider (full size replica), D558-1 Skystreak (1 of 3 built), KC-97 cockpit, OV-10 Bronco, F-101 Voodoo, F-102 Delta Dagger, A-7 Corsair II, A-4 Skyhawk, T-28 Trojan, F-84 Thunderjet, BT-17 Stearman, UH-1 Huey (two), HOS-3 Dragonfly, V_333 Skycat, T-2A Buckeye, CH-34 Choctaw, AH-1J Seacobra, CH-3E Jolly Green Giant, Kaman HOK-1, Gyrodyne QH-50 Dash, Midget Mustang, Regulas Missile, Honest John Missiles, Mercury Capsule (full size replica), and more. Presently total ~35 aircraft. Coming soon; F-4 Phantom (Currently being de-milled)
Updates thanks to Pat Carry
About 45 Aircraft
Dare County Regional Airport Museum
Dare County Regional Airport
410 Airport Rd.
Manteo, N.C. 27954
Phone 252-475-5570
http://www.co.dare.nc.us/airport/museum.htm
Located in the airport terminal
Info provided thanks to Tim Gaylord
About ? Aircraft
North Carolina Aviation Museum
Formerly called the Peddycord Foundation for Aircraft Conservation (PFAC)
2222-G Pilots View Road
Asheboro, NC. 27204
Phone 336-625-0170
Located at the Asheboro Airport just off of Hwy 49 west of the city
Info thanks to Pat Carry
About 11 Aircraft
The museum is named the Peddycord Foundation for Aircraft Conservation (PFAC) in honor of our founder, Mr.Jim Peddycord who was killed along with his son while practicing for our annual airshow four years ago. Ours is a flying museum and houses the following: B-25 Mitchell (finishing up from a 3 year restoration), TBM Avenger, T-6G Texan, BT-13, PT13 Stearman, C-45 (military Beech 18), Cessna O-2, Cessna L-19 and a French Broussard. The non-flying a/c are a F-84F and a J-2 Piper. (The Piper IS flight worthy, but is one of the last of 49 once built by Piper in the early 1940's and called "Flitfires" as a play on words against the sleek and graceful Spitfires then winging over England. It was part of a war bond drive and was actually flown by Orville Wright towards the end of his career.) This one stays on the ground!!
We also have numerous display cases of authentic military uniforms, weapons, flags, etc. that have been donated by museum members and visitors as well ! We are located at the Asheboro Airport just off of Hwy 49 west of the city. The telephone # is (336) 625-0170 and the hours are 9a-4p Mon.-Sat. and 12n-4p on Sun. Admission is 5. for adults and there is a discount for Sr. citizens and veterans.
The Western North Carolina Air Museum
P.O. Box 2343

Hindersonville, NC. 28793
828-398-2482


www.wncairmuseum.com


Info thanks to Pat Carry
About 18 Aircraft
Click Here to go to the YellowAirplane Online Museum
Books, Videos and Models about the Wright Brothers and Kitty Hawk
Wright Brothers Pictures, Videos, Models and Books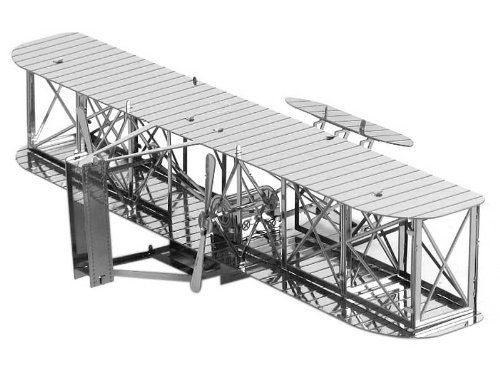 In celebration of the Centennial of Flight, we are proud to introduce you to this, our finest model ever! Truly museum-quality, this is a 1/5 scale model of the 1903 Wright Flyer I that made aviation history. With an 8-foot wingspan and a length over 4 feet, it is not for the casual enthusiast. Rather, this is for the connoisseur who wants the very best! Individually hand-built, features of this display piece include a museum-quality dummy engine with working linkages and turning propeller, hand rigging and metal turnbuckles, fabric covering, working pilot sling and much more! Perfect for your home entryway, business lobby... anywhere it can be admired for years to come! Arrives in two cartons and requires 2-4 hours of assembly.
Super Large Model

Other Links
Take a Cruise aboard the USS Kitty Hawk Click Here
A Tour of the Kitty Hawk historic area Click Here

This page gives a listing of all aircraft museums in North Carolina. If you know any more museums that are not listed here, please send me an email
Exhibits at the YellowAirplane Museum
Aviation Books
Aviation Movies
Acoustic Guitars
Camaros for Sale
Warbird Flight Manuals
Electric Trains
Tanks
Ships
More Great Models and Collectables