Write to the Webmaster
We are always in the process of rebuilding the website.
So far we have over 2500 new photos scanned into the computer. There are a total
of more than ten thousand slides that I have taken through the years and about half of these will be put onto the web site.
This collection covers Aviation, Mountain Climbing, Arctic Expeditions, Racing and a whole lot more.
One more thing that I would like you to know is that I'm a Disabled Veteran and I have severe internal
problems. I've been in bed for the most part of six months. On 7 Feb 2010 I lost my mom. Right now
the entire website is a mess: all of the s are wrong and anything else you can imagine needs fixed.

Here's my story.
"Why God Sent Me to the North Pole."
Thank you very much, C. Jeff Dyrek, Webmaster.
Thank you
C. Jeff Dyrek, webmaster
..

Click Here to see what it looks like to be a Disabled Veteran
Aviation Books Aviation Movies Airplane Models Airplane Tools

Visit the Yellow Airplane Online Museum
New Exhibits are added Very Often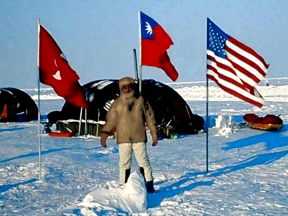 How about taking the most fantastic Vacation
to the Last Frontier on Earth
Click Here to find out how
Or

Try Some Air Combat
where you really fly the aircraft
and battle a friend flying another airplane