F-15 Eagle Aircraft Models
Plastic Cements

Plastic Paints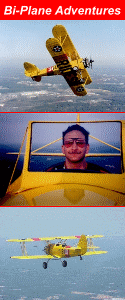 Biplane Flight Adventures

Take a ride into Space, for Real.

Fly in a Jet Fighter

Driving Adventures, Drive a real Tank

Fun Flights in a WW2 Prop Fighter

Zero Gravity, Ride in the Vomit Comet Airplane.

Ride in a F-104 Starfighter, Jet Fighter

F-15 Squadron Patches

F-15 T-Shirts

F-15 Books

F-15 Mugs

Replicating an F-15 Eagle flown by the 1st Fighter Wing - the U.S. Air Force's first operational F-15 wing - out of Langley Air Force Base
Captain America, an F-15C Eagle flown by Seymour Johnson of the 4th Tactical Fighter Wing "Rocketeers,"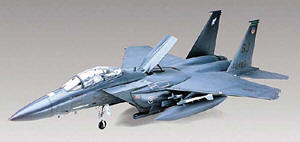 F-15E Strike Eagle 1/48 Plastic Model Kit

Replicating an F-15E Strike Eagle flown by the 4th Fighter Wing, which is stationed at Seymour Johnson Air Force Base, this 1/48 scale, plastic kit features recessed panel lines, a detailed cockpit with dual seats and a clear canopy, LANTIRN targeting and navigation pods, wing-mounted Sidewinder missiles and fuel tanks, an optional-position speed brake, detailed afterburners, realistic landing gear with weighted tires, authentic markings, and a boarding ladder. 15�" long with a 10�" wingspan; 192 parts, skill level 2. #0090578 Price: $29.95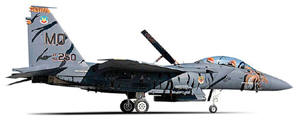 F-15D/E Strike Eagle 1/32 Plastic Model Kit

Replicating an F-15D/E Strike Eagle flown by the host 391st Fighter Squadron "Bold Tigers" when they competed in the 2005 Tiger Meet of the Americas at Mountain Home Air Force Base, this 1/32 scale, plastic kit - measuring nearly 2-feet long when assembled! - features a well-equipped cockpit with ejection seats, plenty of weapons (including a gun pod, Sidewinder missiles and Mark 82 bombs), auxiliary fuel tanks, realistic landing gear, a choice of two markings, and more. 23�" long; 240 parts, skill level 3. #0083752 Price: $39.95
F-15I "Ra'am" (Thunder), the Israeli variant of the McDonnell-Douglas F-15E Strike Eagle twin-engine, all-weather, multirole fighter
Introduced into U.S. Air Force service in 1988, the F-15E Strike Eagle - with two crew members and 6,000 pounds of conventional bombs - is able to do the same damage to a pinpoint target that previously took four F-4 Phantoms with eight crew members.

F-15E Strike Eagle flown by the 336th Tactical Fighter Squadron, 4th Tactical Fighter Wing, out of Seymour Johnson Air Force Base in the early 1990s
F-15E Strike Eagle 1/64 Display Model
Dragon Betty II - 336th Fighter Squadron


Made of Philippine mahogany, this hand carved, 1/64 scale model beautifully replicates the F-15E Strike Eagle "Dragon Betty II" flown by the 336th Fighter Squadron, 4th Fighter Wing - right down to the full arsenal of weapons and eye-catching art that runs along the bottom of the fuselage! Measuring 12" long with an 8" wingspan, it includes a display stand with a mahogany base and a history plate.
#0097142 Price: $119.95
F-15E Strike Eagle 1/48 Pre Built Display Model


Made of Philippine mahogany, this 1/48 scale model measures 16" in length and has a wingspan of 11 �". Hand painted and detailed, model comes ready to display on the included mahogany base.
#0009349

Price: $199.00


F-15C Eagle 1/72 Model



#0090809

Price: $99.95
F-15C Eagle 1/72 Plastic Model Kit
U.S. Air Force Aggressor


Replicating an F-15 flown as a simulated aggressor during combat training missions at Nellis Air Force Base in Nevada, this highly detailed, limited edition, 1/72 scale plastic kit features textured surfaces, a glazed canopy, detailed engine nacelles, wing-mounted weapons, realistic landing gear, a choice of USAF 57 Wing markings, and more. Measures 10�" long with a 7" wingspan; 138 parts, assembly required. #0092245 Price: $39.95
F-15C Eagle 1/72 Die Cast Model
418th Tactical Fighter Wing, 318th FIS Green Dragons


Replicating an F-15C flown by the 318th Fighter-Interceptor Squadron "Green Dragons" stationed at McChord Air Force Base, this 1/72 scale model features engraved panel lines, a detailed cockpit with a pilot figure and an opening canopy, movable flight control surfaces, wing-mounted fuel tanks and missiles, detailed air intakes and engine exhausts, extended landing gear, authentic markings, and more. Measures 10�" long with a 7" wingspan.
#0093269 Price: $49.95
F-15C Eagle 1/72 Die Cast Model
Edwards Air Force Base, CA


Replicating an F-15 Eagle flown by the 412th Test Wing stationed at Edwards Air Force Base, this 1/72 scale die cast model features a single-seat cockpit with a pilot figure and an opening canopy, movable flight control surfaces and a working airbrake, detailed jet engines with simulated blades and exhaust nozzles, extended landing gear, authentic markings, and more. Measures 10�" long and arrives ready to display.
#0093267

Price: $37.95
F-15C Eagle 1/72 Die Cast Model
57th Fighter Wing Weapons School, Nellis Air Force Base, NV


This 1/72 scale die cast model features engraved panel lines, a detailed cockpit with an opening canopy and a pilot figure, movable flight control surfaces, wing- and fuselage-mounted fuel tanks and missiles, detailed air intakes and engine exhausts, extended landing gear, authentic markings, and more. Measures 10�" long with a 7" wingspan.
#0093798

Price: $37.95
F-15C Eagle 1/72 Die Cast Model


Purchase the model, get the book FREE! A $22.95 value!

Replicating an F-15C flown by the 318th Fighter-Interceptor Squadron "Green Dragons" stationed at McChord Air Force Base, this 1/72 scale model features engraved panel lines, a detailed cockpit with a pilot figure and an opening canopy, movable flight control surfaces, wing-mounted fuel tanks and missiles, detailed air intakes and engine exhausts, extended landing gear, authentic markings, and more. Measures 10�" long with a 7" wingspan.

F-15C Eagle Units in Combat
Davies. This volume details the amazing record of the F-15A/C which, flying for the United States, Israel and Saudi Arabia, has racked up a kill ratio exceeding 105:0. You'll learn about the high-tech wizardry of the airplane; meet the crews that have made it so successful; and receive detailed data on production, serial blocks, kills, and more. 96 pages, 90 B&W and color photographs, 24 color profiles and more. 7�"x 9�", softcover. #0087496 Price: $49.95
F-15A Eagle 1/144 Plastic Model Kit


Replicating a McDonnell Douglas F-15A Eagle, a twin-engine, all-weather tactical fighter that was introduced in 1976, this 1/144 scale, plastic kit features textured surfaces, a clear canopy, realistic ordnance, detailed landing gear, authentic U.S. Air Force markings, and more. 5�" long; assembly required. #0090933 Price: $9.95
F-15 Eagle Eggplane Kit



#0083633

Price: $14.95
F-15 Eagle 1/72 Die Cast Model
No. 304 Sq., Japan Air Self-Defense Force, 50th Anniversary


This 1/72 scale die cast model features engraved panel lines, a detailed cockpit with an opening canopy and a pilot figure, movable flight control surfaces, wing- and fuselage-mounted fuel tanks and missiles, detailed air intakes and engine exhausts, extended landing gear, authentic markings, and more. Measures 10�" long with a 7" wingspan.
#0093800

Price: $37.95
F-15 Eagle 1/72 Die Cast Model
Red, Japan Air Self-Defense Force


This 1/72 scale die cast model features engraved panel lines, a detailed cockpit with an opening canopy and a pilot figure, movable flight control surfaces, wing- and fuselage-mounted fuel tanks and missiles, detailed air intakes and engine exhausts, extended landing gear, authentic markings, and more. Measures 10�" long with a 7" wingspan.
#0093801 Price: $37.95
F-15 Eagle 1/72 Die Cast Model
Japan Air Self-Defense Force Aggressor Squadron


This 1/72 scale die cast model features engraved panel lines, a detailed cockpit with an opening canopy and a pilot figure, movable flight control surfaces, wing- and fuselage-mounted fuel tanks and missiles, detailed air intakes and engine exhausts, extended landing gear, authentic markings, and more. Measures 10�" long with a 7" wingspan.
#0093797

Price: $37.95
F-15 Eagle
1/40 Balsa Wood Model Airplane Kit


Balsa Wood Model Kit
This unique balsa and tissue kit offers an interesting alternative to traditional jet fighter kits. Built as a "skeleton" model, it makes an impressive display piece. Tissue covered and finished with decal insignia, it is an eye-catching replica of its namesake. 1/40 scale kit has a 12¾" wingspan when completed. Assembly required. .....#0008928 $25.95
F-15E Strike Eagle 1/48 Pre Built Display Model


Pre Built Mahogany Display Model

Made of Philippine mahogany, this 1/48 scale model measures 16" in length and has a wingspan of 11 ¼". Hand painted and detailed, model comes ready to display on the included mahogany base. ....#0009349 $199.00
U.S. Pilot/Ground Crew 1/72 Set


This highly detailed set enables you to create realistic dioramas to accompany your aircraft kits. Painting required. Includes a Chevrolet crew van with driver figure, an aircraft maintenance platform, an F-15 boarding ladder, flight line fire extinguishers, pilot figures, military police, maintenance personnel, toolboxes and more. #0090777 Price: $12.95
F-15C Eagle 1/72 Plastic Model Kit
U.S. Air Force Aggressor
Plastic Model Kit

Replicating an F-15 flown as a simulated aggressor during combat training missions at Nellis Air Force Base in Nevada, this highly detailed, limited edition, 1/72 scale plastic kit features textured surfaces, a glazed canopy, detailed engine nacelles, wing-mounted weapons, realistic landing gear, a choice of USAF 57 Wing markings, and more. Measures 10�" long with a 7" wingspan; 138 parts, assembly required. #0092245 Price: $39.95
F-15E Strike Eagle 1/72 Plastic Model Kit


Plastic Model Kit

Plastic kit features recessed panel lines and detailed landing gear and wheel wells. Realistic cockpit includes 3-part ACES-II ejection seats and instrument panels with raised detail. Ordnance includes bombs, air-to-air missiles, and air-to-ground missiles. Canopy and speed brake may be posed open or closed. U.S. Air Force markings included. 93 pieces, 7" wingspan when complete. ....#0009914 $20.95