Iron Eagle Video Movie
[1-BannersSalesDeals/1-A1_ON_ALL_Pages.htm]
Good video shots of the
F-16 Fighting Falcon, Israeli-made Kfir C2s, Cessna 150
F16 Falcon Books F16 Falcon Movies
Airplane Books * Airplane Movies * Airplane Models
Aviation Art * Aircraft Calendars * Model Building Tools
Reviews

Yellow Airplane Aviation Movie Guide
We rate this movie as five stars especially for teen viewers. The excitement never quits from racing a Cessna 150 against a motorcycle to flying the F-16 Fighting Falcon in combat against a renegade country. A young man shows his tremendous courage by rescuing his father from an evil general holding his father captive.

C. Jeff Dyrek, Webmaster at YellowAirplane.com

Amazon.com
Short of Top Gun, this could be the definitive boys movie of the 1980s. An 18-year-old (Jason Gedrick) gets instruction from an old vet (Louis Gossett Jr.) in how to fly an F-16 jet and kick butt in the Middle East, all while listening to his Walkman and--oh, yeah--saving his father from terrorist clutches. Gossett wears his tough-love face while the kids run rampant. Speaking of kids, young guys must like this comic-book movie, as its success spawned three sequels. But watch out for the Reagan-era jingoism and political reductiveness. --Tom Keogh The F-16A Fighting Falcon Jet Fighter was built by General Dynamics. It used a Pratt & Whitney F100 turbo jet engine producing 14,870 lbs of thrust when in afterburner produced 23,830 lbs of thrust. The F16 's top speed is 1350 mph with a cruise speed of 577 mph. The "A" model has an empty weight of 14, 570 lbs and a max weight of 33,000 lbs. In contrast, a later version, the F-16N produced a total thrust with afterburner of 27,000 lbs. It's great to go to an Air Show and see the US Air Force Falcons in action. Please Note: The specifications on this page are only for a single model of this airplane.
Did you like the F-16's in Iron Eagle? Then you will probably
like to fly a real jet fighter that would kick the pants off of the F16 Falcon
the MiG Banner above to find out how!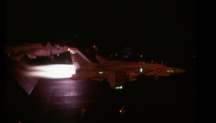 ..........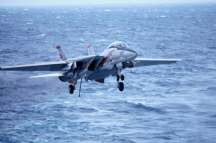 Photos by C. Jeff Dyrek
Aviation Art
Yellow Airplane Museum Exhibits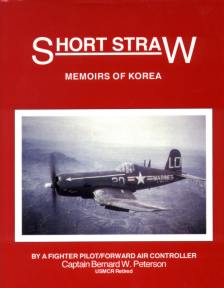 Short Straw
Memoirs of Korea
by Captain Bernard W. Peterson
In Iron Eagle you will see the US Air Force Fighting Falcon in action and also with great pictures of the Cessna 150 commuter (Really a Cessna 152 Aerobat) flying real tight maneuvers through tight mountain passes. The kids would love this movie too.