America's Secret MiG Squadron

The Red Eagles of Project Constant Peg
Peck. Written by the original "Red Eagle," Col. Gaillard R. Peck, Jr., this book examines the recently declassified Constant Peg project. You'll learn how Peck, unsatisfied with the USAF fighter training programs of the 1960s and '70s, established the 4477th Test and Evaluation Squadron in 1980 to train U.S. pilots by having them conduct air-to-air combat exercises against USAF-acquired MiGs. 352 pages, 6"x 9", hardcover.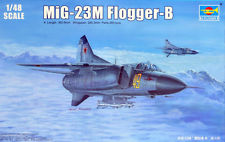 Red Star
In the Cockpit - DVD Documentary Video.

Witness the powerful air capability of the Soviet Air Force in full-color action! You'll view the MiG-29 and Su-27; soar with the MiG-25 Foxbat, MiG-27 Flogger D and the Tu-95 Bear; and go to sea with the Soviet fleet to witness the vertical takeoff of the Yak-36 Forger as it deploys from a Kiev-class carrier. You'll even fly with the latest attack helicopters in spectacular all-arms exercises and Mi-24 Hind and Mi-26 Halo helicopters in combat.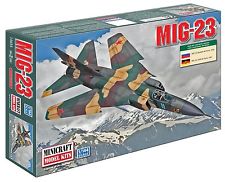 MiG-23/27 Flogger
Softbound Book
Gordon & Dexter. This detailed history covers the development and operation of the Soviet MiG-23 "Flogger," a fast interceptor designed to answer the threat of NATO bombers and spy planes. You'll read of improvements over its MiG-21 predecessor, including its advanced swing-wing configuration; of exports to air forces in the Middle East, the Far East, Cuba and Eastern Europe; and even of the MiG-27, a tactical strike aircraft with a redesigned forward fuselage. 176 pages, 280 B&W and 16 pages of color photographs, 8"x 11", softcover.
MiG-23 Flogger 1/136 DieCast
Pre Built Die Cast Model Airplane.
This highly detailed, small-scale die cast model represents the great military aircraft from the 20th century. Model is fully painted and includes embossed stand that also notes the scale. Wingspan measures between 4½" to 8" because of the Swing Wing.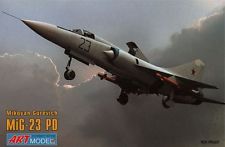 Specificatons
Crew: One
Length: 16.70 m (56 ft 9.5)
Wingspan: Spread, 13.97 m (45 ft 10 in)
Height: 4.82 m (15 ft 9.75 in)
Wing area: 37.35 m² spread, 34.16 m² swept (402.05 ft² / 367.71 ft²)
Empty weight: 9,595 kg (21,153 lb)
Loaded weight: 15,700 kg (34,612 lb)
Max. takeoff weight: 18,030 kg (39,749 lb)
Powerplant: 1 × Khatchaturov R-35-300 afterburning turbojet, 83.6 kN dry, 127 kN afterburning (18,850 lbf / 28,700 lbf)

Performance
Maximum speed: Mach 2.32, 2,445 km/h at altitude; Mach 1.14, 1,350 km/h at sea level (1,553 mph / 840 mph)
Range: 1,150 km with six AAMs combat, 2,820 km ferry (570 mi / 1,750 mi)
Service ceiling: 18,500 m (60,695 ft)
Rate of climb: 240 m/s (47,245 ft/min)
Wing loading: 420 kg/m² (78.6 lb/ft²)
Thrust/weight: 0.88
Harley Davidson Motorcycles for Sale
Russian MiG-23 Flogger Everything