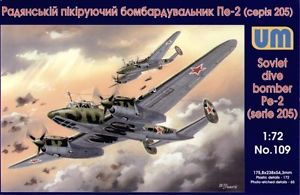 Petlyakov Pe-8 Soviet Bomber 1/72 Kit
Based on the Pe-8, the Soviet Union's only four-engine heavy bomber of World War II, this newly-tooled, 1/72 scale, plastic kit features textured surfaces, a detailed cockpit and bombardier's station, dorsal and tail gun turrets, a bomb bay with a 5,000 kg bomb and optional-position doors, detailed Mikulin AM-35A engines, optional-position landing gear, authentic 746th Separate Long-Range Aviation Regiment markings, and more. You even get seven crew figures! 21" wingspan; 305 parts, assembly required.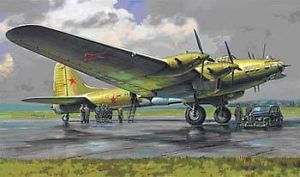 Petlyakov Pe-2 in Action
Softbound Book

Stapfer. Russia's Pe-2 was originally designed as a high altitude interceptor before evolving into a dive-bomber. The Pe-2 underwent a continuing series of improvements and saw extensive service on the Eastern Front throughout WWII - and was ultimately Russia's most-produced bomber of WWII. Covers the Pe-2's development and service. 50 pgs., 90 B &W photos, line drawings, 10 color profiles, 3 color paintings and more. 11"x 8", sfbd.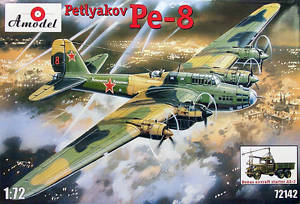 Petlyakov Pe-2 "Peshka"
Hardbound Book.
The twin-engine Petlyakov Pe-2, or "Peshka," was the mainstay of the Soviet dive- and light-bomber force in WWII. Of advanced design and sleek appearance, it was an extremely fast and reliable aircraft. Here, based on official sources including the Pe-2 handbook, is its full story, placed in the context of the Russian campaign - the success of which was due in no small part to this machine. 208 pgs., 200 B&W photos, 8-page color section, 8"x 11", hdbd.