Sukhoi Interceptors.
Softbound Book.
Red Star Volume 16
Gordon. From the delta-winged T-3 development aircraft of 1955; through the Su-9 and Su-11, the fastest and highest-flying Soviet interceptors of the 1960s and the Su-15, a key element of the Soviet Air Defense Force well into the 1980s; to the peerless Su-27, this book presents Sukhoi's interceptors through richly detailed text and more than 200 B&W and color photographs. 128 pages, line drawings, 8"x 11", softcover.
Early Soviet Jet Fighters
Red Star Vol. 4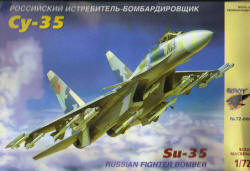 From the Webmaster: Take a look at the name of the fighter shown here. It says Cy-35, but is that the way it is really pronounced? You must know that this is written in Russian not in English. A "C" in Russian is pronuced as "S" and the "y" is pronounced as "oo" We, in English speaking countries pronounce the name of the plane as the Su-35. I want to make this clear since I watched a documentary maker pronounce the An-74 as an AH-74, since in English that is exactly what was written on the side of the airplane. However, in this case, the "H" in Russian is pronounced as an "N" or the An-74.

The 1940s and Early 1950s. Gordon. Here are the development and service histories of the first-generation Soviet jet fighters designed by such renowned makers as Mikoyan, Yakovlev and Sukhoi, as well as by design bureaus no longer in existence. Book compares each type to its contemporaries; with many previously unpublished photos and extensive drawings. 144 pgs., 240 B&W photos plus 8 pgs. of color artworks. 8"x 11", sfbd.
Russia's Military Aircraft in the 21st Century
Red Star Vol. 26
Gordon. While large new aircraft programs such as those of the Cold War era are likely to remain a thing of the past, military aviation in Russia is not standing still. This volume looks at programs such as the new Mi-8MTKO and Mi-24PN night-capable helicopters from Mil; the latest Su-24M2, Su-25SM and Su-27SM upgrades from Sukhoi; the extension of Tu-95MS and Tu-160 bombers' capabilities; and more. 128 pages, 265 color photographs, line drawings, 8"x 11", softcover.

Nova: Top Gun Over Moscow.
Video.
For half a century we feared them. Now, for the first time, meet the rugged pilots of the Russian Air Force - and take a close-up look at the heart-stopping maneuvers that still fill Western flyers with awe. And find out why Western aces see these fearless flyers as a formidable force - honing their dogfight tactics over the technology we so depend on. "We build our planes like fine watches," notes one American expert. "And they build theirs like tanks." 60 minutes.
Harley Davidson Motorcycles for Sale