6-16-2010
Excelente pgina, un saludo desde Ro Gallegos (Santa Cruz- Argentina). Visite: http://www.facebook.com/group.php?gid=47882743918, grupo en honor al Comodoro Pablo Carballo Saludos Alejandro
Excellent site, greetings from Rio Gallegos (Santa Cruz, Argentina). Visit: http://www.facebook.com/group.php?gid=47882743918, a group in honor of Commodore Greetings Pablo Alejandro Carballo
Some notes and corrections from the below dialog, from Pablo Carballo.
6-10-2009
DEAR FRIEND JEFF, YOUR LETTER WAS EXCELLENT, SHOWING THAT YOU ARE A GOOD MAN. THERE ARE SOME MISTAKES IN THE PAGE OF YELLOWAIRPLANE FOR EXAMPLE: I WAS IN THE ATTACK WHERE WHICH SUNK COVENTRY, BUT I HAVE ALSO DAMAGED BROADSWORD THIS DAY. AND PARTICIPATED IN THE SINKING OF ARDENT, ANTELOPE, DAMAGED THE BROADSWORD AND THE ATTACK TO THE TROOPS INTO THE SAN CARLOS BAY, AND I HAVE PARTICIPATED IN THE FIRST PART OF THE ATTACK WHEN WAS SUNK SIR GALAHAD AND DESTROYED SIR TRISTAN, BUT THIS 8 OF JUN I DIDN'T ARRIVED TO THE PLACE OF THE ATTACK BECAUSE I LOST OXYGEN AND COULDN'T GET IN FLIGHT REFUELING. THANK YOU. YOUR FRIEND PABLO
The Following is a Conversation between Neil Wilkinson (England), Pablo Carballo (Argentina) and Jeff Dyrek (United States) about the Malvinas War - Falklands War and the effort in making a Documentary of "When Enemies Become Friends"
On Mon, 18/5/09, wrote: Neil Wilkinson
Subject: Hello
To: Pablo Carballo
Date: Monday, 18 May, 2009, 12:37 PM
Dear Sir,
A friend of mine, Santiago has passed on your email address to me and I hope you don't mind? I am an ex Royal Navy veteran of the Falklands/Malvinas conflict and I served onboard HMS Intrepid. I understand from Santiago that you flew A4's?
I have recently found and contacted one of your fellow pilots, Mariano Velasco and we have been in touch with each other for some time now.
My interest in Mariano is that I was responsible for hitting his aircraft and for 25 years I had no idea he had survived. It was by pure chance that I turned the TV on and there he was, I knew it was his aircraft and I had to find him. This is now leading up to the point where we will be eventually meeting back on the islands in the near future. I also understand that you have written a few books about the conflict?
I was also wondering if you knew of anyway we could get the meeting funded? I have come so far with this story and I seem to have hit one massive stumbling block, the funding of such a journey that would be filmed and documented.
My story is currently running on an American website called Yellowairplane.com and it tells my story in more detail, if you could help us get to the end of this journey it would be fantastic. I would also welcome any Argentine veterans who may wish to post there story on this website.
Kind Regards
Neil Wilkinson
---
From: Pablo Carballo
Subject: Re: Fw: Hello To: Neil Wilkinson
Date: Wednesday, 20 May, 2009, 8:57 PM
DEAR NEIL,
PLEASE BE PATIENT WITH ME, BECAUSE I AM ALSO IN A RUSH, BUT I WILL BE VERY GLAD TO HELP YOUR IDEA.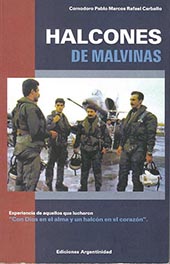 I HAVE WRITTEN FOUR BOOKS:
"GOD AND THE HAWKS",
"HAWKS OVER MALVINAS",
"HAWKS OF MALVINAS" ISBN: 987-22293-0-9
"MALVINAS, YOU DON'T CRY FOR THE HAWKS".
THE LAST ONE IS THE LIFE OF THE PEOPLE OF OUR AIR FORCE WHO HAVE DIED IN THE BATTLE. I COULDN'T UNDERSTAND HOW YOU HAVE SHOOTED MARIANO VELSACO
IF YOU WERE IN THE INTREPID AND HE NEVER HAVE ATTACKED YOUR SHIP. EXCUSE MY BAD ENGLISH. MY FRIEND I WILL BE WAITING YOUR NEXT EMAIL. PABLO

Click Here for the best description of Pablo's Books
Click Here to read more about Pablo Carballo's Books
IF YOU WANT TO BUY MY LAST TWO BOOKS, SEND AN EMAIL TO ediciones@argentinidad.com that is my editorial.
---
From: Neil Wilkinson
Subject: Re: Fw: Hello
To: "Pablo Carballo"
Date: Wednesday, May 20, 2009, 3:10 PM
Hi Pablo,
Many thanks for replying. I sent you two emails because I wasn't
> sure if the first one had got through to you. On the 27th May 1982 when Mariano came into San Carlos, the Intrepid was further towards the entrance of San Carlos.
I was on the starboard Bofors gun and opened fire and managed to get 6 rounds off at him, I knew I was very close to hitting him and shortly afterwards my captain told me I had hit the A4. So for all those years I lived with the thoughts and had a few problems coming to terms with everything, until a couple of years ago when I saw Mariano on the TV and knew it was him that I had hit. After 8 months of trying to track him down I eventually traced him and we are now planning to go back to the islands and meet there. I think it is very important for me that I do meet Mariano after what I have been through all those years.
I do think that it would also be very good for relations between veterans from both sides, that is why I welcome stories from veterans onto my web page on Yellowairplane.com.
I am looking forward to enjoying my friendship with yourself and Mariano and maybe one day we could all meet. My biggest problem is getting the money to do all of this, but I am determined to meet Mariano one day.
Kind Regards
Neil
---
From: Pablo Carballo
Subject: Re: Fw: Hello
To: "Neil Wilkinson"
Date: Wednesday, 20 May, 2009, 11:39 PM
Dear friend Neil, I am to happy to tell you that in my last book, two men, one of the antelope and one of the broadsword, have written their experiences into the ships during or attacks, because the book is only with the purpose to give honor to the warriors of both sides that have given their lives in the islands. ALL THE MONEY OF MY FOUR BOOKS OF MY RIGHTS OF AUTHOR I HAVE GIVEN TO THE WIDOWS AND THEIR CHILDREN. IF YOU WANT TO WRITE YOUR EXPERIENCES FOR THE NEW EDITION OF MY LAST BOOK, SPECIALLY ABOUT WHAT YOU SEE THIS 27 MAY 82, AND WHAT YOU FEEL ABOUT MARIANO AND, IF YOU WANT, SEND TO ME SOME PICTURES OF YOU AND YOUR FAMILY, FROM THESE TIMES AND FROM NOW SAME AS WHAT THE OTHERS ONE DID, I WILL BE HAPPY TO RECEIVE IT. IF YOU WANT TO BUY MY LAST TWO BOOKS, SEND AN EMAIL TO ediciones@argentinidad.com that is my editorial. let them know that you are my friend, and, previous translation, you can know what I have written in the last book. now I am translating the 3th one. ok my friend. GOD WITH YOU, YOUR FRIEND COMODORO (IT IS A Rank LIKE CORONEL, BUT DURING THE BATTLE I WAS A CAPTAIN) PABLO M CARBALLO. I WAS THE FIRST PLANE WHO ENTER INTO THE BAY WHEN YOU SHOOTED MARIANO.
---
From: Neil Wilkinson
Subject: Re: Fw: Hello
To: Pablo Carballo Date: Thursday, May 21, 2009, 4:34 AM
Hi Pablo,
I will send your editor an email shortly and will gladly put pen to paper for your book. It is very good that relations and friendships have been made between some of our veterans.
Could I ask you a favor, on the Yellowairplane.com website there is a guest book, could I ask you to put a small comment on the page please. The main reason I ask this is because there are a lot of veterans out there who are reading my story and to have your comments in the guestbook may encourage more to do so. I will be in touch again shortly.
Kind Regards
Neil
---
From: Pablo Carballo
Subject: Re: Fw: Hello
To: "Neil Wilkinson"
Date: Thursday, 21 May, 2009, 8:20 PM
I WILL WAIT YOUR EMAIL. I HAVE WRITTEN IN THE BLOG. PLEASE SEE IT AND LET ME KNOW WHAT YOU THINK. IF YOU CAN PLEASE CORRECT MY BAD ENGLISH
---
From: Neil Wilkinson
Subject: Re: Fw: Hello
To: "Pablo Carballo"
Date: Thursday, May 21, 2009, 4:31 PM
Hi Pablo,
I have searched through the Yellowairpane.com website and I'm afraid I can't find your message on the site, I have emailed Jeff Dyrek who is the web master and a friend, he is a fantastic guy, I should get him to email you he would love to talk to you. I will write my story to you soon, I have a busy couple of days ahead, I am due at a wedding next week and myself and my wife are busy getting things to wear for the wedding.
Speak soon.
Take care.
Neil
---
From: Pablo Carballo
Subject: Re: Fw: Hello
To: "Neil Wilkinson"
Date: Friday, 22 May, 2009, 7:21 PM
DEAR FRIEND NEIL, IF YOU WANT, I CAN SEND TO YOU MY SHORT HISTORY AND A PICTURE, AND YOU CAN PUT IT IN YOUR YELLOW PAGE, BECAUSE I DON'T HAVE ENOUGH KNOWLEDGE TO DO IT. HERE IT ARE: " I WAS CAPTAIN PABLO MARCOS R. CARBALLO DURING THE MALVINAS/FALKLANDS BATTLE. NOW AM COMODORO (CORONEL RETIRED) I WAS WORKING AS A TEACHER OF CADETS FROM OUR AIR FORCE ACADEMY. I WAS PART OF THE PILOTS WHO HAVE ATTACKED ARDENT (21 MAY), ANTELOPE (23 MAY), BROADSWORD AND COVENTRY (25 MAY), LAND ATTACK INTO SAN CARLOS BAY (27 MAY), THE FIRST PART OF ATTACK SIR GALLAHAD AND SIR TRISTAN (8 JUN). I WAS REACHED BY YOUR FIRE: 23 OF MAY (MISSILE UNDER MY LEFT WING INTO SAN CARLOS BAY), 25 OF MAY (ESQUIRLA IN MY RIGHT WING), 27 MAY (IN 6 DIFFERENT PARTS OF MY PLANE, YOU HAVE DAMAGE MY LEFT TIRE, AND ONE OF THE IMPACT ARE ABOUT 40 CM DIAMETER). MY WIFE IS MIRTA AND I HAVE SIX CHILDREN (I DON'T HAVE TV). I SEND A PICTURE OF ME WHEN I WAS FLYING MY A-4B SKYHAWK. AFTER THE WAR I HAVE FLOWN MIRAGE 5 DAGGER/FINGER AND MIRAGE III FROM FRANCE. I WILL BE HAPPY TO SHARE WITH YOU MY EXPERIENCES, SPECIALLY WITH LIEUTENANT RICHARD BELL- DAVIES, GOD WITH YOU
---
From: Neil Wilkinson
Subject: Re: Fw: Hello
To: Pablo Carballo
Date: Saturday, May 23, 2009, 9:08 AM
Hi Pablo,
I have forwarded your information onto Jeff Dyrek who is the webmaster of the Yellowairplane.com website. Looking at the times when you came into San Carlos and the surrounding areas I am very surprised you actually made it back to your base considering the damage your aircraft sustained. Were you with Mariano on the 27th May? on that day I only saw two Skyhawks but I am led to believe there were 4?
In the history books it states that HMS Fearless shot down Mariano, I know this is not true as I have heard this from Mariano himself and I am trying to get the record straight.
On that day when you came into the bay you caught a lot of ships of guard and because I had no guns crew I could only fire 6 rounds at you because I could not be reloaded as I had nobody to reload me on the back of the gun, but my tracer shells were very very close and on the lookout position of the Intrepid the guys were looking through binoculars and a few who were looking clearly said I had hit his aircraft. I got credited with two aircraft, one on the 23rd and the other on the 27th May, I didn't get recommended for any other gallantry award or even mentioned in dispatches, for my part in all of this I was awarded a T-Shirt!
This T-Shirt I threw away some years ago and I resented all the things that I had learnt and everything to do with the navy, the navy paid me no recognition other than my South Atlantic Medal for my part in the war and it hurt me and for a very long time I had trouble coming to terms with what I had done and all I had to show for this was a T-Shirt. I do hope you can understand what I am saying and writing? Many of the officers and senior rankings came back to England and got awards and medals, high awards and I resented this and I wanted to leave the navy. So what I am doing now is trying to piece everything together and eventually meet Mariano and who knows maybe one day yourself and show the world that there is no malice or hatred between us. I thank you for listening to me and taking the time to answer all my questions and I look forward to a long and lasting friendship between us all.
Speak soon.
Take care
Neil
---
From: Pablo Carballo
Subject: Re: Fw: Hello
To: "Neil Wilkinson"
Date: Monday, 25 May, 2009, 11:41 PM
DEAR FRIEND NEIL,
YES, I WAS WITH MARIANO THIS 27N OF MAY, AND I HAVE SUFFERED SIX IMPACTS ON MY PLANE, ONE OF THEM ABOUT 40 CMS DIAMETER. I DON'T REMEMBER WHAT I TOLD YOU THE EMAIL BEFORE TO THIS ONE. PLEAS, PUT ALL THE QUESTIONS THAT YOU HAVE , IN ORDER LIKE THIS 1).....2),,,3) ...., ETC. I WILL BE TOO GLAD TO ANSWER YOUR QUESTIONS. I WAS AT HT LEG AND PROBABLY TACKING THE ANTELOPE ON 23 OF MAY, AND ON MISSILE EXPLODE UNDER MY LEFT WING, BUT I COULD RETURN TO MY BASE. OK FRIEND, NOW I HAVE SOME HEALTH PROBLEM IN MY RIGHT LEG AND I COULD PASS FOR THE KNIFE TO REPLACE MY SUPERIOR PART OF THE BONES . NEAR THE HIP. THAT'S THE REASON WHY I AM WRITING TOO SHORT AND DISORDERED. MY FRIEND, THE ONLY IMPORTANT AWARD IS THE GOD LOVE. HE WITH YOU,
YOUR FRIEND
PABLO
---
From: Neil Wilkinson
Subject: Re: Fw: Hello
To: "Pablo Carballo"
Date: Monday, June 1, 2009, 6:54 AM
Hi Pablo,
My friend Jeff Dyrek has told me he has contacted yourself, this is good because using his website it opens the door for our veterans to write a small note on the site and introduce themselves.
I have a couple of questions for you:
1. Did you sustain your hip injury as a result of AA fire during the conflict?
2. Did your aircraft survive the conflict and do you have any recent pictures you could forward to me of the aircraft?
Any information you wish to send to me and Jeff would be greatly appreciated as we are now in a unique position where we are entering into another phase.
Our aim is to go back to the islands and show the world that despite what happened between our two countries that there is no hatred between us, this is very important to me because our countries governments brought us together all those years ago and we lost many good men on both sides and we are still loosing men through suicides which could be avoided and maybe by taking us all back to the islands and doing the documentary together we can build friendships and relationships between our two countries. I do welcome any thoughts or views you may have on my comments as I often think that it is good to listen as well as talk.
Thank you.
Your friend.
Neil
---
From: Pablo Carballo
Subject: Re: Fw: Hello
To: "Neil Wilkinson"
Date: Monday, 1 June, 2009, 8:40 PM

DEAR NEIL,
YES, WE HAVE SHARED (???) WITH JEFF A LOT OF EMAILS. 1) MY HIP INJURY IS NOT A RESULT OF THE BATTLE 2) WE DIDN'T HAVE A PLANE FOR EACH PILOT. WE FLEW ALL THE PLANES, CHANGING EACH DAY. TODAY I AM LEAVING TO BUENOS AIRES TO SEE MY DOCTOR. WHEN I RETURN I WILL WRITE AN EMAIL LIKE YOU DESERVE MY FRIEND.
PABLO
---
From: Jeff Dyrek <yellowairplane@yahoo.com>
Subject: Re: Re: Fw: Hello
To: "Neil Wilkinson"
Date: Monday, 1 June, 2009, 11:29 PM

Dear Neal,
That is a fantastic dialog between you and Pablo. He sounds like a nice man. All of this will go on the web as soon as I can get it there. I just received some more parts for my computer and it will be up and running very quickly, it will just take a little work.
Thanks for sharing this conversation,
Jeff.
---
From: Neil Wilkinson
To: Jeff Dyrek <yellowairplane@yahoo.com>
Sent: Tuesday, June 2, 2009 2:17:15 PM
Subject: Re: Re: Fw: Hello


Hi Jeff,
I heard from a TV producer today, she knows Ben so I put two and two together and realized it was his doing. She was asking me a few questions because she is pitching to make a programme, possibly an hour long.
She has to go to the powers that be to get final approval for them to fund it. She is originally looking at doing a one week trip down to the Falklands, but as yet I don't know any dates. During the conversation she said to me that she understood that I wanted to take you, Ben must have told her, she said that she didn't have a problem with you been there but the BBC couldn't pay for your flights, I was quite upset about this. I said to you that you would be coming with me and I still want you to come but they won't pay for you to go.
Any suggestions? I need you to come along and be there, so my priority now needs to be getting you the funds to get the flights when it happens.
I don't want you to miss out on this, they are talking of going to the crash site, Port Stanley museum, San Carlos and I suppose a few other places, the amount of personal footage you would be able to get would be unbelievable.
I will of course try my very best to change there minds, but if we can get there together Jeff I will be a happier man. I will of course let you know of any developments as and when they ring me.
They may not get the funding for it yet!
Take care.
Neil