Click on Pictures Below for Much Larger Views
A continuacin, haga clic en imgenes para mucho ms amplio de Vista
Born November 13, 1930
This are the pictures are all of his planes
and where he keeps them over 3,150 in so many sections.
My grandfather would love for you to see them in person there real beautiful for airplane lovers.
I am very sorry to say that Captain Roberto Perez Dominguez has passed away on
the 2th of July 2009. He was a good friend of mine and I will miss him forever.
Mr. Dominguez was a very good man and he helped his country and community very, very much.
Now it is time to put an end to his story and thank him for all that he has done.
Roberto's grandson, Jerry, has written a letter to me about this bad news, but now he must do
something with all of these models that were so nicely built. You can contact Jerry at this phone number or email address. Email Jerry_Cast@yahoo.com
Please Help. C. Jeff Dyrek, Webmaster.
Lo lamento mucho decir que el capitn Roberto Prez Domnguez ha fallecido en
el 2 de julio de 2009. Era un buen amigo mo y yo le pierda para siempre.
El Sr. Domnguez fue un muy buen hombre y que l ayud a su pas y la comunidad muy, muy mucho.
Ahora es el momento de poner fin a su historia y darle las gracias por todo lo que ha hecho.
El nieto de Roberto, Jerry, ha escrito una carta dirigida a m acerca de esta mala noticia, pero ahora que debe hacer
algo con todos estos modelos que fueron tan bien construido.
Puede ponerse en contacto con Jerry en este nmero de telfono o direccin de correo electrnico.
Jerry Castellanos 210-678-9342 Correo electrnico Jerry_Cast@yahoo.com
Ayuda, por favor. Jeff C. Dyrek, Webmaster.
Click Here to See the Master Model Builders Exhibit Page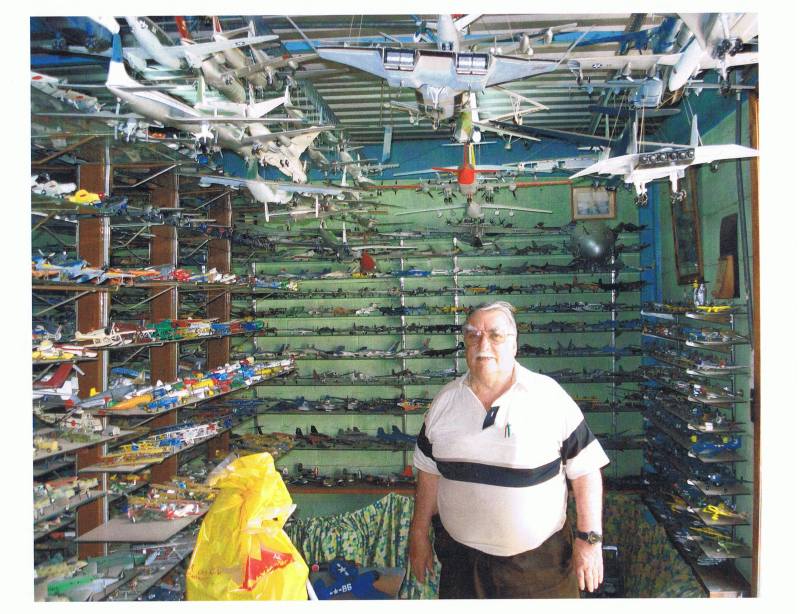 Here's the Man who built this fantastic Collection,
Roberto Perez Dominguez
Roberto Perez Dominguez and his Aircraft Models
My grandfather would love for you to see them in person there real beautiful for airplane lovers, Jerry.
These are some of the airplanes that Mr. Dominguez has flown. As a webmaster, I had to translate this page from Spanish so I'm sure that I have the spelling of some of the planes incorrect.
Piper Supercub, J3, J4, P22 Peiser, Tri Pacer, Cherokee
Cessna: 120, 140, 170, 172, 175, 180, 182,
Tresio
InterState L6
Stearman TB 17
Cessna T 50
Douglas B 18, Douglas C-39, DC 3, C 47
Curtiss Commando C 46
Fairchild Cornel
Boltee 15
AT 6
A6RU 4 Anson, 6 Anson
Travelaire
Bellanca
Culver Cadet
Funigacion
Esterman 450 HP
Ercoupe
Beechcraft Mentor
My Grandfather is willing to sell his whole collection of airplanes since thee first airplane was made since now the present, he has over 3,150 nothing is double every plane is different. He once was a pilot since 1952 when it all started also when he started to make the first airplane collection, he stop flying since 1984, but still continued to make the model airplanes till this day he has them all.
Mi abuelo est dispuesto a vender toda su coleccin de aviones desde ti primer avin ya se hizo desde el presente, que cuenta con ms de 3150 no es el doble de cada avin es diferente. Que una vez fue un proyecto piloto desde 1952, cuando todo empez cuando l comenz a hacer el primer avin de recogida, que dejara de volar desde 1984, pero an sigue el modelo de aviones hasta el da de hoy tiene a todos.
Jerry Castellanos 210-678-9342Email Jerry_Cast@yahoo.com

All Mexican Model Airplane Kits
This is the Master at work
Este es el maestro en el trabajo
Click on Pictures for Much Larger Views
The IA 58 Super Etendard was produced from 1976 to 1986 and was designed to be able to operate from small frontline airfields. It was powered by two 904 shaft horse power Garrett TPE331/U-303 turboprops. It had twin tandem seats with dual controls. There were about one hundred and fifty to one hundred and sixty of these aircraft built. It's first flight of the prototype, the AX-2 Delfin, was on 20 August 1969. Its primary users are the Argentine Air Force, Colombian Air Force, Sri Lankan Air Force, Uruguayan Air Force. Length: 14.25 m (46 ft 9 in) Wingspan 14.5 m (47 ft 6 in) Height 5.36 m (17 ft 7 in) Wing Area 30.3 sq meters, Empty Weight 4020 kg (8862 lbs) Gross Weight 6800 kg (14911 lbs) Max Speed 310 mph, Cruise Speed 267 mph, Range 2305 miles, Ceiling 31800 ft.
El IA 58 Super Etendard fue producido a partir de 1976 a 1986 y fue diseado para ser capaz de operar desde pequeos aeropuertos de primera lnea. Se alimenta de dos ejes de 904 caballos de potencia TPE331/U-303 turbohlices Garrett. Haba dos asientos en tndem con doble control. Haba alrededor de ciento cincuenta a ciento sesenta de estas aeronaves construidas. Es el primer vuelo del prototipo, la AX-2 Delfin, fue el 20 de agosto de 1969. Sus principales usuarios son la Fuerza Area Argentina, Fuerza Area Colombiana, la Fuerza Area de Sri Lanka, la Fuerza Area Uruguaya. Longitud: 14,25 m (46 pies 9 en) Envergadura 14,5 m (47 pies 6 in) Alto 5,36 m (17 ft 7 in) Superficie alar 30,3 metros cuadrados, Peso en vaco 4020 kg (8862 libras) de peso bruto de 6.800 kg (14,911 libras) Velocidad mxima 310 km / h, velocidad de crucero 267 km / h, Rango 2305 millas, 31,800 pies de techo
Click on Pictures for Much Larger Views
AMIGO JEFF LE VOY A DECIR COMO EMPESE CON LA COLECCION EN 1952 ME RECIBI DE PILOTO AVIADOR. ME NOMBRARON INSTRUCTORDE VUELOS TENIENDO LA CAPASITACION DE INSTRUCTOR PRIMARIO BASICO AVANSADO BUELO POR INSTRUMENTOS Y AERO FUMIGADOR. UN CADETE DE DICHA ESCUELA ME REGALO UN MODELO DE AVION DE PLASTICO PORQUE YO HASIA AVIONES DE VARILLAS Y MADERA BALSAY PAPEL CON LA QUE HERA MI NOVIA Y DESPUES MI ESPOSA. EMPESE A

VOLAR

EN MEXICANA . ESTUBE EN USA EN LAS TIENDAS DE AERO MODELISMO Y EMPESE A COLECCIONAR AVIONES DE 1|72 DE ESCALA CARROS Y SOLDADOSY DIFERENTES ESCALAS QUE ELIMINO CUANDO SALEN A 1/72 Y EMPESE A HASER AVIONES VACUMFORMADOSPLANOS Y MOLDES SACANDOLOS DE LIBROS. HASTA COMPLETAR LA COLECCION ACTUAL TENIENDO REGISTYRADOS LOS AVIONES EN TARGETAS RECIVI SUS IMEIL PRONTO CONTESTARE SU AMIGO ROBERTO

JEFF FRIEND LIKE YOU I say began with the collection in 1952 I obtained a Pilots License. My jobs name INSTRUCTOR TAKING FLIGHT INSTRUCTOR OF THE PRIMARY CORE CAPASITACION Avans Buela INSTRUMENT AND AERO fumigated. A CADET of that school gave me a PLASTIC MODEL AIRPLANE AIRCRAFT Has ME BECAUSE OF RODS AND WOOD WITH THE ROLE BALSA HERA my friend and then my wife. Began to fly in MEXICANA. ESTUBE IN THE USA IN STORES AND MODEL AERO began collecting Aircraft 1 | 72 SCALE OF DIFFERENT CARS AND SOLDADOSY scale dropped when EMERGING A 1 / 72 And A Solar energy began AIRCRAFT AND MOLDS VACUUM FORMS taking them out of books. TO COMPLETE THE COLLECTION REGISTERED AIRCRAFT BEARING CURRENT IN YOUR TARGET Receiver SOON I will email his friend Robert
| | |
| --- | --- |
| | |
Click Here for North Pole Global Warming
Go to Yellow Airplane's own Online Museum