Book Description
The Consolidated B-24 Liberator first saw combat in June of 1942, making a daring raid into Nazi-occupied Romania to bomb the oil fields at Ploesti. Nearly 18,500 Liberators were built during the war years, making it by far the most-produced American combat aircraft. It served in many roles beyond heavy bomber, transport, and anti-submarine patrol, and flew in Africa, Europe, India, the Atlantic, India and the Pacific Theatre. Originally printed by the United States Army Air Force in 1942, the B-24 Liberator Pilot's Flight Operating Manual taught pilots everything they needed to know before entering the cockpit. Originally classified "Restricted", the manual was declassified long ago and is here reprinted in book form. This affordable facsimile has been reformatted, and color images appear as black and white. Care has been taken however to preserve the integrity of the text.

1855327813B-24 Liberator Units of the Pacific War
Born out of an approach made by the US Army Air Corps to Consolidated for a bomber with superior performance to the B-17, the Liberator was built in record numbers as the Allies' most abundant heavy bomber. From the first to see combat, the B-24D, to the ultimate Liberator, the heavily modified PB4Y-2 Privateer, all navy versions are featured in this, the first of four volumes on the B-24 family.
Book Description
Ever present in the Pacific from Pearl Harbor to VJ-Day, the B-24 Liberator proved to be the staple heavy bomber of the campaign. From its ignominious beginnings in the Allied rout in the Philippines and the Dutch East Indies, the bomber weathered the Japanese storm with a handful of bomb groups, which played a crucial role in checking the enemy's progress firstly in New Guinea, and then actively participating in the 'island hopping' campaign through the south-west Pacific.
ie=UTF8&location=http:// amazone.com/s?initialSearch=1&url=search-alias=stripbooks&field-keywords=B-24+Nose+Art+Name+Directory&Go.x=11&Go.y=11&tag=&linkCode=ur2&ca" target="_blank">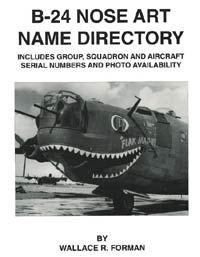 B-24 Liberator Nose Art Name Directory
Forman. A companion to the same author's B-17 nose art and name directory. This volume details the Group, Squadron, serial number and photo availability of over 9,000 WWII B-24 Liberators. Great for the historian, researcher and model builder. 32 pages of vintage photos. 8½"x 11", 192 pgs., sfbd.
A must for B-24 Liberator Buffs! Wally has expanded his format to include data on AF Wings and their component bomb groups for most of the USAAF. His B-17 Nose Art Directory was concerned with the 8th, 15th, and 20th AFs. And rather than searching the total list for group aircraft he has listed the a/c assigned to each group by group number. Definitely a source book for important data (names, serial numbers, photo availability) on this aircraft.