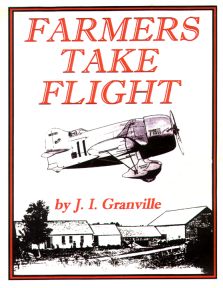 Farmers Take Flight by June Granville
Click Here for Gee Bee Airplane Models

Click Here for Other Gee Bee Airplane Books

Gee Bee Racer

Book Description

Click Here's the inside story of the creation of the Gee Bee R-2 replica, written and photographed by the men who designed and built it. This star of air shows is followed from re-creating the original plans through all stages of construction; on its first test flights; and wowing the crowds at Oshkosh and other air shows. Packed with original color photography.


The Gee Bee Racers

Book Description

Revised and updated to cover the entire line of Granville Brothers projects, including all models of their sport and racing planes. Offers a discussion of the aerodynamic knowledge of the 1930s, versus the Gee Bee replica flown in 1994 in aerobatic demonstrations.

Granville Brothers
Gee Bee R1 Racer

Product Description
This replica of the Granville GEE-BEE R1 aircraft is made from mahogany and very detailed. It is great for collectors or anyone fascinated by aviation. A museum quality model. This fantastic replicas is made from woods, resins, plastics and metals. This aircraft comes with a wood display stand that states the aircraft type and scale. 1/20 Scale 10.50 inches long 15 inch wingspan.
Pratt & Whitney "Wasp" 1/8 Kit
Plastic Model Kit
This was a record setting power plant for many Golden Age racers and military aircraft. Plastic kit is molded in two colors and consists of more than 200 parts. Includes nine cylinders, crankcase, two magnetos, carburetor, fuel pump, starter, propeller hub, display mount and much more. Assembly required.


Click Here to go to the YellowAirplane Online Museum

This is a great set of free books that you can read online or download for your pleasure with subjects ranging from Aviation to an RV Cookbook. Check these out and enjoy.

Exhibit Added 17 June 2006
Ref: 4-20-01
Click Here for a list of WW2 Fighter Groups
Click Here to go to the YellowAirplane Online Museum
Look at these exhibits and tell me what these men really fought for.
the 34th fighter Squadron USS Kitty Hawk
Read the Webmasters Story, Why God Sent Me to the North Pole
Click Here to go to the YellowAirplane Online Museum
Click her to see how I have to live and what it looks like to be a disabled Vet.
June I. Dakin
70 Surrey Rd.
Springfield, MA 01118
/WebSite/Book_Reviews/Gee_Bee_Airplanes/Gee_Bee_Airplanes_Cover.html|60733"
Yellow Airplane Home Base
History
Gee Bee Airplanes
Aviation Books
Aviation Videos
Airplane Models
Airplane On-Line Store
Would you like to go on a REAL North Pole Expedition, You can. Click here find out how

Take a flight in a real MIG-29 Russian fighter jet Airplane