www.YellowAirplane.com

"Falklands Wartime Enemies, Peacetime Friends: An amazing true story from one of the greatest air sea battles in modern history, the Falklands War"


Neil Wilkinson 2011

"Malvinas enemigos en tiempos de guerra, amigos en tiempos de paz: una increble historia real de una de las ms grandes batallas del mar de aire en la historia moderna, la Guerra de las Malvinas"

Three years in the making, Neil Wilkinson and myself, Jeff Dyrek, the Webmaster, have finally put this project together, a documentary of the Falkland Islands thirty years after the Falklands, Malvinas War. We worked on this project for an entire year before a production company became interested in making a documentary. Just about two weeks before the documentary was to be made and Neil was finally going to meet the pilot that he shot down, Mariano Velasco from Argentina, Neil took the vaccination shots required to make the trip and then became paralyzed from the shots. It was another two years before Neil was able to make the trip again and here his personal pictures from the trip and the making of the documentary. On this documentary expedition, Neil saw Mariano's crashed airplane. The documentary was completed and was shown by the BBC on January 16th, 2012.
Photos of the Falkland Islands by Neil Wilkinson 2011
Click Here to see the making of the NEW Movie,
"Enemy Contact"


This is a little background on the making of this documentary project.
Over these years Neil and I have been in very close contact on an almost daily basis trying to find someone who would make this documentary. We had a number of people contact us, but when the BBC made their contact, we knew that they were qualified to make a great documentary, and they did. The meeting of the former enemies and now friends has had a huge effect on not only Mariano and Neil, but on people from all around the world when they realized that the war was fought on a professional basis and not a personal basis. This is the story of two people trying to put all of the horrors of war behind and bring in a new future of peace and friendship and it finally worked out that way. As a sailor myself on the USS Kitty Hawk, I knew that the men on the other ships were just men and young men at that. I knew that war was not a real solution to anything, but peace is the way that our Captain taught us, and it was the only way to exist on this ever shrinking world. Mariano's gesture to Neil, to bring his whole family to Argentina and stay at his house was not only noble, it was the words of a gentleman, a friend, and a true hero. C. Jeff Dyrek, Webmaster, Disabled Veteran.
Below is the first letter that Neil sent to me starting the whole sequence of events that made this documentary possible.
From: neil wilkinson <neil.wilkinson50@yahoo.co.uk>
To: jeff@yellowairplane.com
Sent: Monday, November 24, 2008 3:41:25 PM
Subject: A4 Skyhawk
Dear Sir,
I have just being on your website and found a model that is of interest to me.
It is C207 Mariano Valasco`s A4 that flew in the Falklands.
I am very pleased to see that he was one of the most successful Argentinean Skyhawk pilots.
But on the 27th May 1982 his run came to an end although he did survive.
I am in contact with Valasco on a regular basis, we have a lot in common, he flew his plane on many dangerous missions against us.
I am hoping to eventually meet him some day in Argentina and shake his hand, i am really glad he survived, after all it was me who shot him down.
Great model.
Regards
Neil Wilkinson
Ex AB Gunner HMS Intrepid
25 Nov 2008
Hi Jeff,
Many thanks for replying so quickly to my email.
You certainly seem to have a broad variation of stories on your site? I like the one you told me about the A4 at the air show.
Since finding out last year that Mariano Velasco had survived the A4 Skyhawk has suddenly become a more fascinating aircraft to me, I have researched quite a lot about the aircraft and think they are a remarkable aircraft. I will now just tell you a brief timescale of events of things that occurred in the Falklands, if you don't mind?
On the 21st May we went into San Carlos and off loaded 3 para brigade who had travelled on our ship. Shortly after daylight broke the air attacks started, no amount of training can prepare you for this, it's for real.
On the 23rd May I opened fire on a group of Mirages (6) and I blew the tail off one of them.
Most days were the same, attacks, rest, attacks.
On the 27th May, nothing much happened all day, until late that afternoon. Velasco and his wingman had sneaked through and was now lining up for there attack, I was resting on a box of ammunition. The alarm sounded and I leapt into my gun and as they screamed into San Carlos I managed to fire 6 rounds off at them. I then saw a lot of smoke coming out from behind his aircraft, he then went over the hill. It wasn't until we got back to the UK that my Captain confirmed to me that I had actually hit the Skyhawk, up until then I wasn't 100% certain.
In the history books HMS Fearless took credit for knocking Velasco out of the sky, but I now know different! My life after the Falklands took a dive and I suffered from PTSD and a lot of mental stresses due to the conflict.
Last year with it being the 25th anniversary I put on a program and found that the pilot in the documentary was in fact the very same pilot I thought I had killed and I decided to track him down. After 8 months of trying I hit the jackpot and we are now in contact with each other, the feeling of guilt was lifted, he has confirmed to me that fearless could not have shot him down as previously recorded.
These stories I had heard happen from ex World War 2 vets, but i never thought it would happen to me. Once again many thanks and I look forward to your replies.
Regards
Neil
This is the actual making of the documentary in 2011
What's happening now?
Click Here to see the making of the movie, "Enemy Contact"
The journey took me on a trip that had everything from landslides to car crashes, but nothing would stand in the way of my ultimate goal.
Remembrance Sunday, I was picked up at around 15.30, then we proceeded on our way to RAF Brize Norton. We arrived at the airbase well in time for the flight and hung around at the airport, just like any other flight really. The baggage was checked in and the final preps were made for the long and tiresome journey down to the Falklands/Malvinas, the flight was due for a scheduled fuel stop along the way at Ascension Islands. The aircraft was only carrying around 130 people so we all had plenty of room to stretch out and get some sleep, which was only broken by routine drinks and snacks issued on the aircraft.
Refueling at the Ascension Islands
Having arrived at Ascension we had to disembark the aircraft whilst fuel was taken onboard, that gave me time to get my passport stamped, there was a small charge for this but it didn't really matter as it all went to charity.
Falkland Islands Visitor Information Center
Whale Bones in Port Stanley, Falkland Islands
Approach to the Falkland Islands, Port Howard
After the fuel stop we headed southwards again, the second leg seemed just as long, I was watching the onboard satellite navigation on the screens on the aircraft, watching as we went past Brazil, Buenos Aires and then finally a very small dot appeared on the screen with the picture of our aircraft heading for it, the aircraft slowly made it's way towards this dot!
It was still daytime when we arrived in the Falklands/Malvinas and although a little windy the sun was shining and it felt just like a summers day, this was of course the beginning of the Spring in the islands, but the weather can alter at the click of your fingers. We were to stay in Port Stanley for the next day or so, focusing the filming on San Carlos and a possibly visit to a navy warship.
An RAF F-4 Phantom at the Air Force Museum
at Mt. Pleasant on the Falkland Islands
Flight to Fort Howard.
San Carlos Bay where most of the war took place
The trip to San Carlos from Port Stanley was made in a four by four vehicle, any other vehicle would not have being suitable and that is why the majority of the islanders have 4x4`s. When we eventually made it to San Carlos the weather was brilliant, a slight breeze, but T-Shirt weather, we managed to start filming after lunch and as we were finishing we managed to get a glimpse of our first penguin, only one of them, it came out of the water and stayed around for a minute or so then darted back into the water, never saw another one after that.
The filming in San Carlos was at the Southern part of the bay and although we were in San Carlos where all the air attacks took place. The quietness and stillness was only broken by the odd sound of a gull or the lapping of the water as it hit the beach.
Back in 1982 it was all a different story, the skies were full of Argentine aircraft trying to stop the landing of troops. The next day it was different again, we had to take a short trip in a light aircraft, across to the Eastern side of the islands to Port Howard, this was to film
the crash site. The journey there was quite bumpy and took approx 35 minutes, we were met by our host and driven to the guesthouse we were using, we had to wait for our local guide to take us to the crash site and it was then I was introduced to Max, he was the biggest cat I have ever seen, he was also the most friendliest of cats, he purred away and he never once scratched anybody.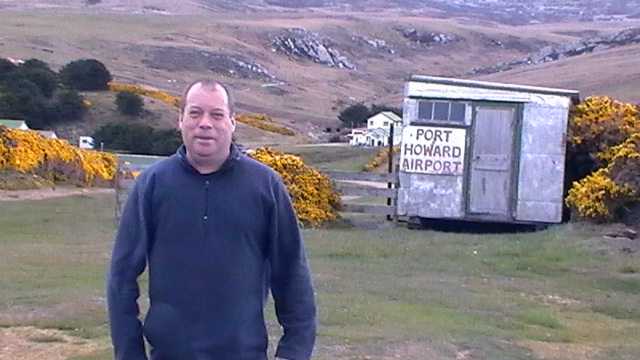 The Port Howard Airport on the Falkland Islands
A Howitzer at the Port Howard Airport
A view of the other Howitzer.
Nose Gear and ejection seat from an unknown aircraft in the
Port Howard Museum on the Falkland Islands.
A-4 Skyhawk Canopy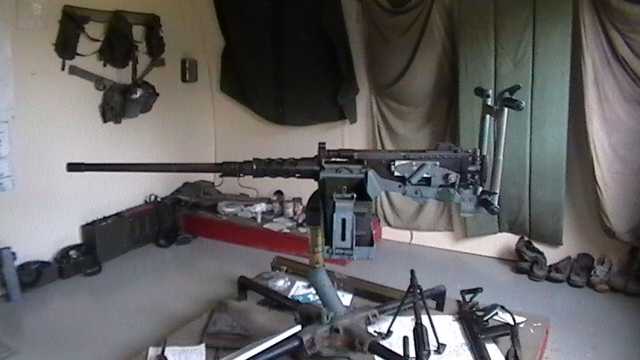 Sue was also the owner of the Port Howard Museum, this a treasure-trove of artifacts, from ejector seats to machine guns, ration packs to parachutes, the parachute belonging to my pilot friend and part of his ejector seat!
After our two day stay at Port Howard we said farewell and headed back to Port Stanley, the next day we heading down to the military base to try our luck and get on a naval vessel, unfortunately a big exercise was taking place and we could spend a short amount of time on the vessel.
Our time in the Falklands/Malvinas was slowly coming to an end and the next leg of my adventure was about to begin, this would see me travelling the short distance to the mainland of Argentina then across into Chile, before another internal flight took me up to Santiago. I had an overnight stay in Santiago and I pondered over what I had witnessed and the next part of the journey, I knew that in a couple of days time I would be in Cordoba and facing the man I had shot down nearly 30 years ago, the nerves were only just holding out.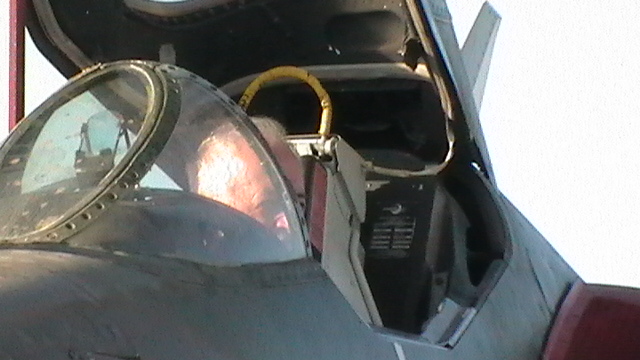 Mariano Velasco, Fighter Pilot, sitting in his old A4 Skyhawk Jet Fighter from the Falklands War. Mariano actually flew this jet in combat in 1982.
Parts of Mariano's crashed A-4 Skyhawk Jet Fighter
Bill arrived some time later, he was a local sheep farmer who had very good knowledge of the land and just where all or most of the aircraft that had crashed landed were, we loaded up his Landrover and off we went. After approx 6 miles, we had stopped to film a couple of things and Bill said to me "do you see that thing glistening in the sun?" at first I couldn't see what he was pointing at, then after a while I saw the faintest object shining in the sun, I said "I can see something now Bill" he said "that's your aircraft."
With that we got back into the Landrover and slowly made our way off road to where this glistening object was. When we arrived at the crash site it wasn't clearly obvious what you were looking at as we had seen this from a distance and from a slight incline, but as you approached the crash site it definitely became obvious what had happened.
A landing Gear Strut from Mariano's A-4 Skyhawk
Commodore Mariano Velasco, now retired, flew a light attack bomber during the Falklands/Malvinas confrontation Douglas A-4B Skyhawk, with whom he participated in the sinking of the British destroyer HMS Coventry (D118). It was considered one of the most important air and naval battles since the Second World War. Two days later, trying to avoid the English landing the Strait of San Carlos, the plane was hit and knocked Velasco for the hard shot from the cannon fire Bofors anti-aircraft run by Neil Wilkinson, 22.
This appears to be the underside of the A-4 Skyhawk,
can anyone please tell me more?
This is the crater that was formed when Mariano's airplane crashed.
Notice that the nose cone of the airplane is still there.
I made my way up to a crater that must have spanned 15ft across which was full of water, a good few feet deep, then I looked in disbelief at the amount of wreckage that was still around the crash site nearly 30 years on. Bits of tail plane 30ft away from the crater, the engine some 20ft away from that, another large piece of the underbelly another 20ft away, the furthest item of the aircraft was possibly 100yds away from the main impact crater, but I suppose it would be after the aircraft crashed at such an incredible speed.
This was mind-blowing enough, one thing that was puzzling me though, how on earth did the pilot get out of his aircraft when he was losing height, power and the ability to control the aircraft! After we had visited the crash site we were then taken along a dirt track, to a place many miles away from the crash site, along the way there were other reminders of aircraft that had come down, bits of Mirage wing strutting out of the ground like a giant sign post, most things were untouched all these many years later.
When Mariano was asked how he survived, he was 33 years old at that time, said that he had ejected in the West Falkland, after crossing the channel of San Carlos. Mariano fell to the ground injuring his left foot. "With the sprained ankle I walked 60 miles for nearly two days. The wind, extreme cold and fatigue did not help. He had to walk on a scheduled basis, unable to sleep much due to low temperatures. I just fed myself with some candy for energy with water, which was my main thing to survive, until I finally found shelter in an abandoned shack left by the islanders who lived there through June 1. After I was there, I was taken to Port Howard, where I stayed a while longer until I was taken to a hospital ship."
What do the Argentinean People say about this event.
Cooperate with the English can be a civilized way to approach the islands as does the regime Jeton Groundhog K
"The topic touches us because the father of my children was in combat and suffered the "desmalvinizacion" until it finished with him.
Apparently, Malvinas is a province named after a Malvinas, I think in Argentina. And in that province is where many soldiers died. The prefix "des" means without, the fall of.
Wars are useless, Argentine and Chilean soldiers could see the faces in the conflict with the Beagle and fraternized .
It was a war without hate, so the friendship is possible.
It seems very light profile commentary on the work of First Lieutenant Velasco, Coventry sank in minutes with his attack .
Humanity was stronger, these men prove their greatness. Learn from them.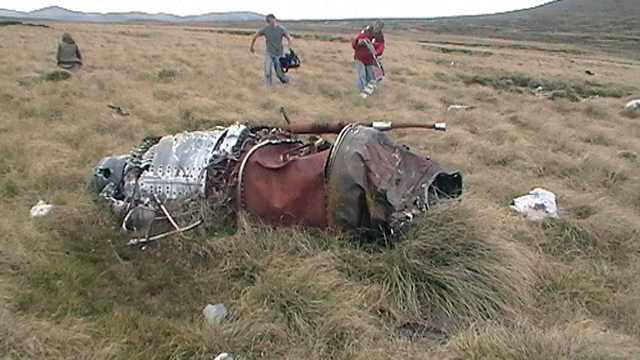 The remains of Mariano's jet engine
Vertical Stabilizer of Mariano's crashed airplane
Here's the debris field of Mariano's airplane crash.
Other aircraft components from the crashed airplane.
A-4 Skyhawk Engine from Mariano Velasco's Crashed Jet Fighter. Notice: you can clearly see the compressor blades in this picture.
When I spoke to Neil on the phone, after his return from the Falklands, he told me that there were crashed airplanes every. With one plane, a French built Mirage, he said that the wind stuck vertically out of the ground making it look like an old sundial.
C. Jeff Dyrek
After Mariano ejected from his burning plane, he had to find shelter on his sixty mile walk back to his own lines. This is the Kelper shack where Mariano stayed on that walk.
We approached an old shack on the top of a hill, it was an old sheep farmers shack, that had all the supplies a sheep farmer could need if they got caught short by the biting winds and bad weather that frequented these parts, this was where my pilot had holed up for a few days before being spotted by his own troops, the shack was just a basic hut on the top of a hill, nothing more.
On the way back I asked Bill if he could measure the distance from the crash site to the shack on our way back, which we did measure and the distance was nearly twenty miles, now the weather back in May 1982 was really cold and we were fighting in the winter time, so temperatures quickly dropped and you were up against the elements.
Taking all this in to consideration the pilot walked a fair distance in a few days, then you consider his condition on top! He had ejected at nearly 1000ft, not a great height, that is the maximum he could get from his failing aircraft, after ejecting he then had to negotiate the landing and on the Falklands/Malvinas there is no even and firm ground, it is rugged terrain, on making the landing the pilot broke his ankle.
Now consider walking just a few feet, let alone nearly twenty miles with a broken foot!When we had finished filming around the crash sites we travelled back to the lodge for supper, as we pulled up outside the lodge I asked Sue about the two Howitzers outside her front door and how she came about them, she just said they appeared here one day but then she said that when they were moving one of them it went off and the shell went through the loft of the house on the hill, these were pretty safe now though.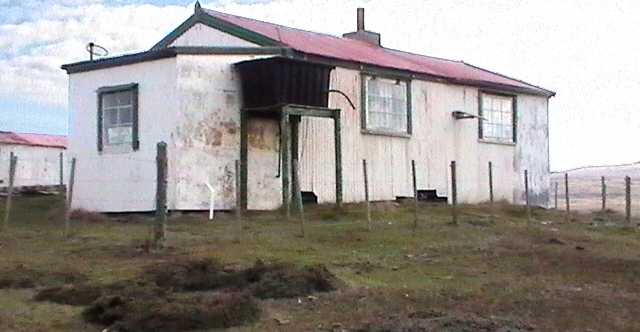 Neil and I have worked on this project since November 2008. It was a long road to making a documentary real and there were huge problems in the process. The sharing of friendship between Neil and Mariano is an honor to all veterans of the Falklands war, and an honor to the idea that it's better to be friends than enemies. Both of these men were anxious to meet each other. Once Neil found out that Mariano was still alive, he wrote a letter to the Argentine Government to have it forwarded to Mariano. Mariano replied very quickly and told Neil to come to Argentina and bring his whole family and stay at his house. This was a fantastic gesture on Mariano's part and this is why we decided to make a documentary to share these kind words with everyone. Both Mariano and Neil are both heroes for their efforts to heal these long hurting wounds. Jeff Dyrek.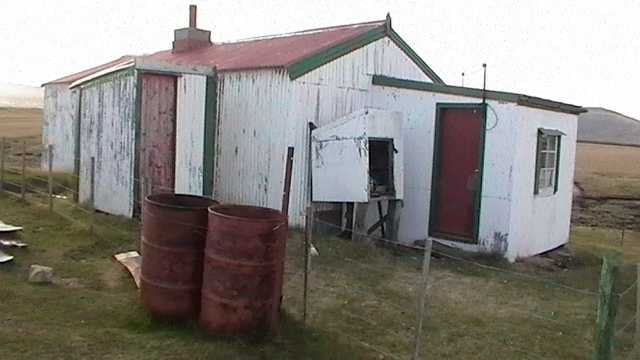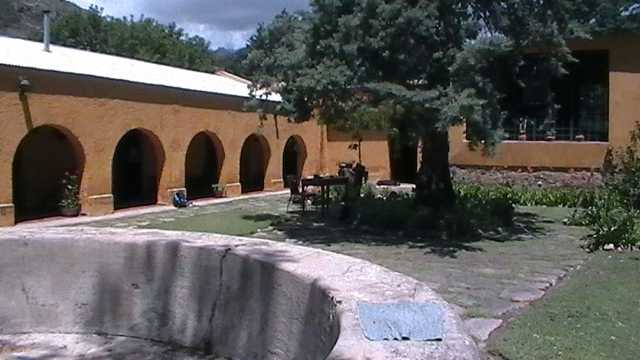 We arrived in Cordoba the next day and we had to wait for the cameraman to arrive from the Buenos Aires, he had being delayed due to his camera gear not being put onto the aircraft he was getting on, the evening brought a spectacular thunderstorm with it, one of the most spectacular displays of thunder and lightning I have ever witnessed and with that came plenty of rain. So that meant we had an overnight stay in Cordoba waiting for the cameraman to appear with his camera that had to be put on another flight out from Frankfurt.
All we could do was wait and hope that the camera gear had being put on the next flight out of Frankfurt, if not the whole project was doomed! The call came through, it was good news, the cameraman had arrived and his camera and equipment was all with him.
The next day was different again, the sky was blue and only a few spots of water remained where the night before the streets were flooded. We had hired a big 4x4 to carry all the equipment and ourselves, we loaded up and started our way through the countryside and up over the mountains that would take us to where the pilot lived.
By now my nerves had really started going and I was having a lot of problems keeping my thoughts away from us meeting, I knew I would be welcomed by Mariano but you never know how things are going to go. As we approached the road at the bottom of the mountain range a police car was stopping traffic, this was all we needed! A lot of vehicles in front of us were turning around and leaving the scene, we were told that because of the heavy rain the night before the road was closed due to landslides, this was another major upset, we couldn't afford to loose any more time and the map showed that the other route to the pilots village would take us many hours out of our way, the options were limited and this was another one of those moments when you think that just maybe our getting together isn't going to happen and somebody somewhere is just dropping little hints along the way!
After taking the vote we decided to wait and see if the road would be cleared and it was the right move, the policeman gave the go ahead and the crazy mix of old vintage and new cars started snaking their way up the mountain road. Our driver was very cautious when driving up this road and it wasn't long before it came apparent why, the road was wide enough for overtaking but the drop on one side would and should put anyone off overtaking, but it doesn't, and two cars had collided on what looked like a very dangerous stretch of the road, it always amazes me that people can't seem to wait for a straight stretch of road and always seem to go for a blind corner, possibly they have passed on the same bend many times before but this time it was a full on smash!
The scenery from the mountain top was amazing and awesome, we stopped off for some lunch at what was at first a dirt track that led to a fantastic setting, with a stream running through the valley and lunch was served to us in the afternoon sunshine, giant frogs were leaping about, wild herbs were growing in the garden of this tucked away gem of a restaurant.
After a few hours we arrived within 100yds of the pilots gates, the tension was unbelievable now, I had being interviewed with 3hrs to go before I was due to meet Mariano and it was tense then, but now! We dropped everything off at the hotel and I was asked to wait where I was and the film crew would be back in an hour for me, this gave me too much time to stew over everything and I tried to gather myself into some kind of mental state that was normal but it was getting more and more a problem as I knew the minutes were ticking away.
I went for a walk and started thinking of other things, then I sat at the front of the hotel watching life go by, the old bangers still going strong, they wouldn't on the road back home. After a short while I thought that I would go back to my room and have a lay down on the bed as I entered my room I heard an almighty noise, it was the noise that is only made by rubber tires screeching along the tarmac when the brakes are slammed on fully!
The next noise was a very loud thud. I jumped up and had this awful thought that with my luck recently it could only be one thing, that it was our car involved in a car accident, I certainly hate it when I'm proved right though!
At first I couldn't see our car only the smoking wreck of an old banger and then out got a little old man with one arm, I thought this can't get any worse! Then I noticed our car, because it was a 4x4 the damage was around the back wheel arch, the police came and took statements, then told the one armed man it was his fault, I don't think he was exactly expecting the police to say that.
All this excitement and upset had really eaten the time up and everything had gone to pot, if things had been bad before this was now taking centre stage. I was told to go back to my room and the decision was made to carry on with the filming, on one hand I was relieved on the other I was a bit upset for the one armed man and his family waiting to be towed away as we were seen driving the 100yds back up the road!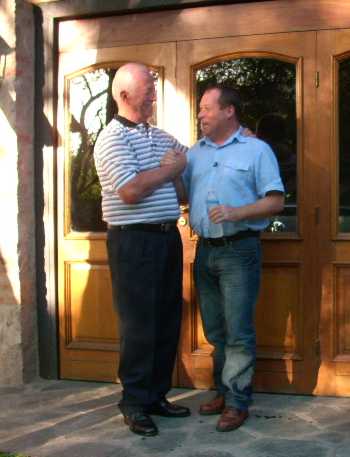 At Mariano`s main gate to his home were two security guards, these were personal friends of his, he had asked them to stop anyone other than his immediate family entering the premises, the idea was that I would get out of the car and walk to a designated area in the garden which was behind bushes in his garden, this would allow them enough time to get everything ready for the final stretch, by this time I can tell you I was in total scramble
mode, I got the go ahead to start walking, as I approached Mariano I looked around and saw two other people that were with him, one was his wife and the other his brother.
As I walked further one of his two dogs approached me and I bent to stroke the dog, this gave me a bit of a second wind and by this time I was only a matter of feet away from Mariano, the moment was special but my emotions were tipped upside down. The piece I had written as a welcome went out of the window, that didn't seem to matter, both our hands were outstretched and the welcome was everything I had thought of, no thoughts of hatred, nothing but pure admiration for each other and as former professionals we both understood it was our duty to carry out what we had against each other back in 1982.
I suddenly developed a very dry mouth and the pilots brother as quick as a flash handed me a bottle of water and he said that they had looked forward to this meeting for many years, it was an emotionally charged atmosphere and one I tried to soak in and let it sink in, it wasn't easy, all those years for me thinking he was originally dead, although I didn't know the pilots name on that day, then finding out he had survived, having to track him down, had all come down to this moment!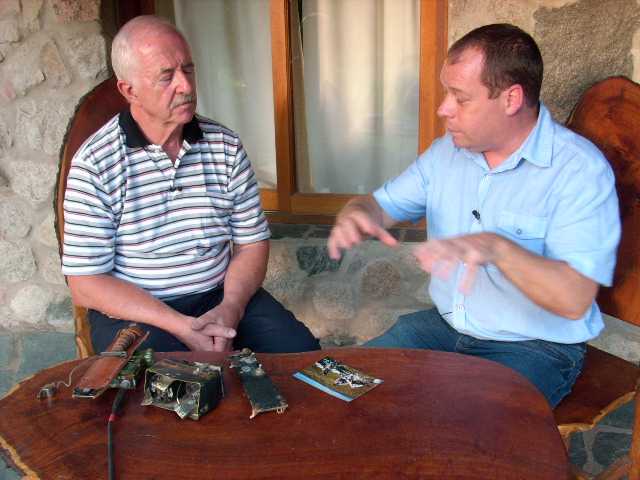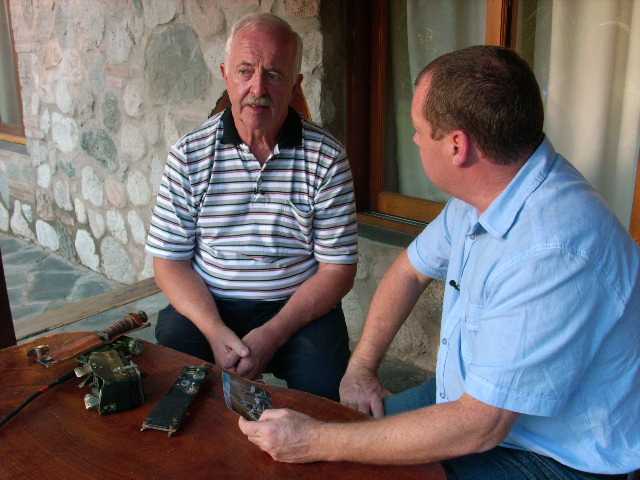 We sat around a table and chairs outside his home and talked briefly about the 27th May 1982, then from underneath the table came a red shopping bag, this was full of original artifacts from the Skyhawk that were personal to Mariano. In the bag was a survival radio that was in very good condition, then out came a survival knife, a small part of his aircraft with the aircrafts number on C215, a clock then suddenly appeared, this was a clock taken out of the cockpit of his plane and presented to him, the clock had stopped at the exact time he was shot down (16:50).
I was then given a picture to show Mariano of his crashed aircraft, we discussed this for a few minutes, then we went for a short walk in his massive garden. After we had done the initial piece for filming and any other formal things that were required of us, we then went inside, the door was closed and no other persons other than immediate family and film crew were allowed in to this private function.
The evening was fantastic, we were treated to good wine and the food was even better. Throughout the evening I was sat next to my pilot friend Mariano Velasco and were kept on giving each other complements throughout the evening, what Mariano wasn't aware of was that I had prepared a short one-liner to say to him during my walk up to him and I had being learning this line in preparation to that time. I took this out of my pocket and presented this to him it read "It is an Honor and a Privilege to meet you Sir" but in Spanish, now I would have struggled saying that in English considering my state when I met him!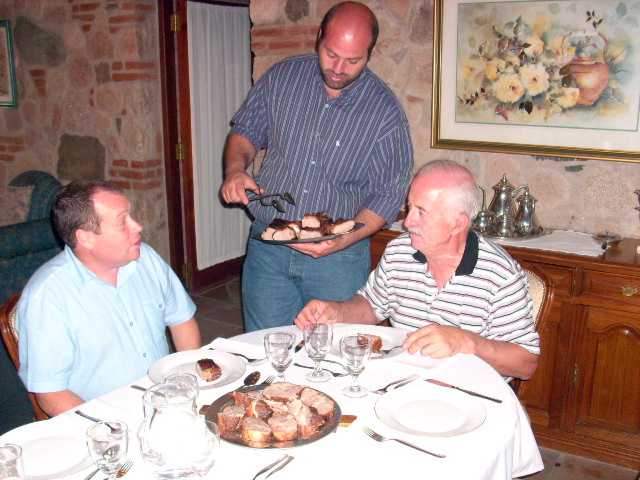 He placed this piece of paper on the table in front of him and kept on tapping it gently with his fingers, then looking at me then back to the piece of paper, then he started patting my shoulder, he knew that that piece of paper had hit a sentimental nerve inside him and I knew that too.
We gave speeches, quite frankly I could understand his but by the time it was my turn I had had too much wine and can't remember exactly what I said, but it must have being nice because I survived the speeches!
The evening with Mariano and his wife and family was a very special evening and made more so by the warmth of all his family, evenings like this you wish could last much longer and the time runs away, before we knew it we were staring at the early hours of the next day.
We were about to leave and I turned to Mariano and said "You were a very good pilot" and he replied "Yes, but you were a very good killer" I'm not sure if that was meant to read "very good shot" but it did not matter at all, I knew I had achieved what I had set out to do and I was just buzzing all night. Every time we seemed to pass each other we had a hand shake for each other, it was easy in this company to forget the horrors of war, we both had total respect for each other.
At the hotel I had a chat with my friend the cameraman (Ben) and I thought I was blown away with all of this, he was also and he had to film it all, we had a few minutes talking about the evening and I went to bed with a great feeling inside of me. The next day was going to be another special day and I had my breakfast outside with the sun shining and Humming Birds flying around, Mariano had a friend who had his own private exhibition of aircraft and in this exhibition was C222, one of the Skyhawks actually flown by Mariano.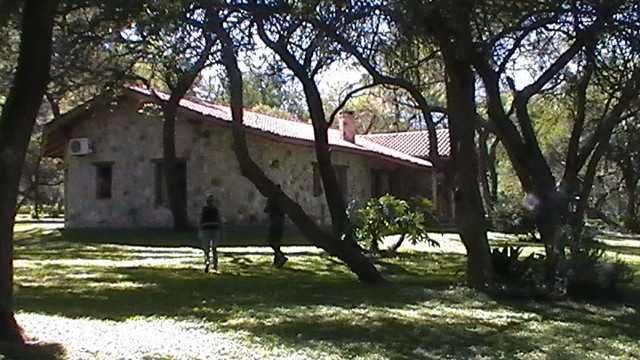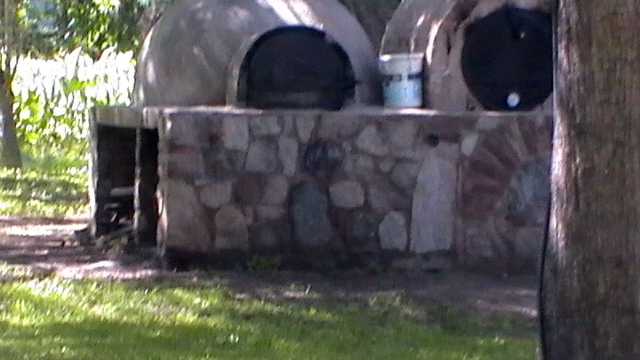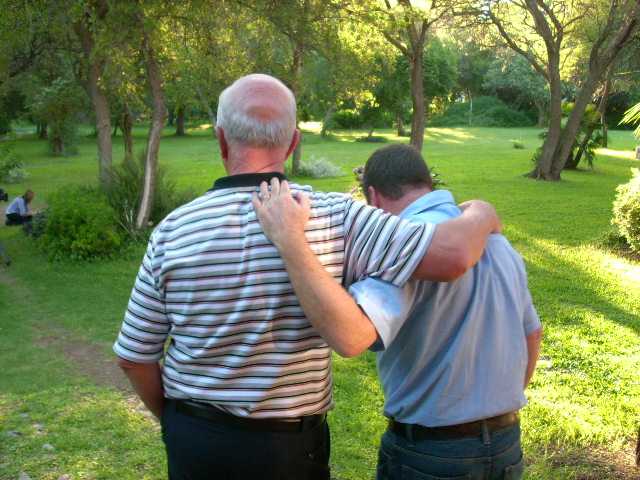 We had special permission to film around this aircraft and even jump in the cockpit of this and every other aircraft that was around. Although we didn't have the base fully to ourselves like we thought and when we got to the base it was full of army men who were about to go play with the collectors private collection of Sherman Tanks and Half-tracks.
Mariano got cornered by this group and he had to give a talk on his involvement in the war, on the other hand I had to be ushered away, not for safety reasons but because if people took pictures of us two together the whole program would be in pieces if they found their way to Facebook or YouTube etc.
Eventually it all calmed down and we were allowed to play with the "Big Boys Toys" and it was a fantastic experience, the weather was very kind to us all day and this is where we were to finish the filming, my final shot was with Mariano and myself with our arms around each other walking off into the sunset. I then had to say goodbye to Mariano and his wife and brother who had accompanied him through the day at the base, this was another emotional time (not as emotional as meeting him) I would have liked to enjoy more time with him and his family but the clock was ticking on this visit and it was time to go.
I said my goodbyes to them all then presented him with a few memento's that I had being carrying with me all day, he then presented me with something from his own personal collection, it was his Squadron Badge that he used to have on his flying suit, this was a total surprise and it was another one of those wow moments.
I left the airbase as darkness fell and we drove back to our hotel, it had being a very long day and the journey back was going to be a very long one too. My brief meeting with Mariano can only be described as one of the most memorable moments I have ever being involved in, from the day I found out he was still alive I was drawn to this moment.
For the people out there who think this was a foolish thing to do should understand that I took this massive step in my life to meet Mariano because I feel that in doing so it is the right thing to do for ME.
Closure in this chapter of my life was completed with this meeting between Mariano and myself, we fought with honor for our countries, meeting face to face in battle 30 years ago, I don't mean by meeting Mariano everything just disappears, I still have my usual dreams etc.
Special moments in life are very rare, exceptionally rare moments do not happen very often, this meeting between Mariano and myself was one of those moments. I had a brief amount of time with Mariano and I sat with him and we chatted about personal moments that I had rehearsed many times over.
The main question I asked him was, "how on earth did you managed to get out of your burning aircraft?" He replied to me with that he was told by his wingman that he was on fire and he was already struggling with his controls, he had to get to a safe speed and height before he could eject!
I can only imagine what was going through his mind that day. Yes he survived, but he was the only man to survive from his squadron, many good pilots never came back. I did not go to meet Mariano to judge him for what he had done but to hold out a hand in friendship.
La Energia de la Ley del Perdon ♥ Velasco y Wilkinson (Gracias BBC)
Extra Links
Argentine Newspaper Article about Neil and Mariano Meeting
The Argentinean Skyhawk A-4P C-240 by Jose Teixido
A Super Collection of Falkland Islands Books
See Roberto Perz Dominguez and his Aircraft Model Collection
Ver Roberto Perz Domnguez y su Coleccin de Aviones de modelo
Click Here for North Pole Global Warming
More Links to the Neil Wilkinson, Mariano Velasco Story.
Neil Wilkinson in London 2007 - 2009
Photos taken Later aboard the HMS Brazen
The End of the Falkland Islands War
South Yorkshire Aircraft Museum
Falkland Islands Museum and National Trust
Visit the Official HMS Intrepid Website
Go to Yellow Airplane's own Online Museum
More about the HMS Sheffield
More about the HMS Plymouth
More about the HMS Antelope
More about the Atlantic Conveyor
More about the HMS Intrepid
More about the HMS Hermes
More about the HMS Invincible
More about the Harrier Jet Fighter
More about the A-4 Skyhawk Jet Fighter
More about the Mirage Fighter
More about the Falklands War
More about the Malvinas Guerra
Major Subjects of this Page.
Argentina, pictures, falkland islands, falkland, falklands, malvinas, falklands war, neil wilkinson, 2011, guerra, guerra de las malvinas, air sea battles
.Thank you for visiting
YellowAirplane.com
Books Movies Models Motorcycles
Alaska Discount Travel Deals
Discount Insurance Rates
Cheap Travel Best Auto Insurance
Travel Insurance Alaska Travel
Added 16 Jan 2012
/WebSite/Adventures/Falkland_Islands_War_Guestbook/A-18_Falklands_Malvinas_War_Expedition_2011.html|26240"