Survival Equipment - Survival Supplies Railroad Calendars
The last updates on the museum listings were added 18 Jan 2011
Due to legal changes in Illinois, I will not be updating this list until further notice.
These museums change their information and locations very often.
Please try to contact the museum before you try to visit it, it may not be there anymore.
Aurora Colorado
At Front Range airport East of Aurora
CO in front of the Colorado National Guard
Installation is a Bell UH-1H-BF
74-22424 "it has 0-22424 on tail.
Info Thanks to Gilbert Bliss
This is a single aircraft on display
Denver International Airport
At DIA in B Concourse There are 2 A/C Suspended from the Ceiling
One is a JN-4
One is a Alexander
Alexander A/C were made in Colorado Springs from 1925 to 1934
Info Thanks to Gilbert Bliss
2 Aircraft
Peterson Air & Space Museum
21st Space Wing / MU
150 East Ent Avenue
Peterson Air Force Base, CO 80914-1303
719-556-4915
http://www.petemuseum.org/
Stop at the visitors center at Peterson Air Force Base which is located on the east side of Colorado Springs
Update thanks to Pat Carry
About 17 Aircraft and 5 Missiles
Freemont County Airport
This airport is at Canon City CO
is a McDonnell F-4D-27-MC 63-651
Both of these A/C are at the main gate
This is a single aircraft on display
Ft. Carson Army Base
At Ft Carson Army Base
there is a Bell AH-1S 015687
on the tail 67-15687. This base is at
Colorado Springs CO
Info Thanks to Gilbert Bliss
This is a single aircraft on display
Montrose Airport CO
Vought A-7D 70-1055 70-055 on Tail
Colorado Air National Guard Paint Job On it
Info Thanks to Gilbert Bliss
Single Aircraft Display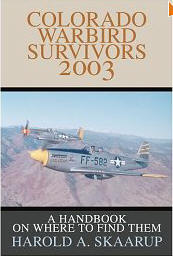 Colorado Warbird Survivors 2003: A Handbook on where to find them
Pueblo Aircraft Museum
located at the front gate of the airport
This is also a B-24 Liberator Museum
Some of the A/C at Pueblo CO are
Boeing B-29, Boeing B-47, Chance Vought F-8, Convair HC-131A, Douglas C-47, Douglas A-26, Douglas A4D-2, Douglas F-6A, Fairchild C-119, Grumman F-9F, Grumman F-11F, Lockheed P-2V, Lockheed T-33, Lockheed RB-37, McDonnell Douglas F-101, North American F-100D, North American T-28C, North American RA-5C, Republic F-84, Sikorsky SH-34J, Bell 47 H-47, Hughes HU-1, Piasecki HC-21,Fairchild R4Q-2 131688 1962 to C-119F Lockheed P2V-5 1962 to SP-2E North American F-100D Lockheed P-80C-10-LO 49-1872 Douglas F4D-1 134936 1962 to F-6A Vertol H-21B 53-4347 0-34347 on tail Piasecki before Boeing McDonnell F-101A-1-MC 53-2418 0-32418 on tail
Info provided thanks to E. Gilbert Bliss Jr.
About 23 Aircraft
U.S. Air Force Academy
The academy is located just north of
Colorado Springs on I-25
F-100 56-730 Bad number, T-38 Thunderbird #1, YF-104A 55-2967,
F-86F-30-NA, Cessna 170 ? N557AF, B-52D-55-BO, F-15A, YF-16A 75-748, F-105D-10-RE 60-462, F-4 ??-463 Might be F-4E-40-MC
Information compliments of Gilbert Bliss
Many Aircraft Here
Vintage Aero Flying Museum
7125 Parks Lane
Fout Lupton, Colorado 80621
Open Tues - Sat
30 Minutes North of Denver off of I-75
303-502-5347
http://www.vafm.org/
Information compliments of Michael Parks
About 10 Aircraft
Wings Over The Rockies Air and Space Museum
7711 East Academy Parkway
Denver, CO 80230-6929
Phone: (303) 360-5360
FAX: (303) 360-5328
Rockwell B-1A 40161 on Tail 74-160
Boeing AGM 86B Cruise Missile
Republic F-105D-6-RE 00508 Tail 60-508
Republic RF-84F-20-RE To RF-84K 1 of 26 for hook up to B-36 52-7266
Lockheed F-104C-10-LO 70910 Tail 57-910
Convair F-102A-55-CO 56-984 With A1M-4 Falcon Missiles
McDonnell F-101B-105-MC 80271 MFG 4-19-60 58-271
North American F-100D-85-NH 63417 Tail 56-3417
Located just south of Denver's Stapelton Airport
http://www.WingsMuseum.org/
About 18 Aircraft
includes the 1st, 21st and 34th Fighter Squadrons from World War 2. This is the specialized training that the squadron members went through at Bluethenthal Field in Wilmington North Carolina just prior to their transfer to the island of Ie Shima located just north west of Okinawa.

The Pictorial Review was provided by Seth A. Villa
Exhibit Added 24 Apr-2000
Exhibits at the YellowAirplane Museum
Aviation Art
Survival Equipment - Survival Supplies