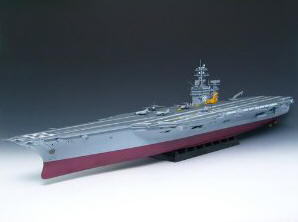 Nimitz class (CVN-68) nuclear power aircraft carrier
is the second generation nuclear multi-function carrier of the American Navy Force, The draft reaches more than 90,000 Tons, it is the largest warship in the world, The Nimitz (CVN-68) was first made in September, 1975, and cost US 1.88 billions, the standard draft of Nimitz class is 81,600 Tons: its full draft is 96,300 Tons: its highest speed is 33 knots, its continues traveling distance is 800-1000 thousand miles at 30 knots, the length of the carrier is 332.9m, the width is 40.8m, the draft is 11.3m, The length of the flight deck is 333.9m, the length of angle is 237.7m,the width of flight deck is 76.8m. The personnel formation is 3184 and the regiment is 2800. The ships power device is a 4 turbine generator, 2 water compressed piles and 4 shafts propeller, the total power output is 280 thousand horsepower, the self sufficient force can be feed and maintained for 16 days. It can perform the war duty under a class 6 sea condition and can travel safely under a level 12 typhoon.
USS Nimitz (CVN-68) was completed by 1973, but not commissioned until 1975 due to the late delivery of essential components for her nuclear powerplant. In 1975, Nimitz joined the Atlantic fleet, ending Enterprise's reign as the largest warship in the world. The carrier's flight deck is generally the same as that of the Kitty Hawk, but with the cut-off forward flight deck first seen on the John F. Kennedy. Between 1975 and 1985, Nimitz made numerous cruises in the Atlantic and the Mediterranean. In 1980, the carrier made a round-the-world deployment. While in the Indian Ocean, she served as the sea borne base for the abortive Teheran hostage rescue mission, Operation Eagle Claw. At the start of the 1981 Mediterranean cruise, the F-14 made its air-to-air combat debut when two VF-41 Tomcats from Nimitz shot down two attacking Libyan Sukhoi Su-22 fighters. In 1987, Nimitz transferred from the Atlantic Fleet to the Pacific Fleet, embarking Air Wing Nine which had previously been attached to the USS Kitty Hawk. Due to a shortage of F-14Bs, Nimitz's two Tomcat units transitioned back to the F-14A in early 1992.
The USS Nimitz had a full complement of aircraft (including F-4 Phantom IIs, F-14 Tomcats, A-6 Intruders, EA-6 Prowlers, A-7 Corsairs, RA-5 Vigilantes, E-2 Hawkeyes and SH-3 Sea Kings)