USS Intrepid 1/720 Kit" src="images/CV-11_USS_Intrepid_Model_1-720_Scale.jpg" border="1" hspace="10" vspace="4" width="300" height="86" align="left">USS Intrepid
the USS Intrepid (CV-11), an Essex-class carrier that participated in several Pacific Theater campaigns (most notably the Battle of Leyte Gulf)
the legendary Essex-class carrier USS Intrepid (CV-11) from her 1943 launch through her World War II service in the Pacific Theater, her missions as a recovery ship for America's first astronauts, her three tours of Vietnam combat, and her current status as a floating museum.
Nicknamed the "Fighting I," the U.S.S. Intrepid was the third of twenty-four Essex-class carriers built for the U.S. Navy during WWII. She was crucial to several Pacific Theater campaigns, including the Battle of Leyte Gulf. After the war, she was used as a recovery ship during the Mercury and Gemini programs. Today, she is anchored off New York's coast as a museum ship. Kit features a textured flight deck, superstructures with radar equipment, a shipboard cannon, anti-aircraft guns, aircraft, four propellers and decal markings for the flight deck and aircraft.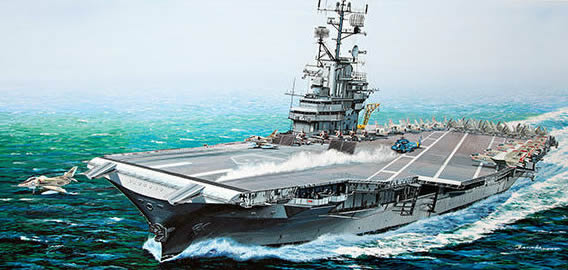 CV-11 USS Intrepid Anatomy of the Ship" hspace="10" src="images/CV-11_the_Aircraft_Carrier_USS_Intrepid.jpg" vspace="4" border="1" width="200" height="187" align="left">

Anatomy of the Ship
Hardbound Book
0022514

Aircraft Carrier Intrepid. Roberts. Written by well-known warship historian John Roberts, this classic reference on the Essex class ship features the extensive diagrams and photographs that this series has become justly famous for. It also offers an authoritative description of the concepts, design, modifications, and operational history of the Intrepid and a new large-scale foldout plan. 96 pages, 154 illustrations, 10"x 9", hardcover.

USS Intrepid CV-11 included Helldivers, Avengers and Hellcats on the flight deck - this Essex class carrier USS Intrepid, survivor of three kamikaze suicide attacks and the battle for Okinawa, where more than 30 Allied ships were sunk. Launched in 1943, the USS Intrepid served the United States Navy for 31 years. This Essex class carrier, along with her 23 sister ships, formed the backbone of the United States Navy during the latter half of the Second World War. The USS Intrepid is a 40,000 Ton, 900 foot-long aircraft carrier.
USS INTREPID ASSOCIATION

The USS Intrepid (CV-11) went into service on 16th August 1943as the third of the Essex Class aircraft carriers. With a maximum crewof 3,450, the Intrepid took part in many operations in the war againstJapan. In the Pacific she was the US aircraft carrier to score the mosthits in combat. Then NASA used the Intrepid as the main recovery shipin the Mercury and Gemini programme. After service in the Vietnam War,the carrier was finally laid up in the spring of 1974. Since 1982 shehas lain at anchor off New York as a museum ship and today houses theIntrepid Sea-Air-Space Museum.