Plastic Cements

Plastic Paints
LA-7 Lavochkin 1/48 Scale Model Kit
Plastic Model Airplane Kit.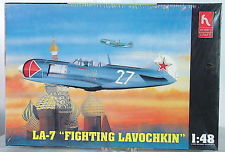 The La-7 was a light-weight, maneuverable aircraft capable of reaching 423 mph - equal to anything on the other side. With under-wing bomb or rocket capacity and cowl-mounted canons, it provided sufficient punch. The La-7 was a favorite of Russian aces such as top scorer Ivan Kozhedub, renowned for 62 kills. Plastic kit features recessed panel lines, realistic cockpit and assorted weapons. 8" wingspan when completed.
Ivan Kozhedub La-7.
Aviation Art Print.

Jerry Crandall. Ivan Kozhedub was the leading Soviet and Allied Ace of World War II. This print depicts Kozhedub in his La-7, White 2, the day he scored a victory against an Me 262 and earned his third Hero of the Soviet Union medal. Limited edition print measures 29"x 22" and is signed by the artist and by Air Marshall Ivan N. Kozhedub. LaGG & Lavochkin Aces of WWII.
Softbound Book.
Aircraft of the Aces Vol. 56.

Mellinger. This book examines LaGG fighters, amongst the first piston-engine interceptors flying with the Red Air Forces. Despite difficulties and political interference, the LaGG-3 matured into an effective fighter and was the first mount of many Soviet aces. Later, the Lavochkin family of fighters, such as the La-3, -5 and -7, were the fighters of choice for pilots such as top Soviet ace Ivan Kozhedub. 96 pgs., 86 B&W photos and 36 color profiles, 7"x 9", sfbd.


Lavochkin's Piston-Engined Fighters.
Softbound Book.
Red Star Vol. 10
Gordon. This volume explores the formation of OKB-301, the design bureau created by Semyon. Aircraft examined include the LaGG-3 used in the Winter War, the La-5 and La-7 of WWII, and the La-9 and La-11 in post-war roles. Illustrated with rare and previously unpublished photos drawn from Russian military archives. 128 pgs., 200 B &W photos, 16 pages of color, side views, line drawings, 8"x 11", sfbd.

Harley Davidson Motorcycles for Sale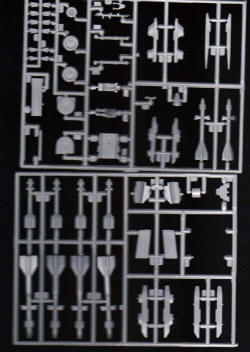 I bought this model airplane kit in Moscow in their version of Toys-R-Us. It was a fantastic store with a super large section of models and dioramas. They had more models than any company that I have seen in the United States. The kids there still build models and it probably an indicator of why their middle school kids are rated as the most intelligent in the world. They had a three foot model of the USS Kitty Hawk which was my ship when I was in the Navy. I wish that I would have bought the model, but I never thought of having it sent home and knew that if I carried that big of a model in my airplane luggage that it would have been smashed in the transport. Not one company in the U.S. sells a large model of the Kitty Hawk.