Product Description
Many examples of aircraft that saw service in the various armed forces of the United States are currently being restored to flying status or preserved in museums in the state of Texas. Some of them have significant war records, and a few are currently standing as gate guardians outside their former airbases. These Warbirds are a permanent part of our modern history, and they deserve to be remarked upon and remembered.
This handbook provides a simple checklist of where the surviving military aircraft in Texas are located now, along with a few photographs and a brief history of their service in the US military. This book should spark your interest in some of the military aviation history that can be found in this warm and friendly state on America s Gulf Coast. Texas Warbird Survivors is specifically intended to provide a where are they guide for residents and visitors to Texas who are interested in its rich resources of historical military aircraft. Contact numbers are provided for the museums, should you be interested in learning more about each aircraft. Perhaps you will then choose to visit these museums in order to appreciate the rich resources of aviation heritage preserved on your behalf.
About the Author
Major Harold Skaarup is an Army officer with extensive service overseas. He earned his Bachelor's Degree in Fine Art with NSCAD, and a Master's Degree in War Studies from the Royal Military College in Canada. He enjoys skydiving, SCUBA diving and white water rafting with his sons, Jonathan and Sean.
More Books by Harold Skaarup
Brooks Heritage Foundation
8081 Inner Circle Road (building 671)
Brooks City-Base, Texas 78235
P.O. Box 35362
210 536-2203
http://www.brooksheritage.org/
Info thanks to Pat Carry
About 2 Aircraft
OTHER THINGS TO DO IN THE DALLAS AREA
Alliance Air show (ph. 817-551-1967)
NAS Ft. Worth Air show (ph. 817-782-5593)
Fina Dallas Air show (ph. 214-350-3600)
Frontiers Of Flight Museum (ph. 214-350-3600)
Experimental Aircraft Association Air show (ph. 414-426-4800)
Aero Club of Texas (ph. 817-282-5274)
Rolls Royce/American Airlines Aviation Lecture Series (ph. 817-967-5995)
Information Compliments of William E. Stevens
Check Out These Air Shows
CAF Airpower Heritage Museum
Formerly the Commemorative Air Force Museum
Midland, TX
http://www.airpowermuseum.org/
Information compliments of David Hidinger
Updates thanks to Pat Carry
About 55 Aircraft
Cavanaugh Flight museum
Addison Airport
4572 Claire Chennault
Dallas, TX. 75248
ph. 972 380-8800
located at Addison Airport, Addison, Texas, a suburb north of Dallas. they have many flying WW2 aircraft there. A Spitfire, and ME109, a Navy Torpedo Bomber like Bush flew, PT Stearman, PT-21, AT6 Texan, P-51 Mustang, One of the finest collections of vintage Warbirds in the U.S. From WWI through Vietnam, the aircraft on display cover the gamut. A 125 mph Sopwith Camel is only a hanger away from a 1,350 mph Russian MIG-21. Everything is maintained in mint, flyable condition.
Information Compliments of Harry Breysacher
More Aircraft than Listed Here
Corpus Christi Museum of Science & Industry
1900 N. Chaparral
Corpus Christi, TX 78401
512 833-2862
About 2 Aircraft
DFW WING OF THE
COMMEMORATIVE AIR FORCE
Lancaster Airport, TX.
Between I-45 & I-35E on Beltline
ph. 972 617-7707 or 972 227-9119
Local Wing of the world-famous Confederate Air Force, now renamed to the Commemorative Air Force. Numerous original flyable WWII aircraft on display along with a sizable collection of memorabilia and artifacts. The aircraft on display are constantly changing as a result of transients that pass through from other Commemorative Air Force Wings. Open Saturdays from 8 a.m. to 5 p.m. Admission is 1.
Information compliments of William E. Stevens
Lots of Aircraft
Dyess Linear Air Park
96 BMW/CVM
Dyess Air Force Base, TX.79607
915 696-2196
About 25 Aircraft
Frontiers of Flight Museum
Love Field Terminal Lobby
2nd Floor , LB18
Dallas, TX. 75235
ph. 214 350-1651
A truly superb memorabilia and photography collection depicting all aspects of aviation from pre Wright aeronautics to the present.
http://www.flightmuseum.com/
Updates Thanks to Pat Carry
Lots of interesting artifacts of aviation history
Hangar 10 Flying Museum
1945 Matt Wright Ln.
Denton, TX. 76207
940 565-1945
Located at Denton Municipal Airport
www.Hangar10.org
Info thanks to Dirk Edmonds
About 11 Aircraft
Historic Aviation Memorial Museum
Pounds Regional Airport
Tyler, TX.
150 Airport Drive
Tyler, Texas 75704
903-526-1945.
Info Thanks to Mike Burke
We have exhibit areas and a hangar for restoration and display of aircraft engines and aircraft we currently have an FJ-4 Fury in process of static restoration, and the following flying aircraft: Mig-17F, F-86D Sabre, L-29 Delfin, A-4 Skyhawk, T-33 Shooting Star, and a Polish Iskara jet
History and Traditions Museum
Lackland Air Force Base
San Antonio, TX 78236
512 671-3444
About 50 Aircraft
National WASP

WWII

Museum
P.O. Box 456/ 210 Loop 170
Sweetwater , Texas 79556
325-235-0099


waspinfo@wtconnect.com



Woman's Air Force Service Pilots of WWII
NASA Lyndon B. Johnson Space Center
Public Services Branch, AP4
Houston, TX 77058

About 5 Spacecraft
National Museum of the Pacific War
340 E. Main St.
Fredericksburg, TX.78624
210-997-4379
Info thanks to Pat Carry
http://www.nimitz-museum.org/
About 4 Aircraft
NAVAL AIR STATION
FT.WORTH, JRB
Ft. Worth, TX.
ph. 817 782-5593
Base access is, at times, restricted, so it is recommended that a phone call be made to verify status before visiting. Admission is free.
Information compliments of William E. Stevens
About 15 Aircraft
OV-10 Bronco Museum
505 NW 38th Street, Suite 10, Hangar 33s
Fort Worth, TX 76106
(800) 575-0535
(This is the same facility as the Vintage Flying Museum)
http://www.ov-10bronco.net/OBA/Museum/
Information thanks to Merlin
About ? Aircraft
Pioneer Flight Museum
190 Pershing Lane
Kingsbury, TX. 78638
830-639-4162


Currently Flying

Fokker DR1

with

rotary engine,

Currently Flying Curtiss Canuck/Jenny with OX-5 engine

Currently Flying Piper Cub

Currently Flying Luscombe

Currently Flying Meyers OTW

Great Lakes

Bleriot 1909

Fokker DVII

2 Thomas Morse Scouts

Curtiss Junior (1931)

Pietenpol Sky Scout (model A engine)

3 running Model T's

Running 1917 Nash Quad

1917 Indian Motorcycle

1909 Thor IV Motorcycle

Standard J-1, Ken Royce, Se-5a, Bristol F2B projects

Numerous Vintage Engines (not yet orgainized)
Information thanks to Al Sumrail
About 18 Aircraft
TEXAS AIR COMMAND
505 N. W. 38th St.
Hangar 33s
Meacham Airport
Ft. Worth, TX. 76106
ph. 817 624-1935
A newly formed collection of flyable military aircraft and hangared with the Vintage Flying Museum, it contains an assortment of jet fighters and trainers. Among these are a rare British Hawker Hunter and several Canadian versions of the North American F-86. Open Saturday 10 a.m. to 5 p.m. and Sunday, noon to 5 p.m. Monday through Friday. Memberships are available. Admission is free. Donations are welcome!
About 12 Aircraft
Texas Air & Space Museum
10001 American Dr.
Amarillo, TX 791111213
806-335-9159
http://www.texasairandspacemuseum.org
T34 Mentor, Bell 47 MASH helicopter, T33A Shooting Star, DC3, Lockheed Jetstar, P51D Mustang, C7A Caribou, Grumman Gulfstream II, C11A Shuttle Training Aircraft, Bobby Speed 'Beercat' Reno Racer.
For more information, contact: Richard Warner at texasairandspacemuseum@gmail.com.
Information Thanks to Richard Warner.
About 10 Aircraft plus lots of other stuff
Texas Air Museum
12102 FM 400-CR 34
Slaton, Texas 79363
(806) 828-4664
http://www.thetexasairmuseum.org/
F4S, F-105D, F-14, A-7B, T-33 ,T-2B, HS04, T-6G, AT-19, PT-17, BC-12D, Bf-109F, Lancair 320, C-150, DH-104, Plus half-tracks, jeeps, APC,M-29,M-4 and a Type 95 Japanese Cannon (believed to be the only one in existence).

Open Saturdays 9-4 and other times by request. Admission is 3.00 for adults, kids free.
Information Provided by Frank Horne
Updates thanks to Pat Carry
About 15 Aircraft plus lots of other stuff
Texas Air Museum
Stinson Field
8406 Cadmus
San Antonio, TX 78214
Phone: (210) 977- 9885
Fax: (210) 927- 4447 .
http://www.texasairmuseum.org/

The Texas Air Museum, with its three locations, at Rio Hondo in the Rio Grande Valley near Harlingen; at Slaton, near Lubbock; and at Stinson Field in San Antonio, presents the history of flight from the early days of aviation to the present. Here you will see some of the world's rarest aircraft, including the largest exhibit anywhere of scarce German Focke-Wulf FW-190's


Info thanks to Larry Stewart
Updates thanks to Pat Carry
About 15 Aircraft plus lots of other stuff
UNIVERSITY OF TEXAS
HISTORY OF AVIATION COLLECTION
Eugene McDermott Library
2901 N. Floyd Road
UT Dallas, TX. 75083-0643
ph. 972 883-2570
One of the world's finest aerospace reference libraries.
Now consisting of over 30,000 volumes, several hundred-thousand periodicals, and hundreds of thousands of photographs covering the entire spectrum of flight from pre-Wright Aeronautica to the present. WWI aviation section is possibly without peer in the world.
Information thanks to William E. Stevens
About 12 Aircraft
Veterans Memorial Air Park
3300 Ross Avenue
Fort Worth, TX 76106
Mailing Address: PO Box 161966, Fort Worth, TX. 76161
800-575-0535
http://www.facmuseum.org/
Information thanks to Jim Hodgson
About 8 Aircraft
VINTAGE FLYING MUSEUM
505 N.W. 38th St.
Hangar 33 South
Meacham Airport
Ft. Worth, TX. 76106
ph. 817 624-1935
http://www.vintageflyingmuseum.org/
As a designated FAA Aviation Education Resource Center, education materials for all ages are available. Call for information about education programs and Big Band Hanger Dances. Open Saturday 10 a.m. to 5 p.m. and Sunday, noon to 5 p.m. Weekday and group tours by appointment.
Excellent gift shop. 3.
Information thanks to William E. Stevens
Updates thanks to Pat Carry
About 20 Aircraft
| | |
| --- | --- |
| | |
Click Here's a nice letter from our viewers
Click on image for a larger view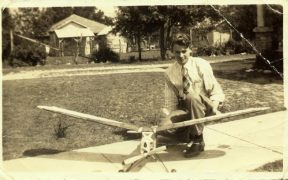 LB06 Sir, this letter may be of no interest to you, but just in case I thought I would give it a try. The picture, I have attached, was made around 1937. The boy was 17 years old at that time, and the model was a winner at some contest held in Dallas, TX. The young man was my brother who died in WW 2 after landing his B-25 on water near the Celebes Islands (Pacific). With this plane, he won a trophy, a model airplane motor, and a trip to Chicago. His life was airplanes. We were raised in Arkansas (Arkadelphia) where he was the first to complete the civil aeronautical training program offered there. Growing up, I remember the tiny pieces of balsa wood and glue he used to hold the parts together, first held with very tiny pins until the glue was dry. I ran across your site, because I often go back in my mind to Arkansas and the sites I can find about "home". Yours made me think of L.B. and his love for models. If you should care to answer this letter, I would be delighted, and if not I understand that you are very busy person and don't worry about it. My name is Ann Walker and I live in Conroe, TX. I am 73 years old. My brother's name was L.B. Bardwell, Jr. Had he lived, he would now be 82. Thanks, in any case, for reading this and letting me bend your ear for a little while.
Ann Walker
Click Here to send a letter to Ann
Click here to see B-29 Books, Videos, Models
Exhibits at the YellowAirplane Museum
Aviation Art
Survival Equipment - Survival Supplies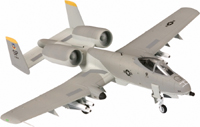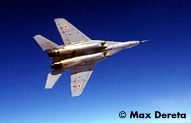 Take a ride in a real
Russian MiG 29

Click Here's some Tremendous Adventures you can take

by Warren Benjamin Kidder