B-25 Mitchell Snap-Together Kit
Featuring snap- and screw-together parts, this 1/72 plastic kit is also pre-painted and detailed, making it a perfect, non-intimidating choice for young or beginning kit builders. Includes rotating propellers and wheels, a moveable turret… even the screwdriver is in the box, so there is nothing else to buy. 11" wingspan; recommended for ages 8 and above.
B-25 Mitchell 1/72 Display Model

Featuring propellers that rotate at the pull of a string, this 1/72 scale plastic model of a B-25 Mitchell also includes textured surfaces, glazed cockpit windows, a dorsal turret, authentic markings, a display stand, and more. 11" wingspan; minor assembly required.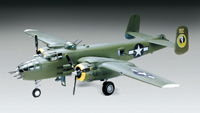 Model and a Movie
B-25 Mitchell 1/48 Scale Models Plastic Model Kit



The B-25 was one of the most widely used twin-engine bombers employed during the war, and included nose-mounted machine guns for a ground support role. This plastic kit is highly detailed including the machine guns in the glass nose, weighted tires and figures. Skill level 2.


Movie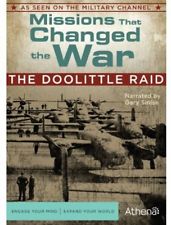 In 1942, the B-25B The Doolittle Raid
Mitchell bolstered the spirits of the entire Allied Forces with its daring bombing, and highly successful bombing run on Japan. For his leadership role in the raid, Doolittle received the Medal of Honor. Highlights of this kit include recessed panel lines, a complete bomb bay, an aftermarket quality decal sheet, highly detailed engines with correct cowls, and crew compartments. Plastic cement is required to build this kit. To customize your model, you may also want to buy a paint kit. Perfect for the intermediate-level modeler.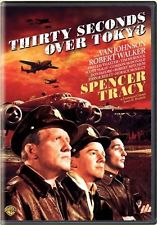 Thirty Seconds Over Tokyo

DVD Movie
Johnson, Walker
Historical
Shortly after the bombing on Pearl Harbor, the American military began preparation for a retaliatory attack. The story of that mission is presented in THIRTY SECONDS OVER TOKYO, based on the memoirs of Captain Ted Lawson, who flew one of the 16 twin-engine bombers over Tokyo. Spencer Tracy plays Colonel Jimmy Doolittle, the leader of the mission, while VAN JOHNSON plays the leading role of Captain Ted Lawson, whose bomber also carries star Robert Mitchum. A variety of factors makes the mission exceptionally dangerous: Twin-engine bombers had never taken off from an aircraft carrier previously; the bombers needed to fly in low, pretending to be Japanese aircraft; and the oversize bombers couldn't return to the aircraft carrier, so the intended landing site was behind enemy lines in China. With its almost documentary-style approach, THIRTY SECONDS OVER TOKYO is perhaps the finest film about World War II made during the war itself.
B-25 Mahogany Display Model

Pre Built Mahogany Model
Made of Philippine mahogany, this 1/48 scale model measures 13½" in length, has a wingspan of 16½" and features the markings of the "Doolittle Raiders." Hand painted and detailed, model comes ready to display on the included mahogany base.