Consolidated, B-25 Mitchell
All prices are subject to change without notice, on item to see the latest price or make a purchase.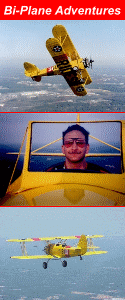 Take a ride into Space, for Real.

Driving Adventures, Drive a real Tank

Zero Gravity, Ride in the Vomit Comet.

Ride in a MiG-25 to the Edge of Space

Ride in a F-104 Starfighter, Jet Fighter
B-25 Mitchell 1/72 Snap-Together Kit




Featuring snap- and screw-together parts, this 1/72 plastic kit is also pre-painted and detailed, making it a perfect, non-intimidating choice for young or beginning kit builders. Includes rotating propellers and wheels, a moveable turret… even the screwdriver is in the box, so there is nothing else to buy. 11" wingspan; recommended for ages 8 and above.


#

0096972

Price: $

13.95
B-25 Mitchell 1/72 Display Model




Featuring propellers that rotate at the pull of a string, this 1/72 scale plastic model of a B-25 Mitchell also includes textured surfaces, glazed cockpit windows, a dorsal turret, authentic markings, a display stand, and more. 11" wingspan; minor assembly required.


#

0095851

Price: $

19.95
B-25 Mitchell 1/63 Kit




Lt. Col. Jimmy Doolittle, Tokyo Raid

Replicating a B-25 Mitchell flown on the Doolittle Raid of April 18, 1942,

this 1/63 scale, limited edition plastic kit - a Revell Classic re-issued with original box art from more than 30 years ago - features textured surfaces, a prototypical twin tail, realistic landing gear, authentic markings, and more. 12¾" wingspan; assembly required.
#

0083616


Price: $

17.95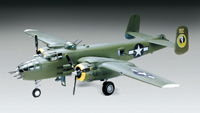 Model and a Movie
B-25J Mitchell 1/48 Kit
Plastic Model Kit


The B-25 was one of the most widely used twin-engine bombers employed during the war, and included nose-mounted machine guns for a ground support role. This plastic kit is highly detailed including the machine guns in the glass nose, weighted tires and figures. Skill level 2. ....#0009112 $24.95

Movie
In 1942, the B-25B Doolittle Raid Mitchell bolstered the spirits of the entire Allied Forces with its daring bombing, and highly successful bombing run on Japan. For his leadership role in the raid, Doolittle received the Medal of Honor. Highlights of this kit include recessed panel lines, a complete bomb bay, an aftermarket quality decal sheet, highly detailed engines with correct cowls, and crew compartments. Plastic cement is required to build this kit. To customize your model, you may also want to buy a paint kit. Perfect for the intermediate-level modeler.
Thirty Seconds Over Tokyo

DVD Movie


Johnson, Walker
Historical
B-25 Mitchell Balsa Wood Kit
Balsa Wood Model Kit


1/32 scale balsa display kit of the U.S.' most lethal twin-engine bomber of WWII has a 28" wingspan when completed. Assembly required. .....#0008917 $49.95
B-25B/C Mitchell 1/48 Model
Pre Built Mahogany Model


Made of Philippine mahogany, this 1/48 scale model measures 13½" in length, has a wingspan of 16½" and features the markings of the "Doolittle Raiders." Hand painted and detailed, model comes ready to display on the included mahogany base. .....#0009462 $179.00
Pilot's Manual B-25 Mitchell
Softbound Book

Super Find
Reprint of official government issue pilot's handbook for models B-25C and D with a 25 page forward on the history and modifications to the B-25. Handbook covers general description, pilot's operating instructions, flight operations data, navigator's radio, gun turret, bomb bay compartments, etc. System diagrams, interior photos and operational tables. 141 illustrations, 109 pgs. 8½"x 11", sfbd.
Very Inexpensive
This would be great for your collection! .....#0001410 $15.95
CV-8 Hornet Display Model




Individually crafted and mounted on a display base with plaque, this hand built, hand painted model of the USS Hornet is the ultimate display of the famous launch platform for the Doolittle Raiders as they headed to Tokyo. The highly detailed flight deck even includes the 16 B-25s that flew the famed mission! Made of Philippine mahogany, this 1/350 scale model measures 28" long and has a 4" beam.


#

0090844


Price: $

1495.00
USS Hornet 1/700 Kit




The Hornet first sailed in 1942 and gained fame when "Doolittle's Raiders" launched from her deck in their B-25s. The Hornet survived 372 days before sustaining heavy damage, and ultimately sinking, at the Battle of Santa Cruz. This detailed plastic "water-line" kit features engraved surface details; realistic command tower with windows, railings and antennae; anti-aircraft guns; lifeboats; and the 16 Doolittle B-25s. 13¾" in length; assembly required.


#

0090568


Price: $

21.95
USS Hornet Die Cast Model




Capturing the original with remarkable detail, this 1/700 scale die cast metal model replicates the USS Hornet as it prepared for the launch of the Doolittle Raid against Tokyo. The model even includes the B-25 Bombers! Cutaways on the side reveal lifeboats while the rudder and propeller sit ready for duty. Measures approximately 13¾" in length and includes display stand.


#

0093900


Price: $

29.95