www.YellowAirplane.com

B-25 Mitchell

WW2 Military Bomber Aircraft Models, Plastic, Wood and Diecast Airplane Models B25.


B-25 Mitchel Bomber airplane models used by Jimmy Doolittle in the Tokyo Raid against Japan.

B-25 Mitchell Plastic Model Airplane Kits, Balsa Wood Models, Diecast Aircraft Display Models. Plus, B25 Mitchell Aviation Art Pictures. The B-25 Mitchell is famous for the Doolittle Raids over Japan just shortly after Japan attacked Pearl Harbor.

You are in the
B-25 Mitchell Bomber Model Kits Department.
in the YellowAirplane store.
B-25 Mitchell Bomber Airplane Models.
B-25 Mitchell Bombers, Military Aircraft Models, Plastic Model Kits, Wooden Models, Diecast Model Airplanes
The B-25 Mitchell The North American B-25 Mitchell was one of the best-known medium bombers of World War II, especially remembered for its use in the Doolittle raid on Japan in 1942 and its participation in every major theater of the war. Less known, however, is its continued role in the postwar world, both in military and civilian service. Thousands of war surplus B-25's sat on airfields in 1945, available to the highest bidder.
Though most B-25's, as other warplanes, were scrapped and smelted, hundreds did enjoy a postwar career in the civil sector. The B-25 is now one of the most prolific surviving Warbirds, and this book tells the story of the type in the years since the end of World War II. The B-25 has provided diverse and distinguished service in roles from fire-fighting to movie production. This books covers all of these roles and includes hundreds of photographs, detailed appendices, and individual aircraft histories of each of the civilian B-25's.
B-25 Books B-25 Movies B-25 Mitchell Models B-25 Aviation Art
2016 Airplane Calendars Airplane Art
Consolidated, B-25 Mitchell
B-25 Mitchell 1/32 Scale Models
B-25 Mitchell 1/48 Scale Models
B-25 Mitchell 1/72 Scale Models
B-25 Mitchell Die Cast Models
B-25 Mitchell Wooden Models
B-25 Mitchell Plastic Models
B-25 Mitchell Mahogany Models
B-25 Mitchell Pictures
B-25 Mitchell Prints
B-25 Mitchell Shoulder, Jacket Patches
Jimmy Doolittle Raid Special Section
B-25 Mitchell Bomber Everything
B-25 Mitchell 1/32 Scale Models
B-25 Mitchell 1/72 Snap-Together Kit




Featuring snap- and screw-together parts, this 1/72 plastic kit is also pre-painted and detailed, making it a perfect, non-intimidating choice for young or beginning kit builders. Includes rotating propellers and wheels, a moveable turret… even the screwdriver is in the box, so there is nothing else to buy. 11" wingspan; recommended for ages 8 and above.


#

0096972

Price: $

14.95
B-25 Mitchell 1/72 Display Model




Featuring propellers that rotate at the pull of a string, this 1/72 scale plastic model of a B-25 Mitchell also includes textured surfaces, glazed cockpit windows, a dorsal turret, authentic markings, a display stand, and more. 11" wingspan; minor assembly required.


#

0095851

Price: $

19.95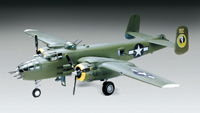 Model and a Movie
B-25J Mitchell 1/48 Kit
Plastic Model Kit


The B-25 was one of the most widely used twin-engine bombers employed during the war, and included nose-mounted machine guns for a ground support role. This plastic kit is highly detailed including the machine guns in the glass nose, weighted tires and figures. Skill level 2. ....#0009112 $24.95

Movie
In 1942, the B-25B Doolittle Raid Mitchell bolstered the spirits of the entire Allied Forces with its daring bombing, and highly successful bombing run on Japan. For his leadership role in the raid, Doolittle received the Medal of Honor. Highlights of this kit include recessed panel lines, a complete bomb bay, an aftermarket quality decal sheet, highly detailed engines with correct cowls, and crew compartments. Plastic cement is required to build this kit. To customize your model, you may also want to buy a paint kit. Perfect for the intermediate-level modeler.
Thirty Seconds Over Tokyo
DVD Movie


Johnson, Walker
Historical
B-25 Mitchell Balsa Wood Kit
Balsa Wood Model Kit


1/32 scale balsa display kit of the U.S.' most lethal twin-engine bomber of WWII has a 28" wingspan when completed. Assembly required. .....#0008917 $49.95
B-25B/C Mitchell 1/48 Model
Pre Built Mahogany Model


Made of Philippine mahogany, this 1/48 scale model measures 13½" in length, has a wingspan of 16½" and features the markings of the "Doolittle Raiders." Hand painted and detailed, model comes ready to display on the included mahogany base. .....#0009462 $199.00
Lt. Col. Jimmy Doolittle, Tokyo Raid Replicating a B-25 Mitchell flown on the Doolittle Raid of April 18, 1942,
Pilot's Manual B-25 Mitchell
Softbound Book

Super Find
Reprint of official government issue pilot's handbook for models B-25C and D with a 25 page forward on the history and modifications to the B-25. Handbook covers general description, pilot's operating instructions, flight operations data, navigator's radio, gun turret, bomb bay compartments, etc. System diagrams, interior photos and operational tables. 141 illustrations, 109 pgs. 8½"x 11", sfbd.
Very Inexpensive
This would be great for your collection! .....#0001410 $15.95
USS Hornet 1/700 Kit




The Hornet first sailed in 1942 and gained fame when "Doolittle's Raiders" launched from her deck in their B-25s. The Hornet survived 372 days before sustaining heavy damage, and ultimately sinking, at the Battle of Santa Cruz. This detailed plastic "water-line" kit features engraved surface details; realistic command tower with windows, railings and antennae; anti-aircraft guns; lifeboats; and the 16 Doolittle B-25s. 13" in length; assembly required.


#

0090568


Price: $

23.95
USS Hornet Die Cast Model




Capturing the original with remarkable detail, this 1/700 scale die cast metal model replicates the USS Hornet as it prepared for the launch of the Doolittle Raid against Tokyo. The model even includes the B-25 Bombers! Cutaways on the side reveal lifeboats while the rudder and propeller sit ready for duty. Measures approximately 13" in length and includes display stand.


#

0093900


Price: $

29.95
Here for More Aircraft Carrier Models and Merchandise
A Special B-25 Request:
I represent a group of people in Grand Junction Colorado that for about a year have been trying to get an Air Museum and Veterans Memorial going here in Grand Junction. We have a B-25 that we are trying to buy and need your help with donations to the cause. Our group is known as CAMMO-Colorado Aviation Museum Maintenance Organization. Please send any donations to:
CAMMO
Colorado Aviation Museum Maintenance Organization
2780 Landing View Ln.
Grand Junction Co. 81506.
Make any checks payable to CAMMO. Thank you very much,
Warren Henderson, Project Manager
/Models_Bombers/airplane_models_B-25.html|32210"

Copyright Dates:

12-7-2008 11-28-2010 1-4-2012 11/12/2013