Pilot's Manual B-25 Mitchell
Reprint of official government issue pilot's handbook for models B-25C and D with a 25 page forward on the history and modifications to the B-25. Handbook covers general description, pilot's operating instructions, flight operations data, navigator's radio, gun turret, bomb bay compartments, etc. System diagrams, interior photos and operational tables. 141 illustrations, 109 pgs. 8½"x 11", sfbd.
N.A. Mitchell III, B-25
Pilot's Notes Series


North American B-25 Mitchell

The Ultimate Look, From Drawing Board to Flying Arsenal
Wolf. With hundreds of photographs, schematics and 20 color profiles, this book provides an in-depth examination of the design, development and manufacture of the B-25 Mitchell - a versatile twin-engine medium bomber built by North American Aviation - as well as its equipment, crew, arms and ordnance. 336 pages, 500+ B&W and color photographs and illustrations, 8"x 11", hardcover.

American Airpower: Bombers 1935-1960

Vintage Aviation Photographs from WWII, Korea and the Cold War
Cilio. In 1935, America's largest bombers could approach 200 miles per hour. By 1960, the Cold War B-58 could fly 1,320 mph - almost twice the speed of sound! This photo-history, which examines those bombers and everything in-between, is filled with rare archival images of heavy, medium and light types as well as dive-bombers and fighter-bombers.
You'll view the B-15, B-17, B-24, B-25, B-26, A-20, P-70, A-29, Dauntless, Helldiver, Avenger, B-29, Marauder, Skyraider, F-84, B-36, B-50, B-52, B-58 and more. 124 pages, 155 B&W photographs and illustrations, 11"x 8", softcover.
Vintage Aircraft Nose Art

Valant. A collection of nose-art from the combat planes of the World War II and Korean eras, this is girl-art at its best, inspired by Alberto Vargas paintings in Esquire magazine and copied by crew members onto the noses of their aircraft. Includes 33 original nose art panels in the CAF collection and archival art of B-17s, B-24s, B-25s, B-26s, B-29s, etc. 880 photographs, 120 in color. 208 pages, 10"x 11", softcover.

U.S. Medium Bomber Units of World War 2

Northwest Europe. Scutts. In-depth examination of the medium bombers units in Europe during WWII. Features tactical operations undertaken by the B-25 Mitchells, B-26 Marauders, A-20 Havocs and A-26 Invaders in Europe from 1942-1945. This fully illustrated book recounts the build-up of the various squadrons, their deployment, and operations up to the defeat of Germany in May 1945. Includes detailed appendices listing operational dates, group/squadron identifying code letters, and the transfer of medium bombers to Continental bases. 160 pgs., approx. 160 B&W illus., 8"x 10", hdbd.

B-25 Mitchell in Civil Service
Paperback - 144 pages (November 1, 1997)
Scott A. Thompson / Paperback / Published 1997
Texans and Trojans Magazine, January 1998
The story of the B-25 in civilian service. Thompson lists the individual histories of all these B-25s. It shows FAA listed owners, civilian use as fire bombers, corporate transport, test beds, movie work and their eventual fate. The book should be a valuable tool for the historian and enthusiast alike. Many, many photos both color and black and white.
From the Back Cover
The complete story of the famous North American B-25 Mitchell in over fifty years of civil service is presented in this well-crafted volume. At least two hundred B-25s made the transition from military service to the civil market, many being put to use in Hollywood movies or water bombing forest fires. Dozens became company transports or test beds, while some just languished on forgotten airports. Today, pristine B-25s ply the airways, always drawing a crowd at the air shows and turning heads with the loud bark of twin Wright R-2600s. Here is the civil B-25 story in words and pictures, with pilot interviews and detailed appendices. Included also are individual aircraft histories for each of the B-25s that reached the civil market, a valuable research tool for historian and air show enthusiast alike.
Fly Past Magazine, July 1998
Those who like their Warbirds on the larger side will already cherishing Scott's "Final Cut", the story of the postwar B-17s. Scott has a keen eye for detail, an academic approach to presenting source material clearly and his works read well. Here are details of executive conversions, research, and development B-25s, air tankers and, of course, of their "new" working life as Warbirds. There is a tribute to Paul Mantz and his airborne cameraships, and lashings of materials on B-25s in firms, including the "full monty" on that outstanding movie, "Catch-22". Lavishly illustrated, the book includes detailed appendices and individual histories of the aircraft.
ISBN-10: 0963754351
ISBN-13: 978-0963754356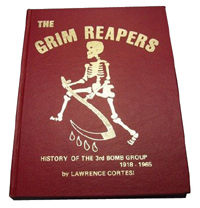 The Grim Reapers

History of the 3rd Bomb Group, 1918-1965.
Cortesi. This book examines the 3rd Bombardment Group, the "Grim Reapers," from its origins in the immediate post-World War I era through its service flying A-20 Havocs and B-25 Mitchells in low-level attacks against Japanese targets in the Pacific Theater of World War II, its transition to B-26s in the Korean War, and beyond. 105 pages, 135 B&W photographs and illustrations, 8"x 11", hardcover.

The Grim Reapers at Work in the Pacific Theater

The Third Attack Group of the U.S. Fifth Air Force
Henebry. Join Major General John P. Henebry as he looks back at the Third Attack Group and their experiences in the southwest Pacific. Includes accounts of missions over New Guinea, the Battle of the Bismarck Sea, Wewak, Leyte and their most famous attack at Rabaul, where he flew lead B-25 in the successful effort to sink Japanese supply ships. 210 pages, 81 B&W and 4 color photographs, 7"x 10", hardcover.

North American B25 Mitchell
(Warbirdtech Series , Vol 12)
Frederick, A. Johnsen / Paperback / Published 1997
Book Description
This is the first and only series to take a technical look at some of the world's most exciting combat aircraft. Each volume emphasizes the unique, the groundbreaking, and the technical characteristics of each aircraft. Discover the B-25 from inside and out in this fully illustrated volume filled with factory production photos, technical manual excerpts, cutaways, and original engineering drawings. WarbirdTech 12.
B-25 Mitchell
(Warbird History Series)
Steve Pace
Paperback: 144 pages
Publisher: Motorbooks Intl (November 1994)
Language: English
ISBN-10: 0879389397
ISBN-13: 978-0879389390
The Doolittle Raid
Glines.
This comprehensive book on the raid incorporates the full story of the daring daylight raid of Doolittle's B-25's on Tokyo in 1942. The book includes the strategy, weaponry, and biographies of the men who took part in the raid. Written by the Doolittle Raiders' official historian, this volume tells the story of the 1942 B-25 raid that gave America the post-Pearl Harbor morale boost it needed: the bold conception of this mission, the selection of Doolittle to lead it, the difficult preparations, the hair-raising "30 seconds over Tokyo," and the ordeals of those crewmen who fell into the hands of the Japanese 256 pgs., 6"x 9", hdbd.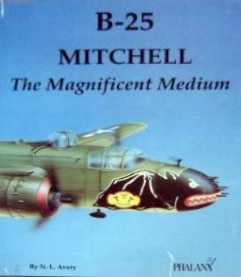 B -25 Mitchell : The Magnificent Medium
Norman L. Avery
John W. Lambert (Editor) Book Description
A revised edition of the first-ever comprehensive look at the B-25 Mitchell. Special chapters provide detailed accounts of the evolution of the low level "strafer" version and the 75 mm cannon carrying model, supplemented by action photos. Appendices include production stats and allocations to US and foreign users. For military history enthusiasts. -- Hardcover: 200 pages
Publisher: Specialty Pr Pub & Wholesalers (April 1993)
Language: English
ISBN-10: 0962586056
ISBN-13: 978-0962586057
Warpath
The story of the 345th Bombardment Group (M) in World War II. A reprint of the wartime group history of the famed "Air Apaches", comprising the 498th, 499th, 500th and 501st Bombardment Squadrons that flew against the Japanese in heavily-armed B-25's. Hair-raising low-level bombing and strafing. 304 pgs., 570 photos, 8½"x 11", hdbd.
I Could Never Be So Lucky Again

General James Doolittle. Stunt pilot, scientist and scholar, General Doolittle is one of Americas true heroes. Book follows him from his youth as a boxer, through his barnstorming and air racing, to his experiments with blind-flying and finally to his greatest achievements: leading the Tokyo raid and serving as head of the 8th Air Force supervising the strategic bombing campaign. 561 pgs., 6"x 9", hdbd.

The Doolittle Raid 1942

America's First Strike Back at Japan.
Chun. This book examines the planning, execution, and aftermath of Col. Jimmy Doolittle's innovative, daring and risky combined-services attack on Tokyo that, while certainly not large in scale, showed the Japanese navy and air forces that they were anything but invincible and that America's retreat of early 1942 was coming to an end. 96 pages, 65 B&W photographs, color maps and illustrations, 7"x 9", softcover.

Lt. Bill Farrow

Doolittle Raider
Griffin. Focusing on Lt. Bill Farrow, a 24-year-old pilot who volunteered for the Doolittle Raid on Tokyo, this is a gripping account of the American secret mission designed to put Japan on notice and boost American morale during the darkest days of World War II. You'll follow the events that led to Farrow's enlistment and assignment to the Doolittle mission, learn about his flight and capture after his plane ran out of gas, and read in horror as events unfold for him as a prisoner of the Japanese. 269 pages, 75 B&W photographs, 6"x 9", hardcover.

B-25 Mitchell in Action

Doyle. Filled with 80 rare color photographs, this volume examines the development and service of the legendary B-25 Mitchell, from the experimental NA-40 prototype to the final production B-25J model. You'll view B-25s on bombing, strafing, patrol, and photo-recon missions in World War II; see the Doolittle Raiders; learn about the Marines' PBJ variants; and more. 72 pages; 200 B&W and color photographs, color profiles, and detailed line drawings; 11"x 8"; softcover.

Warbirds

Haynes. Featuring stunning color photographs of restored examples, this lavishly illustrated book examines more than 50 of history's greatest, most innovative combat aircraft, including the Fokker D.VII, B-25 Mitchell, P-47 Thunderbolt, P-51 Mustang, AT-6 Texan, A6M2 Zero, Messerschmitt Bf 109, F-4 Phantom II, C-130 Hercules and F-117 Nighthawk. 192 pages, 250+ color photographs, 6"x 8", softcover.

B-25 Mitchell at War
Jerry Scutts
Hardcover: 145 pages
Publisher: Ian Allan Ltd.
Language: English
ISBN-10: 0711012199
ISBN-13: 978-0711012196
B-25's, Target Kyushu :
Murray A. Bywater
recollections and the island-hopping battles of the 41st Bombardment Group (M), 7th Air Force, to
make the first land-based B-25 strike against the Japanese mainland in World War II Unknown Binding: 298 pages
Publisher: B-25 Press; 1st edition (1994)
Language: English
ISBN-10: 0963957503
ISBN-13: 978-0963957504
B-25 Mitchell Units of the MTO
Combat Aircraft Vol. 32

One of the most successful allied combat types in the Mediterranean Theatre of Operations (MTO), the B-25 possessed a greater bomb load, better range and higher top speed than the previous generation of medium bombers. From low-altitude ship strafing over the Mediterranean to high-altitude bombing runs on the Po River Valley, the B-25s in the MTO proved themselves to be a most successful brood of aircraft. Includes firsthand accounts and numerous illustrations highlighting the achievements of these units. 96 pages, 93 B&W photographs, 11 color photographs, 30 color profiles, 10 color nose art illus., and more. 7"x 9", softcover.

Deadly Duo : the B-25 and B-26 in Ww II
Charles Mendenhall
Hardcover: 160 pages
Publisher: Specialty Pr Pub & Wholesalers; 1st edition (June 1981)
Language: English
ISBN-10: 0933424221
ISBN-13: 978-0933424227
Billy Mitchell

The Life, Times, and Battles of America's Prophet of Air Power.
Jeffers. Follow the remarkable career of William "Billy" Mitchell, who rose to the rank of brigadier general but managed to alienate most of his superiors along the way. You'll read of Mitchell's true heroics in World War I; of his influence on the design of classic aircraft such as the B-17 Flying Fortress and his namesake, the B-25 Mitchell; and of his brilliant and outspoken advocacy of strategic air power, which led to the development of the U.S. Air Force - and to his own downfall. 288 pages, 16 B&W photographs, 6"x 9", hardcover.
Calculated Risk

The Extraordinarly Life of Jimmy Doolittle - Aviation Pioneer and World War II Hero
Hoppes. A firsthand account written by Doolittle's granddaughter, this book takes you inside the public and private world of Jimmy Doolittle and his family, shedding light on the drives and motivation of one of America's greatest heroes and the man that Air & Space places at the top of the "most important aviators" list. Includes many never-before-published photographs from the Doolittle Library archives. 360 pages, B&W photographs, 6"x 9", hardcover.

Four Came Home

The Gripping Story of the Survivors of Jimmy Doolittle's Two Lost Crews
Glines. In April 1942, the Japanese took eight American airmen prisoner after they completed their mission over Tokyo. Here, the Doolittle Raider's official historian recounts the mission and the fates of those pilots and airmen in their captor's hands, while firsthand accounts of the historic mission and its aftermath will leave you in tears. 184 pages, 40+ photographs, 7 "x 10", softcover.

Empires in the Balance

Japanese and Allied Pacific Strategies, To April 1942.
Willmott. Remarkable in its scope and depth of research, this thoughtful analysis - the first in a three-volume review of the strategic policies of the countries involved in the Pacific War - covers the whole range of political, economic, military, and naval activity in the Pacific, from December, 1941, to the Doolittle Raid of April, 1942. 512 pages, 45 B&W photographs and illustrations, 6"x 9", softcover.
Don't miss the second volume in the series, The Barrier and the Javelin, item

Doolittle

Aerospace Visionary.
Daso. James Doolittle should be remembered as more than the combat pilot who led the Tokyo Raid. With a doctorate in aeronautics from MIT, Doolittle devoted his life to mastering the technical and practical intricacies of the grand invention of his time, the airplane. Here, you'll examine his innovations in civilian and military aviation and see how they contributed to the interwar developments in aerial technology. 128 pages, 15 B&W illustrations, 5"x 8", softcover.

Two Flights to Victory

From the Doolittle Raid to the Enola Gay
Styles. During World War II, the United States launched two air attacks on Japan that were not part of any other battle plan: the Doolittle Raid and the Enola Gay's mission of August, 1945, when it dropped an atomic bomb on Hiroshima. Based on extensive research and previously unpublished information, including interviews with veterans of the Doolittle Raid, this volume presents the remarkable story of those attacks, reveals why they were developed apart from the main Allied strategy, and shows how they transformed the long-range bomber into the most important strategic strike tool in modern warfare. 320 pages, 200+ B&W photographs, 7"x 10", hardcover.

Thirty Seconds over Tokyo
Lawson. Here is a vivid eyewitness account of the unorthodox assignment that the 85 volunteer "Tokyo Raiders" executed in April 1942. "It is a manly young American's simple, straightforward record of events and impressions gathered on one of the most desperate and colorful adventures of modern times." - New York Herald Tribune. This enhanced reprint edition appears for the 60th anniversary of the Doolittle Raid. 256 pages, 40 B&W photographs, 5"x 8", hardcover.
Captain Ted W. Lawson, Ted W. Lawson / Hardcover / Published 1999
Hardcover (February 1999) After Pearl Harbor, America seemed to have lost the war before it had begun. Allied forces were being beaten across the Pacific by the Japanese military juggernaut, and morale was at the breaking point. America desperately needed to strike back at the enemy. For this, a corps of heroic volunteer fliers led by Lt. Col. James H. Doolittle began training to attack the very heart of the Japanese Empire -- Tokyo.
To succeed, the "Tokyo Raiders" would have to launch sixteen fully loaded B-25 twin-engine medium bombers off the deck of the aircraft carrier Hornet -- something never done before -- and land at airfields in China. Through courage and luck, the raid itself went flawlessly. But bad weather, lack of fuel, and darkness worked against many of the pilots -- and for many, escaping China proved even more perilous than the mission....
About the Author
Ted W. Lawson (1917-1992) was a native of California. He joined the Army Air Corps while working for Douglas Aircraft Company in Santa Monica and received his wings in November 1940. After the attack on Pearl Harbor, he volunteered for a secret mission that evolved into the raid on Tokyo in April 1942. Random House published his account of the raid, Thirty Seconds Over Tokyo, in 1943. Lawson subsequently served as technical advisor to MGM during the making of the popular wartime movie based on his book. After retiring from military service in 1945, he reentered private industry and worked on several projects that involved aircraft and space programs.
Peter B. Mersky is series editor for Brasseys Aviation Classics. He has written or co-authored a dozen books, including A History of Marine Corps Aviation, some 100 magazine articles on U.S. Navy and Marine Corps aviation, and hundreds of book reviews. He is retired from both the U.S. Naval Reserve and Approach, the Navy and Marine Corps aviation safety magazine, for which he served as editor. He is currently preparing a volume on carrier warfare for Brasseys series of combat readers. He lives in Alexandria, Va.
Publisher: Buccaneer Books (June 1, 1991)
Language: English
ISBN-10: 0899668860
ISBN-13: 978-0899668864
Black Sunday

When the U.S. Fifth Air Force Lost to New Guinea Weather.
Claringbould. Through declassified records and interviews with survivors, this book examines the events of April 16, 1944, when the U.S. Fifth Air Force lost 37 aircraft - primarily A-20 Havocs but also including B-24 Liberators, P-38 Lightnings and B-25 Mitchells - to a late-afternoon frontal system that cut them off from their bases at Gusap, Nadzab and Saidor. 120 pages, B&W photographs, 10"x 12", softcover.

Destination Tokyo :

A Pictorial History of Doolittle's Tokyo Raid, April 18, 1942
A Pictorial History of Doolittles Tokyo Raid, April 18, 1942
Cohen. Filled with more than 150 rare archival photographs as well as maps, newspaper headlines and other images, this book examines the legendary Doolittle Raid, from training and preparation through the daring mission - in which sixteen B-25 Mitchells were launched from the USS Hornet (CV-8) to attack the Japanese home islands - and its aftermath. 132 pages, 8"x 10", softcover.

Stan Cohen / Paperback: 120 pages
Publisher: Pictorial Histories Pub Co; 1St Edition edition (July 1983)
Language: English
ISBN-10: 0933126298
ISBN-13: 978-0933126299
Leatherneck Bombers

Marine Corps B-25/PBJ Mitchell Squadrons in World War II.
Alan Carey. At last, a forceful study of an elite group of men chosen to form the U.S. Marines' only medium bomber group during WWII. Here, veterans recall their service flying combat missions as day-by-day, and night-by-night, they pounded away at the Japanese. Also includes a detailed list of individual squadron aircraft and personnel losses, and all known PBJs assigned to units overseas. 112 pages, 145 B&W photographs, 12 color profiles, 8"x 11", softcover.

Doolittle's Tokyo Raiders
Carroll V. Glines / Hardcover: 447 pages
Publisher: Ayer Co Pub (June 1979)
Language: English
ISBN-10: 0405121709
ISBN-13: 978-0405121708
Product Dimensions: 9.1 x 6.1 x 1.6 inches
About the Author
Carroll V. Glines
Biography
Retired Air Force Colonel Carroll V. Glines is the author of 36 books and more than 700 magazine articles on aviation and military subjects. Three of the books are about the 1942 Doolittle Raid on Japan and he was co-author of General Jimmy Doolittle's autobiography titled I Could Never Be So Lucky Again. He was formerly editor of Air Cargo, Air Line Pilot and Professional Pilot magazines and is now the Curator for the Doolittle Library at the University of Texas, Dallas and Historian for the Doolittle Tokyo Raiders.
Men of the Bombers

Remarkable Incidents of World War II
Barker. In this collection of ten remarkable-but-true accounts, you'll read about one of the first leaflet dropping raids during the "Phoney War," when the elderly Whitley bomber proved to be a nightmare; the fascinating story of an MP who became a tail gunner at the age of 55; about the young New Zealander who climbed out onto the wing of a flying Wellington bomber to extinguish an engine fire; of a gunner who took the controls of a B-25 Mitchell to pilot her safely home; and more. 208 pages, 60 B&W photographs, 6"x 9", hardcover.

The Doolittle Raid
Duane P. Schultz
Hardcover: 325 pages
Publisher: St Martins Pr; 1st edition (November 1988)
Language: English
ISBN-10: 031202195X
ISBN-13: 978-0312021955
Warpath Across the Pacific
Hickey.
Massive history of the low-level B-25 strafers of the 345th Bomb Group in WWII. 250,000 word text based on 400 interviews and all official sources follows the 'Air Apaches' from New Guinea to Japan. 627 laser-scanned B&W photos, many the best ever in combat. Much on Japanese ships and aircraft. Color section of 53 photos, 48 profiles and 4 paintings. 13 maps and extensive appendices cover all missions, casualties, plane histories, losses, and markings. 448 pgs. 8½"x 11", hdbd.