www.YellowAirplane.com

USS Midway CV-41 Aircraft Carrier US Navy Aircraft Carriers Model Ships.

US Navy Aircraft Carrier Military US Navy Model Ship Kits. US Navy Ships.

You are in the
USS Midway Model Ships section.
of the Ship Model Department.
in the YellowAirplane store.
USS Midway US Navy Aircraft Carrier CV-41, Model Ships, Books, Videos, Pictures.

If you want US Navy Ships from the old navy or the new navy you're in the right place. Naval warfare has changed tremendously over the past 100 years and in the next decade we will see the United States Navy change in ways we can't even imagine. Just check out these plastic model ship kits and the mahogany ship models to see a big part of our navy history. The USS Midway (CV-41) - the lead ship in her class and the first aircraft carrier to be commissioned after the end of World War II (September 10, 1945.)

USS Midway Books
USS Midway Cruise Books
USS Midway Shirts
USS Midway Jacket
USS Midway Hats
USS Midway Patch
USS Midway Pins
USS Midway Postal Covers
USS Midway Coins
USS Midway Art Prints
USS Midway Posters
USS Midway Photos
USS Midway Post Cards
USS Midway Postal Covers
USS Midway Toys
The Battle of Midway
Survival Equipment - Survival Supplies Airplane Art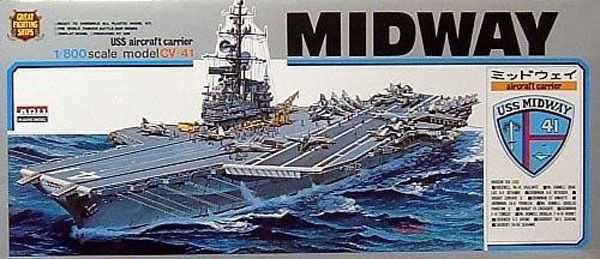 Please note: The background picture on this page was taken when I was stationed on the
USS Kitty Hawk in 1977-1978 in the Western Pacific.
C. Jeff Dyrek, Webmaster.
Click here to see the USS Kitty Hawk Exhibit

* Belt Sanders * Glue Guns * Heat Guns * Lathes *
Paint * Vices * Xacto Knives
Yellow Airplane Gives You the Best Source of Airplane Models, Airplane Books, Airplane Movies, Aviation Art, Aircraft Calendars, Airplane Tools, Exhibits and MORE!
/Models_Ships/Aircraft_Carrier_USS_Midway_CV-41.html|52828"
Copyright Dates:
11-21-2010 07/11/2013