www.YellowAirplane.com

B-26 Models, Marauder Models,

Model Airplanes, Plastic Model Kits, Bomber Models.

You are in the


B-26 Marauder Models Section.


in the

YellowAirplane

store.
B-26 Marauder Bomber Model Kit.
B-26 Marauder World War 2 Military Bomber Airplane B-26 Models, Plastic Model Kits,
Die Cast Models, Balsa Wood Model Aircraft Kits.
B-26 Models, B-26 Marauder and other aircraft models. World War 2 Bomber Airplane Models, Die Cast Aircraft Models, Balsa Wood Airplane Kits, both flying models and Wooden Display Aircraft Models. It's interesting because I have just been working on the Japanese Betty Bomber Exhibit pages on the web site and the Betty Bomber looks very much like the B-26 Marauder. Look at the pictures of the aircraft models on this page and read the history and historical descriptions of the B-26 Marauder for a great study guide about World War 2 military aviation both in Europe and in the Pacific.
Survival Equipment - Survival Supplies
;

B-26 Marauder Bomber Everything




B-26B/C Marauder 1/72 Kit
Made by Hasegawa, one of the top manufacturers in the business, this 1/72 scale, plastic kit features textured surfaces; glazed windows and turrets with a choice of canopies; a detailed cockpit and bomb bay; full armament, including four 1,000-lb. bombs; detailed radial engines with Curtiss four-blade propellers; a choice of markings, including those of Flak Bait - the survivor of more than 200 missions over Europe that is now housed in the Smithsonian Museum; and more. 11" wingspan; assembly required.


B-26B/C Marauder 1/48 Model
Made of Philippine mahogany, this 1/48 scale model measures 13" in length and has a wingspan of 16". Hand painted and detailed, model comes ready to display on the included mahogany base.


B-26B Marauder Die Cast Model

France, 1944
"The Big Hairy Bird," a B-26B Marauder (of the 599th Bomb Squadron, 397th Bomb Group) that helped American soldiers assaulting Utah Beach during the invasion of Normandy, this 1/72 scale, die cast Forces of Valor model features fine surface details; a glazed canopy, nose and dorsal turret; realistic engine fronts with rotating propellers; optional-position landing gear; authentic markings, including non-regulation D-Day stripes (3 white and 3 black instead of 3 white, 2 black); lifelike crew figures; and more. Measures 9" long with an 11" wingspan and includes a display stand.


B-26 Marauder Balsa Kit

This remarkable, laser cut kit of the American high speed medium bomber - which served in both the European and Pacific theaters of World War II - includes hand-selected balsa, color peel-and-stick decals, vacuum-molded parts, light weight colored tissue, and full-size plans with step-by-step instructions. 30" wingspan (approximately 1/28 scale); 160+ parts, assembly required.

"Mild and Bitter" of the 332nd Bomb Group and "Barracuda" of the 344th Bomb Group)


Baby Bumps II of the 557th Bomb Squadron, 387th Bomb Group


B-26 Marauder "Hard to Get" of the 334th Bomb Group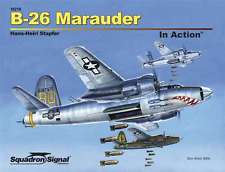 B-26 Marauder in Action

Softbound Book
Excellent beginning reference with 3-view drawings, technical drawings of various sub-systems, 10 color profiles, and nearly 100 period photos. 11"x 8?", sfbd.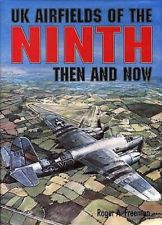 Airfields of the Ninth

Hardbound Book
Then and Now Freeman. Witness a most amazing change of scenery. Here is a look at the WWII B-26, P-47, and Glider bases in England, with superb documentation of their original layout, construction and history, contrasted to their current use as farms, housing tracts, private airfields and even race tracks. 256 pgs., 510 photos, 8?"x 12", hdbd.
The Martin B-26 Marauder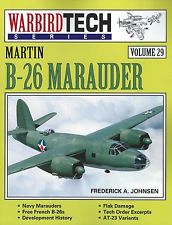 Havener.

A controversial aircraft, difficult to fly, with no safety margin, but rugged and heavily armed. Covers design, testing, its near-cancellation by critics and its outstanding combat history. The author, who flew more than 50 missions in the "widow-maker," details aerial battles, accompanied by 150 outstanding, never-before-published photos. 264 pgs., 6"x 9", sfbd.


Pilot's Manual B-26 Marauder


A reprint of the official government issue "Pilots Flight Operating Instructions" for the B-26F and B-26G models. Covers aircraft systems, operations and performance data, equipment and flight operating charts, tables, curves and diagrams. 72 pgs., 8?"x 11", softcover.
Achtung, Zweimots!
Randy Green.
Aircraft Art Print
A group of "Tiger Tail" B-26 Marauders of the 387th Bomb Group encounter a fierce attack by Messerschmitt Bf 109G-14s over their intended target - a railroad bridge at Mayen, Germany - during the Battle of the Bulge on Dec. 23, 1944. 24"x 16" limited edition canvas gicle is signed and numbered by the artist.


Mauled by a Marauder
Stokes.
Aviation Art
Depicted here is the last mission of a B-26 from the 386th BG. Enemy fighters shot up the Sexation, but the tail gunner shot down three attacking craft and damaged a fourth, enabling the B-26 to reach England safely. 16"x 11?" limited edition print.
Marauder Mission
Robert Taylor.
B-26s of the Valiant 9th A.F. return home from a bombing mission to the German V1 launch sites in France, January, 1944. 1250 S/N by artist and pilots Moench, Scott and Woolridge. 27"x 21" print.

A Shot Across the Bow

Roy Grinnell. Moments after releasing a torpedo at the Japanese carrier Akagi at the onset of the Battle of Midway, the B-26 Marauder Suzi-Q thunders down the Japanese carrier's flight deck, nearly grazing the bridge in an attempt to escape the gantlet of fire unleashed by the enemy surface fleet and swarming Zero fighters. 30"x 20" limited edition, numbered print is signed by the artist and James Muri, pilot of the Suzi-Q.
Moments after releasing a torpedo at the Japanese carrier Akagi at the onset of the Battle of Midway, the B-26 Marauder Suzi-Q thunders down the Japanese carrier's flight deck, nearly grazing the bridge in an attempt to escape the gantlet of fire unleashed by the enemy surface fleet and swarming Zero fighters
model kits, b-26, b-26 marauder, airplane models, military bomber, bomber, die cast, diecast, wood model, aircraft, airplane, world war 2, military
Martin B-26 Marauder
Tony Weddel.

This painting shows the B-26 "Flak Bait" pulling up and away after making an attack run on a German V-1 launching site. Flak Bait flew no less than 202 combat missions and is now on display in the National Air and Space Museum in Washington D.C. 23"x 19" print.

Marauders Over Pforzheim
Tony Fachat.

B-26s hit Pforzheim, near the upper Rhine. 26"x 20" print.

The background photo on this page was taken on our 2002 North Pole Expedition. You can see more photos at the North Pole Photo Summary page
* Belt Sanders * Glue Guns * Heat Guns * Lathes *
Paint * Vices * Xacto Knives
Please Note: I took the photo of the clouds used in the background picture
while we were flying from a Northern Siberian city named Khatanga
on our way to the North Pole in April 2002. C. Jeff Dyrek, webmaster
B-26 Marauder Plastic Model Kits.
11-29-2010 1/4/2012