Commissioned to replace the B-17, the Liberator was built in near-record time. The machine was designed around the long-span low-drag Davis wing, a new concept at the time of production. Early models were soon superseded on all production lines by the J model, the most successful B-24 of all time. When production ceased on 31 May 1945, 18,475 Liberators had been made, making it the most produced American aircraft of WW2. Click Here to see the "Willow Run" Exhibit, the inside story of the building of the B-24 Liberator.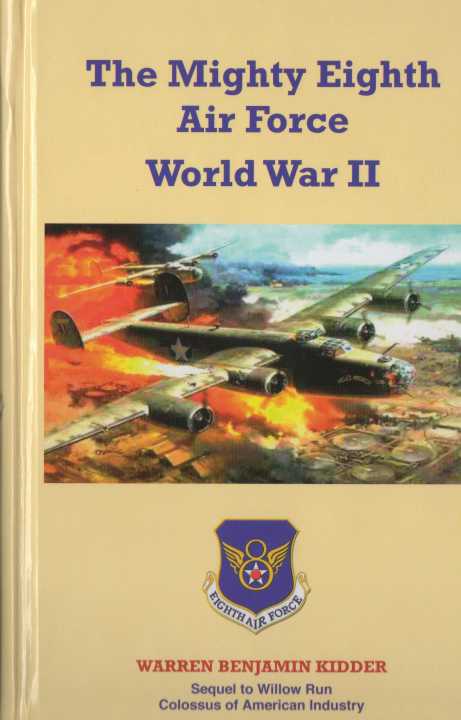 The Mighty Eighth Air Force World War II
The latest book by Warren Benjamin Kidder.
This book starts out with action then talks about Charles Sorenson's building of the B-24 Liberator Factory at Willow Run. Next it goes into America's entry into World War II and shows the daring raids of Jimmy Doolittle and quickly moves into the intense action of the B-24 Liberators raiding the oil refineries in Ploesti Romania.
The last part of this book is a complete listing of almost one thousand raids of the 8th Air Force in WW2.
This is a color edition, hardcover edition, hand signed by the author, Warren Benjamin Kidder.
This book is action packed from beginning to end and is a non fiction account of what it really took to win the war both here in the United States and on the battle ground. You need to read this book.
Flight Manual B-24 Liberator
Softbound Book
A reprint of the official government handbook designed to show the new cadet how to fly the aircraft. Heavily illustrated with dozens of photos, diagrams and charts. 146 pgs., 8½"x 11", sfbd.
Every B24's buff must have one! This book is about the "D" version( glazed nose), widely employed at early stages of II war on every theater and absolute protagonist of the famous operation "Tidal Wave", the strike on Romanian oil fields near Ploesti. The type ranked second in the production run, being outnumbered by the most famous "J" version (Consolidated or Emerson 2 gun nose turret). Here you can find normal and emergency checklists, systems description and above all, true aircraft performances (maps and charts available in original forties' format!). And if you are a WWII simulation buff, this reference should help you to get the real touch with handling and flying characteristics. The lattice glass nose compartment lacked a power turret (being retrofitted later, especially in the Pacific squadrons) but at least this version was the easiest to fly. In fact the "Liberators" never get rid of handling and forward visibility problems, these were exacerbated by adopting a nose turret, weighty and inducing excessive drag. So the "D" models were "user-friendly" only for the bombardier position, lacking defensive armament and small field of fire in frontal sectors. Enjoy the discover!
One More Mission: A Journey from Childhood to War
by Jesse Pettey
Jesse Pettey grew up in Nacogdoches, Texas where he observed life in an East Texas rural small town during the depression. He attended High School and Stephen E. Austin State University before volunteering for the Army Air Corps flight training in World War II. During the war, he flew 35 missions as a pilot in a B-24 bomber over Europe and was awarded a Distinguished Flying Cross and four Air Medals. Upon completing his combat flying, he returned to Texas where he completed his education by earning a masters degree in Music Education. He taught music in high school for several years before joining Prudential Insurance Company where he served as a Prudential executive from 1957 to 1980. He then retired and lived in Italy for the next seven years traveling and writing. He now lives in Houston, Texas.
Night & Day Bomber Offensive
Hardbound Airplane Book
Allied Operations in Europe in World War II
Kaplan & Currie. This heavily illustrated book examines the around-the-clock operations of the USAAF 8th and 9th Air Forces and the RAF on their daring missions over Nazi-occupied Europe and Germany, from the aircraft and raids to the work at the bases performed by mechanics, fitters and medics… you'll even see how the airmen relaxed away from the action. 272 pages, 200 photographs, 9"x 10½", hardcover.

After the Liberators : A Father's Last Mission, a Son's Lifelong Journey

by William C, II McGuire
Letter from the Author:
It tells the story of the 8th Air Force mission against Friedrichshafen, Germany on March 18, 1944, in which the 392nd BG lost 14 Liberators. Among them was my dad's Navigator, as he was KIA with six more of his crew. The contemporary or mid-1990s story tells about how I first learned the details, tracked down and interviewed surviving vets, visited his old base in England, his burial place at St. Avold, France and the crash site in southwestern Germany for his B24 J and two additional heavies. If you have the time and interest you can check out reader comment on Amazon.com including endorsements from Len Deighton, Roger Freeman, novelist James Patterson, former 392nd BG commander Col. Larry Gilbert, American Library Association President-elect Mitch Freedman and others. This is a good story and read, and an important next generation salute to all those associated with the Air Forces effort in WWII.
B-24 Bomber Crew :
A True Story of the Pacific War With Japan
J.A. Nichols
Paperback / Published 1997


The B 24 Liberator was built in a factory called Willow Run in Detroit Michigan. The factory was built by Henry Ford and designed by Charles Sorensen. The willow run factory was named willow run because is it was built on the willow run creek. This is interesting because the last person to live on the willow run property was Warren Benjamin Kidder. I have spoken to Ben, personally, and he is one of the nicest people that anyone could ever meet. Ben wrote a book called Willow Run, Colossus of Industry, a book about the production of the b24 liberator, military bomber. When the factory was in full production it produced a B24 liberator every 56 minutes. This factory is one of Henry Ford 's greatest achievements. You can read more about this fantastic, very well written book by the Willow Run B-24 Liberator Production Exhibit. Book Review
The Day We Bombed Switzerland
by J. W. Granholm
Hardcover - 256 pages (May 15, 2000)
From our Yellow Airplane readers
"The Day We Bombed Switzerland" Recounts Jackson Granholm's days as a Liberator navigator stationed at Horsham St. Faith England with the 8th AAF, 2nd AD, 96th CW, 458th BG, 752 BS from mid 1944 to war's end. I am in the process of reading it as we speak, and I find it quite
interesting.
D Stowe
The author, Jackson W. Granholm , June 16, 2000 This history book has its own history To fly in the bomber attack forces of the 8th USAAF during World War II in England was a truly memorable experience. All who did so gained a lifelong set of remembrances. Some who flew in that great Air Force in that great War still do not care to talk about it. I decided that history, even personal history, is always important and is too often lost to those who follow. This book represents twenty years of effort and three major rewrites in order to put it into its present form. There were a number of difficulties, including the long-time secret classification of the court martial records which form an important part of the text background material. I find it fitting that this book is published in England. It was from England, a place were we lived as foreigners, and not always beloved foreigners, that we went forth with our mighty machines of destruction to rain death upon Nazi Germany and its occupied territories. And my English publishers, with whom I was able to work with mutual respect and cooperation, brought a high level of professionalism to the effort. Little interest in publishing this book was in evidence from American publishing houses. Even less was in evidence from those styling themselves as "author's agents." I was the recipient of all kinds of asinine advice about what to do with this book. Some said there were too many characters in it, and that hence the reader could never follow it. It would be better, such said, to limit the plot to one or two and introduce a captivating, even if fictional, love interest. Other givers of free-advice-worth-the- suggested that the plot of World War II must be rewritten for more dramatic impact. The most straightforward "expert" opinion was that which said that the whole manuscript was a waste of time, and that such a mess could never be published. These latter experts had the gall to charge for this opinion. In spite of all these things, here the book is, published by my friends at Air life. Now it can stand on its own amidst whatever storms of criticism it may deserve.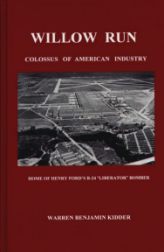 Willow Run
by Warren Benjamin Kidder
The B-24 Liberator was built in a factory called Willow Run in Detroit Michigan. The factory was built by Henry Ford and designed by Charles Sorensen. The willow run factory was named willow run because is it was built on the willow run creek. This is interesting because the last person to live on the willow run property was Warren Benjamin Kidder. I have spoken to Ben, personally, and he is one of the nicest people that anyone could ever meet. Ben wrote a book called Willow Run, Colossus of Industry, a book about the production of the b24 liberator, military bomber. When the factory was in full production it produced a B24 liberator every 56 minutes. This factory is one of Henry Ford 's greatest achievements. You can read more about this fantastic, very well written book by going to the Willow Run B-24 Liberator Production Exhibit.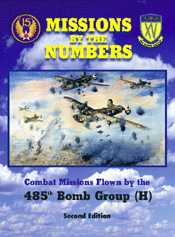 Missions by the NumbersSecond Edition
(Released March 2008)
This book includes mission summaries of 187 combat missions flown by the 485th Bomb Group. Included are stories written by several members of the group that tell the complete story of a mission, from the minute the coded message was received until the mission was completed. Also included is the story of a gunner who was shot down and captured and the story of a crew that struggled to make it safely through the Brenner Valley, also known as "flak alley", with severe battle damage.
There are 20+ photos in this 190–page, quality paperback book, including several photos of bomb strikes, damaged B-24s, escort fighters and reconnaissance photos, as well as maps and charts. There is also reference information on group losses and bomb types, a sample of a pilot's "flimsy" (secret plan for the mission) and much, much more. This is a book about the 485th Bomb Group, told by the men who lived it. This is a very limited edition. It is a reprint of the original book, which has been out of print for several years. Only 300 copies have been printed, so get your copies now. For your copy send a check for 20+5 shipping (25 total) to:
Jerry Whiting
2576 Fox Circle
Walnut Creek, CA 94596
Contact Jerry Whiting Here
Read about Jerry Whiting's Biography Here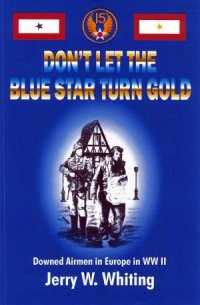 Don't Let the Blue Star Turn Gold
By Jerry Whiting
This is a 250-page hardcover book, released in September of 2005, about airmen in the 485th Bomb Group who were shot down over occupied Europe. The book includes 65 photos. These stories are about the struggle to survive of these downed airmen, so that blue star proudly hanging in the window at home wouldn't be replaced by a gold one. They are also the stories of family, waiting at home, of receiving the dreaded Missing in Action telegram and not knowing if their loved one survived.
These are accounts of love, duty and courage. Each is placed in the historical context of what was happening elsewhere in the world at the time. The author visited Europe to locate witnesses and visited the crash site of one of the downed bombers. Each chapter was extensively researched and the author shares background history of how each story came to be, often with surprising revelations. Several contain eyewitness accounts from Europeans. In one chapter, two Croatians tell the story of rescuing three airmen while under fire; in another, Polish farmers tell of the 485th bomber that fell in a nearby field. There are stories of capture, evasion and escape. This is an inspirational book, suitable for the entire family.
For your copy send a check for 20+5 shipping and handling (U.S. orders only) to:
Jerry Whiting
2576 Fox Circle
Walnut Creek, CA. 94596
Contact Jerry Whiting Here
Read about Jerry Whiting's Biography Here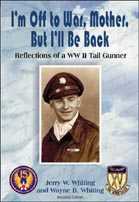 I'M OFF TO WAR, MOTHER, BUT I'LL BE BACK
By Jerry Whiting and Wayne B. Whiting
(June 2007 release of revised edition)

This is the true story of a WWII tail gunner who struggles to survive combat missions over the flak-filled skies of Europe and keep the promise to his family to return home safely. Through excerpts from his letters you'll see the changes in the young warrior as his war continues. Included are the following stories:

The author is proud to offer this revised second edition. Many Vets came forward to offer additional details of stories contained in the original paper back edition of this book. Countless interviews went into the revision. This is a hardcover, 250+ page book that has nearly 100 photos, along with a new chapter entitled, "A Mission in Photos". It is a book about loyalty, friendships, and family. Suitable for the entire family.

For your copy send a check for 20+5 shipping and handling (U.S. orders only) to:

Jerry Whiting
2576 Fox Circle
Walnut Creek, CA. 94596
Contact Jerry Whiting Here
Read about Jerry Whiting's Biography Here
Slacks and Calluses
Our Summer in a Bomber Factory
Constance Bowman.

In 1943, two young teachers decided to do their part for the war effort by spending their summer vacation working the swing shift on a B-24 production line at a San Diego bomber plant. First published in 1944 and illustrated with humorous drawings, this is an on-the-spot account of how two women assumed wartime roles, illuminating the public history of defense work in which they and thousands like them participated. 192 pgs., 5½"x 7½", sfbd.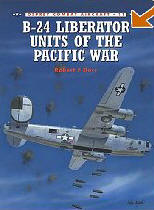 B-24 Liberator Units of the Pacific War
(Combat Aircraft , No 11)
Robert F. Dorr
Paperback / Published 1999
Book Description
*100 b/w photos
* 30 color photos
* 7 x 9
Born out of an approach made by the US Army Air Corps to Consolidated for a bomber with superior performance to the B-17, the Liberator was built in record numbers as the Allies' most abundant heavy bomber. From the first to see combat, the B-24D, to the ultimate Liberator, the heavily modified PB4Y-2 Privateer, all navy versions are featured in this, the first of four volumes on the B-24 family.
To Rule the Sky
Jaques & Lett.

A collection of 15 true hair-raising combat stories from the logs of a Mustang ace who shot down five Fw 190s in fifteen minutes, a B-24 pilot after the Ploesti raid, a P-47 pilot who blasts a Nazi armored column, and more. Illustrated, 179 pgs., 6"x 9", sfbd
B-24 Nose Art Name Directory
Forman.

A companion to the same author's B-17 nose art and name directory. This volume details the Group, Squadron, serial number and photo availability of over 9,000 WWII B-24 Liberators. Great for the historian, researcher and model builder. 32 pages of vintage photos. 8½"x 11", 192 pgs., sfbd.

A must for B-24 Liberator Buffs! Wally has expanded his format to include data on AF Wings and their component bomb groups for most of the USAAF. His B-17 Nose Art Directory was concerned with the 8th, 15th, and 20th AFs. And rather than searching the total list for group aircraft he has listed the a/c assigned to each group by group number. Definitely a source book for important data (names, serial numbers, photo availability) on this aircraft.
50 Mission Crush
by Donald R. Currier
Hardcover - 192 pages (June 1992)
Ingram Book Reviews
bomber during World War II, tells the remarkable story of the men of the U.S. Fifteenth Air Force and the air battles that they fought over Europe. Reprint. --This text refers to an out of print or unavailable edition of this title.
The Wild Blue
The B-24s Over Germany, 1944-45.
Ambrose.
Brought to life by best-selling historian Stephen Ambrose, this is the story of the B-24 bomber and the men who flew her. It follows pilots and crews from start to finish - their backgrounds, training, bravery and heroism as they did their part to help win the war. Given the 50 percent casualty rate, it's hard to imagine young soldiers wanting to join the flight crews that flew B24s over Germany, but they did. This is their story. 304 pgs., hdbd.

Low Level Liberators
Stevens.

The story of Patrol Bombing Squadron 104 in the South Pacific during World War II. An excellent unit history that is hard to put down. Contains many unusual combat photos from the scrapbooks of the veterans who gave their stories to the author. The squadron shot down 37 enemy aircraft (one by ramming) with PB4Ys! 318 pgs., 8½"x 11", sfbd.
Lady's Men
Martinez.

In 1943, Lady Be Good, an American Liberator bomber, vanished into the night while returning from a mission in Italy to her base in Libya. 15 years later, oil geologists spotted the bomber's remarkably well-preserved remains and eventually located the crew and evidence of their desperate attempt to survive in the forbidding desert environment. This intriguing piece of detective work details the crew's courageous efforts to save themselves. 208 pgs., 35 photos, 6"x 9", sfbd.
The Last Flight of Liberator
41-1133
William Cass.

What began as a routine cross-country training flight from Albuquerque to Kansas City in April 1942, ended in disaster on the crest of 10,242 foot high Trail Peak at the Boy Scouts of America's fabled high adventure base, Philmont Scout Ranch in New Mexico. This is the full story of the crew and their training leading up to that mission whose wreckage is the most visited aviation crash site in the world today. 448 pgs., 90 B&W photos, 5½"x 8½", sfbd.
Consolidated B-24 Liberator
Martin W. Bowman
Hardcover / Published 1998
Consolidated's B-24 Liberator was one of the most costly and complicated aircraft produced by the US during WWII. It was produced in greater numbers than any other US bomber. 19,000 were built and served all over the globe as a bomber, transport, and long-range anti-submarine aircraft. This is a detailed examination of the design, development and use of the B-24 - the backbone of the USAAF bombing offensive during WWII. Extensively illustrated with over 200 archive photographs. Exceptional!
Consolidated B-24 Liberator
American Bomber Aircraft Vol 1
John M. Campbell, Donna Campbell .
Detailed B-24 history with combat records, nose art, markings, etc. Covers early B-24 C types, Privateers and B-32s. A special section on Lady Be Good, found in the Libyan desert in 1960. 650 photos, 70 of which are WWII color, most never-before-published. 256 pgs., 8½"x 11", hdbd.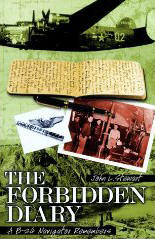 The Forbidden Diary :
A B-24 Navigator Remembers
John Lawrence Stewart
Hardcover / Published 1998
Book Description
This quintessential guide for aspiring, student, and new pilots answers the questions most often asked about obtaining a pilot's certificate, including: Airplane anatomy, flight theory; GPS navigation and operation; Piloting techniques; Weather: Icing, services, reflight advisories; Instructors and flight schools; costs, time, and more. There is no better guide to the nuts-and-bolts of learning to fly than this classic book.
Liberator Album :
B-24 Liberators of the 2nd Air Division, USAAF
Mike Bailey, Tony North (Contributor)
Hardcover / Published 1998
Book Description
The Consolidated B-24 Liberator bombers of the U.S. Eighth Air Force's 2nd Air Division were based on airfields around Norwich, England. Their crews took high losses but with their determination and sacrifice the Division made a vital contribution to the war in Europe.
This is an in-depth study of the 2nd Air Division and its exploits, compiled from both U.S. and U.K. sources. It is an unparalleled collection of wartime photos and paintings showing the many color schemes. For military and aviation enthusiasts. Strong appeal to modelers, all WWII veterans--especially those who served in the 2nd Air Division and their families.
The Soldier :
Consolidated B-24 Liberator
(Living History Series, Vol 2)
Paul Perkins, et al
Paperback / Published 1994
Book Description
The second volume in the "Living History" series, THE SOLDIER explores the development, service, and provides an air crew's view of
the B-24 Liberator, a four-engine bomber that saw combat in every major theater of WWII. 58 color photos, 47 B&W photos and illustrations.
Availability: This title is currently out of stock. However, you can order it used now.
Ad Lib
Flying the B-24 Liberator in World War II.
Carigan.

Carigan tells of the B-24 Liberator, covering all the necessary preliminary steps in learning to fly it. Terribly unforgiving of any carelessness or neglect, the remarkable B-24 carried more crews through WWII than did any other airplane. Carigan flew 50 missions in the B-24 with the 15th AF in Italy - time enough to learn the pitfalls awaiting the young pilot. A fascinating, comprehensive manual. Illustrated, 96 pgs., 8½"x 11", sfbd.
B-24 Liberator
Rugged But Right
Frederick A. Johnsen

More than a complete history of one of the greatest warplanes of all time, this rare assemblage of wartime records, memories, photos, personal and military histories, and in-depth technical insights brings the B-24 back to life and to center stage of World War II. From the Walter J. Boyne Military Aircraft Series. 141 pgs., Over 170 photos and diagrams, 8¾"x 11¾", hdbd.
Black Sunday: Ploesti
Hill.

The legendary low-level raid on the Romanian oil fields by B-24s from American bomb groups. 50th anniversary book offers never-before-published photos from the raid and portrays a sense of intensity and drama of the event. Complete listing of aircraft and crews taking part. 350 photos, 300 pgs., 9"x 12", hdbd.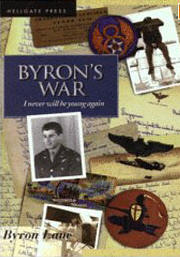 Byron's War :
I will Never Will Be Young Again
by Byron Lane, C. C. Dickinson (Editor)
Hardcover - 284 pages (October 1997)

Book Description
Taken from over 300 letters and journal entries, written between 1942 and 1945, this coming-of-age story vividly depicts the daily life and awesome responsibilities of one young Air Force lieutenant as he leads strategic bombing missions over Nazi Germany. Written while it was happening, Byron's War provides time-capsule-like insight into a critical period in American history.
"The author's day to day account takes the reader through enlistment, training, combat, and finally to kissing the ground after completing his final mission. He may come across at times as a brash, cocky young kid --one of the best. But, at the same time, he admits to making his share of dumb mistakes, both in training and in combat --and the truly honest admission of being damned scared at times in combat. His writing style is reminiscent of one of the best-selling wartime books, See Here, Private Hargrove, which was also a good read." -Reprinted from the Foreword written by Glenn Houghton
Byron's War will be of interest to anyone involved, directly or indirectly, with the Army Air Force in WWII. And, to all those who are interested in the air war, it provides an excellent insight into what went on back then
About the Author
Byron Lane is an international management consultant and a Professor of Management. He has authored two books on business management. He earned a Ph.D. in organizational psychology and had multiple careers that include entrepreneur, CEO of a national company, professor of management, and writer. He enlisted in the Army Air Corps on his 18th birthday and was later commissioned a 2nd lieutenant as a bombardier on a B-24 bomber. He flew over 30 missions over Germany during WW II.
Atlantic Air War
Sub Hunters vs. U-Boats
Lambert.

Vintage pictorial history of the epic WWII air/sea battle in the North Atlantic to keep open England's life-lines. Covers the North Atlantic to the Caribbean and includes B-24s, PBYs, Grumman Avengers, Wildcats, and more. Most photos are from personal collections and have never been published before. 112 pgs., 160 photos, 8½"x 11", sfbd.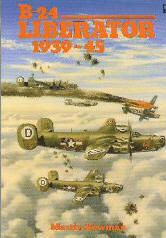 B 24 Liberator 1939-45
Martin W. Bowman
Hardcover / Published 1995
Both New and used books available.
The B-24 Liberator was the most versatile aircraft to serve in the Second World War. Its role with the USAAF, particularly its raid on Ploesti, is well known, but this book also covers its work in the Pacific with the US Navy and its many missions with the South East Asia Command in India and Burma, and in the Battle of the Atlantic. The publication of this title coincides with the 50th anniversary of the Liberator's first flight in May 1939.
Strangers in Their Land
Terry.

The author, a B-24 bombardier in the CBI theater, provides memoirs with no holds barred. Takes the reader from his introduction as a green young man to a toughened veteran. A bird's eye view of the country, the missions, and fellow crewmen. 264 pgs., illustrated, 6"x 9", sfbd.
B-24 Liberator
In Detail & Scale Vol. 64
Bert Kinzey.

A detailed look at every variant of the B-24 and Navy PB4Y with differences between the variants discussed and illustrated. Period photos, obtained from official USAAF and U.S. Navy files, are combined with those taken specifically for this publication. Together, they illustrate in detail every feature of this important and historic aircraft. 80 pgs. with 16 in color for nearly 200 photos. 8½"x 11", sfbd.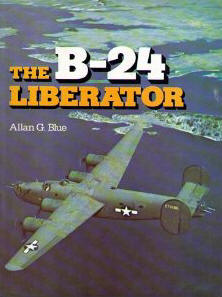 The B-24 Liberator :
A Pictorial History
Allan G. Blue / Hardcover / Published 1976
A design history of the Consolidated B-24 Liberator bomber that is written in a detailed and informative manner that is decidely different, in a very positive way, from other books of the genre. Author Blue assumes that his readers are relatively familiar with this World War Two that was always the notional younger sibling to the Boeing B-17 and B-29. With that being the case, he does not present a military history of the aircraft's deployment and use. Instead, Mr. Blue tell the reader about the design of the aircraft, providing insight into the evolutionary changes that went over the course of its service life
ISBN: 0684145081
B-24 Liberator in Action
Davis.
Excellent reference for the buff, historian and modeler, this book contains 3-view drawings of various B-24 models, including detail of turrets, armament, propellers, cowling and more. 57 pgs., over 120 photos, dozens of diagrams and a 2 pg. color plate of markings. 11"x 8¼", sfbd.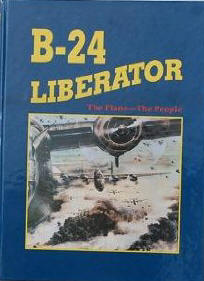 B 24 Liberator Legend
Turner Publishing Co Staff / Hardcover / Published 1999
Bomber Pilot : A Memoir of World War II
by Philip Ardery
This outstanding autobiographical recount of Ardery's WW2 experiences ranks amongst the top in this genre. Follow his career through flight training and initial assignments, trials, tribulations and finally, a combat assignment. Ardery, his crew, and their B24 participated in several critical and unprecedented bombing missions during the war, including the infamous Ploesti raid. His recount of flying into a virtual "wall of fire", which was the defensive flak being leveled at their bomber, is one of the most harrowing experiences written to date. In addition to this book, those interested in the B24 should definitely read Thomas Childer's "Wings of Morning : The Story of the Last American Bomber Shot Down over Germany in World War II" which stands alone as the absolute finest piece of literature written to date on this subject.
Winner of the Best Aeronautical Book Award from the Reserve Officers Association of the United States "The sky was full of dying airplanes" as American Liberator bombers struggled to return to North Africa after their daring low-level raid on the oil refineries of Ploesti. They lost 446 airmen and 53 planes, but Philip Ardery's plane came home. This pilot was to take part in many more raids on Hitler's Europe, including air cover for the D-Day invasion of Normandy. This vivid firsthand account, available now for the first time in paper, records one man's experience of World War II air warfare. Throughout, Ardery testifies to the horror of world war as he describes his fear, his longing for home, and his grief for fallen comrades. Bomber Pilot is a moving contribution to American history.
B-24 Liberator Units 15th A.F.
Combat Aircraft Vol. 21
Robert Dorr.

Often overshadowed by the bomb groups in the "Mighty Eighth," the 15th Air Force groups that flew the B-24 ceaselessly struck at targets from the bases in southern Italy from late 1943 through VE-Day. This is their seldom-told story. 96 pgs., 100 B&W photos, 30 color profiles and more. 7¼"x 9¾", sfbd.
B-24 Liberator Units of the Eighth Air Force
Robert F. Dorr / Paperback / Published 1999
Book Description
100 b/w photos, 30 color photos, 7 x 9 The first raid undertaken by the Liberator occurred on 9 October 1942 when the 93rd Bomb Group (BG) attacked Lille, in France. This group was followed across the Atlantic to England by the 44th BG, which was considered to be the AAF's first true Liberator unit. These two "pioneer" groups remained the only B-24 operators "in-theater" until late 1943, as other groups slated for the ETO were diverted to the Pacific. Eventually, a further 19 groups (usually consisting of three or four bomb squadrons) would see action with the Eighth. Although unable to fly at the rarefied altitudes achievable with the B-17, the B-24s ability to fly faster and further with a much heavier bomb load than the Boeing bomber made the Liberator the most sought after aircraft in the American inventory by late 1942.
The 451st Bomb Group in WWII
A Pictorial History
Mike Hill.

This is an illustrated history of the 451st Bomb Group in WWII. As part of the USAAF's 15th Air Force, they flew the B-24 Liberators from Italy to heavily defended targets throughout the Mediterranean theater of war. During their tour, the Group was awarded three Presidential Unit Citations for their ability to get to the target no matter what. 160 pgs., 600+ B&W photos (most previously unpublished), 8½"x 11", hdbd.

Gen. Chennault's Secret Weapon
The B-24 in China
Haynes.

This book records the World War II experiences of Captain Elmer E. Haynes, who flew low-altitude night radar strikes against Japanese shipping in the South China Sea and daylight raids against various enemy land-based installations in eastern and central China. Haynes flew secretly developed B-24 Liberator bombers that were equipped with radar that had been integrated with the Norden Bombsight for night missions. These B-24's operated with the 14th Air Force - General Chennault's Flying Tigers. The bombing attacks were so accurate and successful that, in a little over a year, Haynes and his fellow pilots sank approximately a million tons of Japanese shipping. 264 pgs., hdbd.
The Jolly Rogers


The 90th Bombardment Group in the Southwest Pacific, 1942-1944 Colorful B-24 Liberator group created an unbeatable record, both in aerial combat and in bombing prowess. Portrays in detail the crewmen and the drama, both humorous and disastrous. 112 pgs., 500 photos, many in color, 11"x 8½", hdbd.

Liberator Americas Global Bomber
A. Lloyd / Hardcover / Published 1994
This is the only book on this great airplane to really show the incredible contribution that it made in World War II. Production is covered first. Every version of this plane is covered, including navy patrol bombers, reconnaissance, cargo, tanker,and postwar use as executive transports and borate bombers. More than that, every theatre it participated in is described, which is pretty much every theatre in the war. Every unit that used the Liberator in combat is covered with photographs and a brief operational history. It does not stop with its use in the Pacific and the European theaters, it also covers more obscure use such as the Caribbean, Alaskan, antisubmarine use world wide as well as foriegn use. Where else will you find use of the B-24 and its derivatives in India, China, South Africa, and by the French? Also covered are the serial numbers for each version, which is helpful when determining the version you have in that old snapshot. This book is packed to the gills with information and photographs, including a fine color section
ISBN-10: 092952182X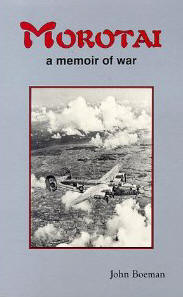 Morotai: A Memoir of War
John Boeman / Paperback / Published 1989
Book Description
According to the official histories, says John Boeman, the U.S. Army trained 193,440 pilots between 1 July 1939 and 31 August 1945. Boeman was one of them -- a B-24 bomber pilot.
He had never been in an airplane, had never felt himself "born to fly," and felt "no sudden surge of patriotism." But from the day the Japanese bombed Pearl Harbor, he says there was no question in his mind that he would enter military service. President Roosevelt's blueprint for total war made this clear.
Boeman's memoir takes the reader from flight training through combat missions.
The day-to-day life of inexperienced Boeman and his crew, as part of the 307th Bombardment Group, is detailed with humor and pathos -- the apprehension of his first mission; the long hours on the ground; the remembrances of "growing up"; the excitement, the "ice" in the stomach, or the unexpected.
". . . Significantly," Boeman says, "somewhere in the progression from my first day of training to . . . my fifth mission in combat operations, I had undergone an attitudinal transformation that compelled me to direct all effort toward a single objective: to put our bombs on the assigned target."
Boeman "ponders" the "rights and wrongs" of his responsibilities and decisions as an aircraft commander and works through the "agonizing post accident days" of his aircraft's crash on takeoff, killing four of his crew. Morotai is a thoughtful, touching remembrance of a survivor -- a story with excitement, and a story of pain.
Liberator Pilot
Fagan.

The "Cottontails" of the 450th Bomb Group flew B-24s into hell from bases in Italy to destroy German oil- making facilities. Fagan flew on 41 missions with the 450th as first pilot, going against Vienna and Ploesti ten times. Describes his B-24 missions with the 15th Air Force and tells of the close calls and unforgettable incidents - and his scheme to beat the odds for combat survival. Photos from the author's collection. 130 pgs., 5"x 8¼", sfbd.
The B-24 Liberator
(Famous Aircraft Series)
Steve Birdsall
Consolidated B-24 Liberator
Warbird Tech Vol. 1
Johnsen.

This book is crammed full of excerpts from original military tech manuals, overhaul handbooks, flight crew references, original engineering drawings, and assembly line and repair depot photos. Includes exploded views, cutaways, and four-page insert of color photos. 100 pgs., over 100 photos and 30 diagrams, 8½"x 11", sfbd.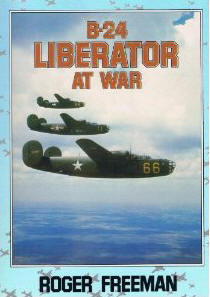 B-24 Liberator at War
Roger Freeman
Book Description
The B-24 Liberator was the most widely used four-engined aircraft of World War II, with a total of 19,256 being built. Built with Pacific distances in mind, the B-24 had a very long range and served the U.S. Army Air Force in both Europe and the Pacific, and also equipped RAF squadrons in Burma. The true character of such a long-serving aircraft cannot be deduced from its technical specifications, and this classic account draws on many first-hand experiences of those who actually flew the plane. The B-24's most important moments are covered, along with less well-known operations, all backed up with numerous photographs.
The Liberators from Wendling
Vickers.

The combat history of the 392nd Bomb Group. Based out of Wendling, England, the 392nd flew the B-24H in 285 combat missions between September 1943 and the war's end. Included are mission summaries, personnel rosters and casualty reports. 288 pgs., 285 photos and illustrations, 8½"x 11", sfbd.
Boston, Mitchell, and Liberator in Australian service
Stewart Wilson
ISBN-10: 1875671005
Squadron of Deception
The 36th Bomb Squadron in World War II
Hutton.

Click Here is the exciting, detailed story of the U.S. Eighth Air Force's only Radar Countermeasure squadron that flew from England during WWII. This book tells of the men of the elite 36th Bomb Squadron and the special operations they flew in modified B-24s, and of how this secret squadron saved many Allied lives. 216 pgs., over 330 photos and line drawings, 8½"x 11", hdbd.
Consolidated B-24D-M Liberator
in USAAF-RAF-RAAF-MLD-IAF-CzechAF & CNAF service,
PB4Y-1/2 Privateer in
USN-USMC-Aeronavale & CNAF service
Richard Ward
ISBN-10: 0668021152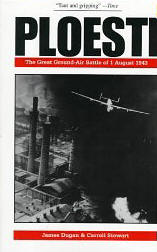 Ploesti
The Great Ground-Air Battle of 1 August 1943
by James Dugan, Carroll Stewart (Contributor), Stewart Dugan
Paperback - 308 pages 1 Ed edition (July 1998)
On August 1, 1943, an enormous armada of America B-24 Liberator bombers roared at nearly treetop level over the peaceful farms and villages of Romania. This mission was Operation Tidal Wave. Its target—"the taproot of German might," Hitler's giant oil refineries at Ploesti. Hundreds of U.S. airmen had volunteered for the mission despite warnings that half might not return. In thirty minutes, more firepower was exchanged than in two Gettysburgs, and five men earned the Medal of Honor. Ploesti presents a vivid reconstruction of a dramatic and controversial mission. ISBN-10: 1574881442
Log of the Liberators;
An Illustrated History of the B-24.
Steve. Birdsall
The illustrated combat record of the B-24 Liberator and of the men and units that flew them in the Second World War. With over 250 photographs and full color drawings.
Consolidated B-24 Liberator
Prod. Line to Frontline Vol. 4
O'Leary.

The Liberator, commissioned to improve upon the B-17, was built in near record time. USAAF production got into full swing with the advent of the B-24D, later superseded by the most successful variant, the "J" model. When production ceased in 1945, the B-24 was the most produced American aircraft of World War II. This complete history uniquely includes a selection of color company advertisements not seen since the war. 128 pgs., 120 B&W photos, 7¼"x 9¾", sfbd.
Playboy:
The Story of a B-24 Liberator
Robert F. Pipes
ISBN-10: 0962291528
This title is currently out of print. However, you can buy it used now.

Into Darkness :
A Pilots Journey Through Headhunter Territory
by Edward T. Imparato
Hardcover - 140 pages (August 1995)
usually ships within 2-3 days.
Book Description
This book is the story of a man's journey through the New Guinea jungle during WWII to solve the mystery of why American B-24 Liberator bombers were crashing in clear weather under no hostile action. 50 B&W photos. ISBN-10: 0943231914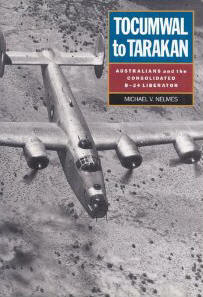 Tocumwalto Tarakan :
Australians and the Consolidated B-24 Liberator
Michael V. Nelmes
ISBN-10: 1875593047
We Flew Alone
United States Navy B-24 Bomber Squadrons in the Pacific
Carey.
The first comprehensive book written on the operations of navy B-24 Liberator squadrons in the Pacific War. From the birth of the first squadron and its deployment to Guadalcanal in early 1943 to the squadrons that participated in the Central Pacific campaign, every Navy Liberator squadron is discussed in detail. 120 pgs., 90+ B&W photos, 8½"x 11", sfbd. #0005257
Above an Angry Sea
Alan Carey.


Continues where We Flew Alone (also available) leaves off, examining in dramatic detail the Navy's use of the B-24 and PB4Y-2 during the last eleven months of the war against Japan. Includes personal stories, a tabulation of all aerial kills credited to PB4Y patrol plane commanders, a roster of all personnel killed in action or in the line of duty, individual squadron records, and much more. 160 pgs., 200+ B&W and color photographs, 8½"x 11", sfbd. #0005274 2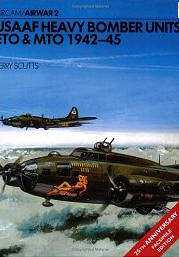 USAAF heavy bomber units,
ETO and MTO, 1942-45
Jerry Scutts
This book traces the combat history of the US heavy bomber units that operated in the European and Mediterranean theatres of World War 2. Major aircraft types are all covered, and their missions and tactical evolution are all detailed. Aircraft markings and aircrew uniforms are shown in full color illustrations. A series of books written and illustrated by leading military aviation specialists, building into a connected history of the operations of the world's major combat air forces - the men, the missions, the machines, the markings. ISBN-10: 0850451310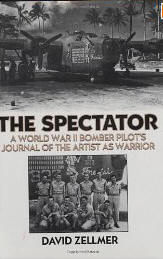 The Spectator :
A World War II Bomber Pilot's Journal of the Artist As Warrior
by David Zellmer
Hardcover (January 1999)
From Greenwich Village to Guadalcanal in just over a year, David Zellmer would find piloting a B-24 bomber in the South Pacific a far cry from his life as a fledgling member of the Martha Graham Dance Company. He soon discovered the unimagined thrills of first flights and the astonishment of learning that an aerial spin was merely a vertical pirouette which one spotted on a barn thousands of feet below, instead of on a doorknob in Martha's studio. Reconstructed from letters home, this captivating account traces Zellmer's journey from New York to the islands of the South Pacific as the 13th Air Force battled to push back the Japanese invaders in 1943 and 1944.
Spurred to action by encouraging letters from Martha Graham, who urges him to document his participation in the great tragic play of the Second World War, Zellmer struggles to come to terms with the fears and joys of flying, of killing and being killed. ISBN-10: 0275962865
Click Here for B-24 Liberator Exhibits. One More Mission by Jessie Petty
Click Here for the Willow Run Exhibit, Production of the B-24 Liberator,
by Warren B. Kidder