Listing of Bomb Groups
34th fighter squadron, fighter squadron, fighter, squadron, world war, war, world war 2
If you are a member of the 34th Fighter Squadron or a relative of one of the members, please send me your email address and I will place it on this page so everyone can keep in touch! Also Send me your photo's and stories of veterans at Ie Shima.
Survival Equipment - Survival Supplies Railroad Calendars
There are many letters below where people need help finding informationabout veterans and the 34th fighter squadron.
10-Jan-2008
I have something to say about the instructors who trained our fighter pilots that fought the Japanese at Ie Shima and Okinawa in WW2. I was stationed aboard a supply ship that was anchored close enough that we could see the island of IeShima. We were at our battle stations constantly because we were being attacked by the Japanese suicide planes. I witnessed the pilots of the P-47s the P-51s-and later the P-38s as they returned from protecting our bombers during missions to Japan. When a pilot was credited with a Zek kill he was allowed to put his fighter plane through aerobatics before landing and it appeared there must have been competition among these pilots. I say that because it would be impossible for me to describe to you how great these young pilots were doing their thing above the Island of Ie Shima and Okinawa and they seemed to want to out do each other. I often wondered how their fighter held together. They had to be well trained to down the Japanese Zeros and also to get that kind of performance out of their fighter planes. They put on a great exhibition and we always enjoyed watching them. I know they were a credit to their country and also their instructors. Well trained pilots had a greater chance of staying alive.
A WW2 Veteran
Bob Shackles
Dear Mr. Dyrek,
If I understand correctly you are looking for information on what happened to the Bettys that were used as the two Japanese surrender planes. I do not know but I do have a motor plate that my late father brought back from Japan He said he had removed it from a Japanese surrender plane. The plane was painted white with green crosses and he said it transported Japanese at document signing at the end of the war. He said soldiers were taking all the parts off of it. Dad was Signal Corps and put up communications so that the planes could land in the Philippines, Japanese islands, and Japan. I know Dad was in Tokyo but I do not know about le Shima. I do not know if the plane in the water was later taken to it's destination of Tokyo. If you find out what happened to them would you please let me know. I will certainly let you know if I find any information.
The motor plate is written in Japanese and Dad has scratched some letters on the back of the plate, starting motor, and bomber I think he letters may be letters from the outside of the plane. They are American letters. Is there any place I could check these letters to see if they are registry for one of the surrender planes?
Thank you for any help you might give me.
Karen Shelton
I was on the LST 979 at Ie Shima. We were loaded and ready to make the Invasion of the Mainland when the A-Bomb was dropped. I wrote notes while listening to the pilots direct the Jap Betty Bombers in the land. I have pictures of the Jap officers sitting under the wing of their plane while waiting for the paper work. I also have a picture of their pilot standing on the wing of the Betty.
We were to carry engineers in on the third wave. Our Skipper told us we would probably all be dead because they expected to lose the best part of ten waves to take the beach. I wont forget those days. I was a Radioman. I also was on board the LST 1019 at the Invasion of Southern France before being transferred off. I am now 81. I was 18 when at France.
Respectfully;
James Dean Walker
Service Serial Number 6558506
3-23-2003
Trying to locate any information regarding PVT John Benjamin (known as "J.B.") Glover, Jr. He was originally from Tennessee.
According to family accounts, he was severely burned when a damaged plane made an emergency landing at Ieshima on May 27, 1945. He died from wounds he received three days later, on May 30, 1945. The family was not notified until several months later of his death by "censored" telegram, and didn't get any details until after the war. Those details were incomplete.
(His body was moved from Ieshima to Hawaii after the war).
I'm in contact with his sister who was about 7 years when "J.B." went off to war. She has many questions, including confirmation of his unit and "what he did" in the Army.
I didn't find his name in your "roll call". Were there other units attached at Ieshima which may account for his absence in your exhibit?
Any information would be appreciated.
Mr. D. E. Dawkins
for Charlotte Glover Groves
Overland Park, KS

9-29-2002
On April 17, 1945 I was a Naval fighter pilot from VF24 leading the second section of a four-plane division of F4F Hellcats. We were from the USS Santee CVE 29, a carrier of the Sangamon Class keeled originally to become an Oiler.

Our mission was to fly to Ie Shima and report to a Ground Director for his selected assignments. The call came to attack just ahead of a ground Marker sheet to quiet a group of Japanese who were mortar firing our troops just fifty to 75 feet away.

I recall saying to the director that he would get our links and casings on the troops heads as the terrain allowed only a run over his position. He responded that would not be as bad as he was getting now.

A shallow run would surly increase his danger and a steep run would offer a better angle but would require a higher altitude break-off to effect a recovery from the dive this would also increase the range and shorten the time of firing. I chose a 60 degree angle which was routine for dive-bombing but slowed well below the usual 320 Knots. The close proximity of our troops obviated the use of bombs or rockets which we carried. After two delicate runs we got a thanks and goodbye. When I landed back on the Santee around midday I heard that Ernie Pyle had been killed on Ie Shima. No particulars were available. My god! I did it.

It wasn't until early evening that we heard that he was killed by a sniper while in a Jeep. Years later I heard of the machine gunning.

Hope that this helps complete your picture.

Irving "Cowboy" Mayer-
irvmayer@cox.net

Incidentally I was searching for info on Jack Singer a War Correspondent who was also killed in action. He was a cousin to my first wife by marriage.

In the search I ran across Raymond Clapper another war correspondent. He was killed in front of me on Jan 29, 1944 by a fellow pilot of mine in a pre-dawn launch into a storm and post launch midair collision from the Belleau Wood CVL 24. but that's a story for another day.
8-16-2002
Hi:
Was a member of Capt.Orrel Caldwels flight Lt. Pence was my wing man. Brought back many memories with this wonderful layout.
many thanks
bike4@frontiernet.net
7-9-2002
Dear Jeff
Would you please inform Frank Dauro in Opelik AL. THAT I WAS IN THE 318TH FIGHTER GROUP IN THE 73RD FIGHTER SQD.I ON SIAPAN AND OKINAWA THE SAME TIME HIS FATHER VINCENT WAS THERE, I TOO INVOLVED THE HURRICANE, PLEASE HAVE HIM CONTACT ME I HAVE A SCRAP BOOK OF PICTURES AND DOCUMENTS. MY NAME AND ADDRESS IS AS FOLLOWS. I APPRECIATE YOU DOING THIS FOR ME. YOURS TRULY,
MR.LeROY G. Larson
11162 south SPAULDING AVE.
CHICAGO, IL. 60655
EMAIL barfliesp47@netzero.net
Info needed for
Kenneth Cox who flew with the 494th 867th Bomber Wing and Group
Major William C. Braxton an instructor pilot for the P-47 back in the 1940's.
11-19-01
Dear Readers,
I'm trying to run down some info on Col. Harrison R. Thyng's P-47N when he was the CO of the 413th FG. He, as you probably already know, was a squadron CO of a US Spitfire squadron in the UK and North Africa. That was the 309th FS. I flew in the 309TFS in Vietnam. I build historic plastic scale models. I'm trying to find the paint scheme of Col Thyng's P-47N. Would you happen to have any info to help?

I've stumbled onto two artist profiles of 413th Thunderbolts. Both purport to be of 21st FS planes, but they have completely different schemes. One has a medium blue tail with a wide black band at its
leading edge with a two letter code on the fuselage. The other has a solid yellow tail and wingtips, with a light blue heart in the middle of the tail. I seriously doubt that they are both correct. (see attach)

Thanks in advance for any help...
--
Joe Vincent
"Politicians and diapers need to be changed at regular intervals, and for the very same reason..."

Col. Harrison Thyng Links

Go to the 413th Fighter Group Letters Page
Write to the Webmaster
Other 34th Fighter Squadron
and 413th Fighter Group Exhibits

.
.
Yellow Airplane Home Base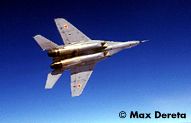 You can actually fly a real Russian Mig-29 Jet Fighter, Click Here to find out how