Willow Run's, Charles E. Sorensen,
Ford's Great Production Genius.
Willow Run Colossus of American Industry Page 2
Willow Run is what Albert Kahn, its world renowned architect, described as "the most enormous room in the history of man."
The story of Willow Run describes how Charles E. Sorensen, Ford's Director of Production during WW2, conceived the idea of manufacturing the giant B-24 Liberator bomber at the unbelievable rate of one an hour; and how the men and women from Willow Run, challenged by the opportunity, made his vision come true.
Willow Run
Colossus of American Industry
by Warren Benjamin Kidder
Charles E. Sorensen is the genius who created
the Willow Run B-24 Liberator Manufacturing Plant
Photo Scanned by C. Jeff Dyrek
Charles E. Sorensen
Ford's Great Production Genius
Fortune Magazine, April 1942
"If this is the role of the four-engine B-24 bomber, then
the industrial historian may one day pause over the creative
act that helped launch the weapon in quantity production
He will almost certainly pause before the man himself
Charles E. Sorensen
Ford's Director of Production said, "Willow Run was the biggest challenge of my production career; bigger than the Model T assembly line at Highland Park, and more momentous than the layout and construction of the great River Rouge plant." Without Sorensen's vision to mass produce the B-24 Liberator at the unbelievable rate of one every hour, the Allied Air Forces would not have had the massive number of bombers needed for their missions, and World War II might have had a significantly different outcome.
The story of Willow Run reaches far beyond the quiet stream where the Indians camped and hunted and where people gathered in a peaceful chapel by its side; the story reaches to the thunderous rain of bombs that helped liberate Europe from the Gestapo claws of Hitler and return the South Pacific to the peaceful tranquility of its name. Willow Run stands in honor of all the people who ever lived or worked there; from the early pioneers who settled the land to the visionaries who struggled to develop creative ideas for mass producing the bomber; and from those who build the planes that helped bring freedom back into the world, to those who came to help but could not, for lack of housing. Many of those people lived in squalid conditions to build the bombers that kept the American dream alive. To all of them, this nation and the Allied Powers during WW2 owe a debt of gratitude.
Benjamin Kidder.
Mr. Kidder described Charles Sorensen, to me, the webmaster, as the Rambo of WW2. He was not the Rambo that you saw in the movies fighting against the world, rather, Mr. Sorensen was the Rambo fighting to build a B-24 Liberator bomber factory that would save our country. This is one statement that makes me think. You do not have to be the Audie Murphy type in the front lines to be a significant hero, all you need to do is keep doing something good day after day and work at it hard until your goal is accomplished and you will become that great hero. Mr. Sorensen was one of those great people and because of his efforts, it may be the reason that we are a free people today.
C. Jeff Dyrek
Eventually, Mr. Sorensen becomes Ford's Executive Vice President, and was Knighted by the King of Denmark.
Brigadier General James M. Stewart
USAF Reserve
Operation's Officer
Second Air Division - 8th Air Force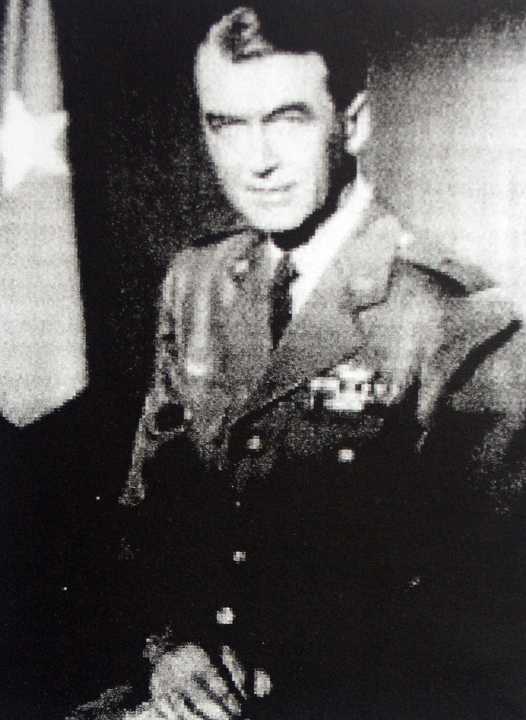 A letter from the 8th Air Force to Warren Benjamin Kidder
F.C. "Hap" Chandler
President, 8th Air Force Historical Society.
Mr. Warren B. Kidder
Dear Ben:
Thank you for taking the time to visit our matchless Mighty Eighth Air Force Museum. It was a pleasure to work with you regarding the history and "Time Line" of the Mighty Eighth during World War II. Your book, "Willow Run" Colossus of American Industry is a classic and much needed addition to the history of the Mighty Eighth's activities during World War II. It has been very helpful to our year long study of the accomplishments of the wartime 8th as, without the production of large numbers of B-24 bombers, the air war against the Third Reich would have been impossible.
I have also reviewed in detail your proposal for production of a motion picture concerning the B-24. It is exceptional, and should be made into a first class movie! Be assured that I, and my colleagues, will do whatever we can to assist you in bringing this timely and excellent motion picture to fruition. Your inspiring story of Charles Sorensen, the production genius who planned and built Willow Run is particularly timely. I am sure you detected the enthusiasm and interest of the museum staff as you outlined your idea. We will assist you in any way possible to make your plan a reality.
I'm am not an expert in movie production, however John Travolta, during his recent visit to the Museum became very enthusiastic about a picture portraying the Mighty Eighth. Your script encompasses all aspects of the Mighty Eighth story - an Air Force Private Ryan in concept.
As you saw we have considerable resources to help in this endeavor. You need only call for help as required. We wish you well in your important and timely project to preserve the saga of a matchless aircraft and magnificent men who flew them.
Your devoted friend,
F. C. Chandler
President Second Air Division Association 1999-2000
Trustee, The Mighty Eighth Air Force Heritage Museum
Founding President Georgia Chapter 8th Air Force Historical Society.
85 Combat Missions.
Click Here to see the Script Release for
"Willow Run The Eighth Air Force WW2 Movie"
Order Willow Run, the Book.
To Order
Your Personal Autographed Copy, Send Check or Money Order to:
KFT Publishers,
3617 Christine Dr.
Lansing, MI. 48911
For Information Contact
Email: kidderfr@ATT.net Phone 517- 394-2849
Here's another Book Review about a B-24 Pilot in WW2, Jessie Pettey.
an Article by the webmaster

Click Here's Warren Benjamin Kidders New Book, The Mighty Eighth Air Force Click Here's the Movie Script for Willow Run
A Journey from Childhood to War
Exhibit at the
Yellow Airplane Online Museum A tremendous story about Jesse Pettey a B-24 Liberator Pilot in World War 2 which takes you from his childhood to becoming an Army Air Force Captain in World War 2.

By Jesse Pettey.
One More Mission: A Journey from Childhood to War
by Jesse Pettey


Jesse Pettey grew up in Nacogdoches, Texas where he observed life in an East Texas rural small town during the depression. He attended High School and Stephen E. Austin State University before volunteering for the Army Air Corps flight training in World War II. During the war, he flew 35 missions as a pilot in a B-24 bomber over Europe and was awarded a Distinguished Flying Cross and four Air Medals. Upon completing his combat flying, he returned to Texas where he completed his education by earning a masters degree in Music Education. He taught music in high school for several years before joining Prudential Insurance Company where he served as a Prudential executive from 1957 to 1980. He then retired and lived in Italy for the next seven years traveling and writing. He now lives in Houston, Texas.

After the Liberators : A Father's Last Mission, a Son's Lifelong Journey

by William C, II McGuire

Letter from the Author:
It tells the story of the 8th Air Force mission against Friedrichshafen, Germany on March 18, 1944, in which the 392nd BG lost 14 Liberators. Among them was my dad's Navigator, as he was KIA with six more of his crew. The contemporary or mid-1990s story tells about how I first learned the details, tracked down and interviewed surviving vets, visited his old base in England, his burial place at St. Avold, France and the crash site in southwestern Germany for his B24 J and two additional heavies. If you have the time and interest you can check out reader comment on amazone.com including endorsements from Len Deighton, Roger Freeman, novelist James Patterson, former 392nd BG commander Col. Larry Gilbert, American Library Association President-elect Mitch Freedman and others. This is a good story and read, and an important next generation salute to all those associated with the Air Forces effort in WWII.

B-24 Liberator Movies B-24 Liberator Aviation Art B-24 Liberator Models
Veterans, Read This
Click Here for a list of WW2 Fighter Groups
Click Here to go to the YellowAirplane Online Museum
/WebSite/Book_Reviews/Warren_Benjamin_Kidder/WillowRun_PG2.html|52972"