2014 Airplane Calendars Airplane Art

Russian Soviet Model Submarines.

Prices are subject to change without notice, on More Info for the latest price!

Typhoon Class Russian Submarine Wood Model Submarine
Pre Built Wood Model Submarine

From the Manufacturer
This beautiful handmade authentic Typhoon Class Russian Submarine Wood Model Submarine is made entirely by hand, from the hand crafting of the fuselage, wings and tail section - to the sanding of the aircraft's contours. Every part of the Typhoon Class Russian Submarine Wood Model Submarine is assembled precisely into place using the highest quality material available. After shaping and sanding, the model passes through several stages of priming and sanding before the Typhoon Class Russian Submarine Wood Model Submarine is hand painted to duplicate the actual colors of a selected historical aircraft. Artisans detail from researched reference materials, including all the insignias, squadron badges, nose art, emblems and serial numbers to replicate the original aircraft to scale. Our Typhoon Class Russian Submarine Wood Model Submarine comes with base stand ready for display.
ASIN: B000U8B0L0 $299.95
1/144 Russian Kilo Class Attack Sub Type 636 TSM05903
Plastic Model Submarine Kit

Product Description
Assemble the Russian Kilo Class Attack Submarine with this 1:144 Scale Plastic Model Kit from Trumpeter®. Suitable for Ages 14 & Older. FEATURES: Realistically detailed static display model. Accurately detailed conning tower. Authentic decal markings for the SSK Kilo Class (Type 636). Display stand. Illustrated assembly guide. INCLUDES: One Plastic Model REQUIRES: Assembly Cement (HCAR3415) Hobby Knife (HCAR0100) Paint (Black, Red, Green, Silver, Gold, Light Blue, Hull Red, Dark Gray, Flat Black, Ijn Gray, Orange, Flat White) SPECS: Scale: 1:144 Length: 20-1/8"" (511.5mm) Width: 3-3/4"" (96mm) Height: 5-13/13"" (147mm) Parts: 53 kr8/4/03 ir/jxs
ASIN: B0006MJ5FI
$36.99

The heavy, fast and heavily armed Project 949A ANTEY (NATO: SSGN of the OSCAR II class) submarines were used by the Soviet fleet, and now by the Russian Navy, for attacking surface shipping. They were specially designed to fight the U.S. Navy's aircraft carrier battle groups. Their high submerged speed allowed them to keep pace with the fast carrier battle groups and attack them with salvos of their 24 P-700 GRANIT (NATO: SS-N-19 SHIPWRECK) cruise missiles that can be launched underwater. NATO is well aware of the great danger presented by this class of submarine. The KURSK joined the Russian fleet in 1994 and served in the North Fleet. During its service the KURSK undertook two combat patrols in the Atlantic and in the Mediterranean. Following the detonation of torpedo warheads on 12. August 2000 the submarine sank, taking the lives of all crew aboard.
Russian K-141 Nuclear Submarine Kursk 1-350 by Zvezda
Plastic Model Submarine Kit

Product Description
1/350 Scale. Full Hull Kit! Huge kit of the Kursk. Brand new tooling comes molded in black and clear with a display stand, instructions are in Russian but parts are numbered and easy to follow only about 28 pieces. Little decal sheet also included. Over 1
ASIN: B000MARVVO
$32.99
K-19 Soviet Nuclear Submarine 1-350 by Zvezda
Plastic Model Submarine Kit

Product Description
1-350 Scale. This kit features 33 pieces and measures 12.8 inches long when complete. 2 clear blue display stands and a small decal sheet for hull number 294,271 and K-19 SSBN Hotel class. Skil level 2

ASIN: B000OABWAS
$24.99

1/700 Russian Kilo Class Submarine
Pre Built Plastic Model Submarine


Collectible Built Up Painted Plastic Model No assembly required!
Comes in sturdy Safe Box!

ASIN: B000EOBLEQ

$9.02

Here for a Huge List of Over 1600
Books about Russian Submarines

Russian Submarine DVD Movies

Prices are subject to change without notice, on More Info for the latest price!

Counter Measures (1998)
DVD Movie

ASIN: B00000IQBV

$13.49

History - Mega Movers : Sub Salvage
DVD Documentary Video
Salvage of the Russian Submarine Kursk.
Product Description
Brave deadly radiation and nuclear warheads as you dive into the abyss with the crew to raise sunken submarines. Discover the untold story behind the doomed Russian sub Kursk and witness remarkable feats of engineering as the team struggles to raise the Civil War sub, the H.L. Hunley. Watch as the team rescues survivors trapped inside a submarine 243 feet down on the seabed. Finally learn about one of history's most famous subs--the HMS Holland One.
ASIN: B001CU5YY4
Soviet Union (Russian) Sea Power During The Cold War
DVD Documentary Video

Product Description
This video is divided into three parts. In Part I, "Rise Of The Red Navy," Actor Burgess Meredith narrates the history of the Red fleet produced in the 1970s. It begins with the Russian Navy's role in World War I and continues through World War II and into the buildup in the 1960s and 1970s. Part II "Soviet Verses U.S. Navy is a comparison of the fleets in the early 1970s with on camera analysis with experts including Admiral Zumwalt. Part III looks at the Soviet fleet in the mid 1970s. "Rise of the Red Navy," a report of the Soviet discovery of seapower, is a non- governmental film produced in the 1970s and narrated by Burgess Meredith. It commences showing the 1950 Soviet fishing fleet; and comments by U.S. Admiral Arnold Shear. U.S. Navy Chief of Naval Operations Admiral James L. Holloway and other ranking officers and civilians comment throughout the film. The film continues with the following subjects shown and discussed: History of the Russian Navy and its part in World War I in 1914 and in the revolution of 1917.
ASIN: B0013G37VY
from $29.95
K-19: The Widowmaker (2002)
DVD Movie

Based on an incident that was officially suppressed for 28 years, K-19: The Widowmaker is a fine addition to the "sub-genre" of submarine thrillers. The first major American film about Russian cold war heroes, it re-creates the nightmare endured in 1961 by the crew of the Soviet nuclear submarine K-19, when an exposed reactor core nearly resulted in a nuclear catastrophe. Several crewmen died, and K-19's captain (played by Harrison Ford) had to assert his command when near-mutiny favored his executive officer (Liam Neeson). This escalating tension gives the film its potent dramatic thrust, and both Ford and Neeson deliver intense performances while director Kathryn Bigelow (Near Dark, Strange Days) ably controls a sub full of seething testosterone. It's not as viscerally thrilling as the classic Das Boot or U-571, and some K-19 survivors protested the inclusion of inauthentic drinking scenes, but the movie benefits from grand-scale production values, seamless computer graphics, and a compelling real-life twist. --Jeff Shannon
ASIN: B00005JLGJ
The Russians Are Coming, the Russians Are Coming (1966)
DVD Movie Very Good

When a sightseeing Soviet commander runs his submarine aground off the New England coast the crew s attempts to find a boat to dislodge them almost start WWIII! Alan Arkin leads an all-star cast including Carl Reiner Eva Marie Saint Brian Keith and Jonathan Winters in this riotous uproarious [and] side-splitting (Cue) comedy! Russian Lt. Rozanov (Arkin) and his crew hit the beaches of Massachusetts unaware of the panic they re about to start. Despite the Russians harmless intentions the folks in town think a full-scale Soviet invasion has been launched! What s worse their police chief (Keith) has left his hysterical assistant (Winters) in charge and the one man who knows the truth (Reiner) is only stirring up more chaos!Format: DVD MOVIE Genre: ACTION/ADVENTURE Rating: NR UPC: 027616880185 Manufacturer No: 1003900
ASIN: B00006FDAX

The Hunt for Red October - DVD
DVD Movie, Super Excellent

In this tense 1990 thriller based on a Tom Clancy novel, Alec Baldwin stars as CIA analyst Jack Ryan, who must figure out the true motives of a Russian submarine captain (Sean Connery) directing the Soviet Union's newest nuclear-powered ballistic missile sub - the Red October, a Typhoon-class sub equipped with a revolutionary silent propulsion system - toward the U.S. coast. This Special Collector's Edition includes a "making of" featurette, director's commentary, and more. Widescreen, Dolby Digital, Rated PG. 2 hrs. 15 min.
#00V9774
Price: $12.95
Here for Russian Submarine Watches,
These are Fantastic

Here for Anti-Submarine Aircraft

Here for a Huge List of 1600
Books about Russian Submarines

Russian Submarine Art Pictures

Prices are subject to change without notice, on More Info for the latest price!

Sebastopol, Art Poster by National Archive

Product Description
Find all your favorite posters and art prints at Barewalls.com, the Web's leading art retailer. In business since 1997, Barewalls offers unmatched selection, service and prices. Browse our huge selection of wall art, including fine art, popular posters, vintage posters and decor prints. Have your print custom framed at our professional framing facilities and shipped ready to hang. What do customers say about Barewalls? "Great packaging and very fast delivery. Will definitely shop here before any other poster or print store." Date: 05/27/2004 Rated by Buyer: melselz2 "This seller is truly professional. Extremely customer service oriented. Updates sent regularly. Merchandise arrived in mint condition. Would definitely do business with them again." Date: 05/13/2004 Rated by Buyer: laurj11
ASIN: B0002OZZ18

1969 Russian Submarine Fleet Todd Shipyards Photo Print Ad

Product Description
An original vintage magazine ad print from the year published. Print ads make unique gift items that can be framed as artwork. Shipped flat un-framed in plastic sleeve with backing board. ASIN: B001B7KACO
rom $12.99
Russian USSR Soviet Military Patch ML.1-7

Product Description
Material: Base Not sure, like special rubber, or like black wool felt. Design is melted into the base. **************** List of patches ** #1 Black shark Helicopter similar to Apache ** #2 Alligator helicopter ** #3 Border division at city of Novorossiisk, on Black Sea ** #4 Division of nuclear submarine of North Fleet ** #5 Intercommunication: avia-transportation, artillery connection, radio technical services ** #6 Central experimental range of Russia near city of Mirnii, North Siberia ** #7 Tanks division
ASIN: B000RQMNL6
from $4.00






Inside a Soviet Submarine, The Crew gets underway.

The heavy, fast and heavily armed Project 949A ANTEY (NATO: SSGN of the OSCAR II class) submarines were used by the Soviet fleet, and now by the Russian Navy, for attacking surface shipping. They were specially designed to fight the U.S. Navy's aircraft carrier battle groups. Their high submerged speed allowed them to keep pace with the fast carrier battle groups and attack them with salvos of their 24 P-700 GRANIT (NATO: SS-N-19 SHIPWRECK) cruise missiles that can be launched underwater. NATO is well aware of the great danger presented by this class of submarine. The KURSK joined the Russian fleet in 1994 and served in the North Fleet. During its service the KURSK undertook two combat patrols in the Atlantic and in the Mediterranean. Following the detonation of torpedo warheads on 12. August 2000 the submarine sank, taking the lives of all crew aboard.
Soviet Crew on the bridge of a Russian Submarine in the Arctic Ocean

Soviet Typhoon-class nuclear-powered ballistic missile submarine - the world's largest submarine
Soviet Submarine in the Kara Sea North of Central Siberia near Severnaya Zemlya Archipelago on the link to see the Severnaya Zemlya Exhibit.

The Russian Submarine fleet is one of the most advanced submarine force in the world. Submarines like the Kursk and the Soviet Typhoon Class Russian Submarine are shown, repeatedly in DVD Movies like the Hunt for Red October and the Russians are coming. The models shown with these Russian submarines show the Russian Submarine fleet and power with a force capable of traveling and destroying any country in the world. These submarines fleets started with super advancements coming in WW2 to the modern Russia submarines of their nuclear fleet today.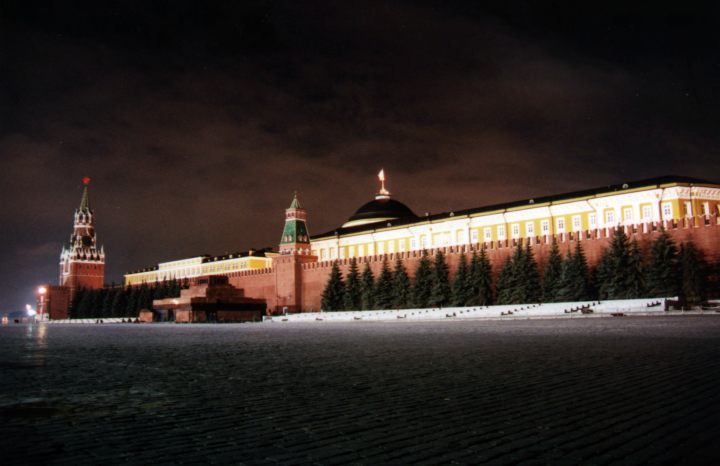 Rare Night Photo of Red Square and the Kremlin by the Webmaster. C. Jeff Dyrek.
Here to see the Moscow Slide Show with Fantastically Beautiful photos.
Please note: The background picture on this page was taken when I was stationed on the
USS Kitty Hawk in 1977-1978 in the Western Pacific.
C. Jeff Dyrek, Webmaster.
here to see the USS Kitty Hawk Exhibit


Air Compressors * Belt Sanders * Glue Guns * Heat Guns * Lathes *
Paint * Vices * Xacto Knives
Yellow Airplane Gives You the Best Source of Airplane Models, Airplane Books, Airplane Movies, Aviation Art, Aircraft Calendars, Airplane Tools, Exhibits and MORE!