www.YellowAirplane.com

PV-1 Ventura Model Airplanes, Plastic Model Kits, Aviation Hobby Shop.

You are in the
PV-1 Ventura section.


of the Prop Bomber Model Kits Department.


in the

YellowAirplane

store.

The background photo on this page was taken on our 2002 North Pole Expedition. You can see more photos at the North Pole Photo Summary page.
Lockheed PV-1 Ventura
Collectable Lockheed PV-1 Ventura Model Airplanes in this Huge Hobby Shop.
Lockheed PV-1 Ventura Models, These aircraft were used by the U.S. Navy as both a long-range patrol bomber and as a gunship to attack enemy ground targets and shipping in World War II, P&W R-2800 "Double Wasp" radial engines with rotating propellers, wing-mounted fuel tanks, a dorsal gun turret and optional chin-mounted M2 Browning machine guns, an ASD-1 search radar, a choice of three markings (VB-133 at Iwo Jima, VP-135 in Alaska, and 149 Squadron, RCAF, in British Columbia)
Survival Equipment - Survival Supplies * Camaros for Sale
Lockheed PV-1 Ventura Airplanes

Lockheed PV-1 Ventura Aviation Art

The Hunters

Don Feight.
This salute to Lockheed's line of land-based submarine hunters features the PV-1 Ventura of World War II, the P2V Neptune of the Cold War, and the P-3 Orion, which is still in service today. 28"x 22" limited edition print is signed and numbered by the artist.

War Up North
Aviation Art.
Stan Stokes.

During WWII, the Lockheed Ventura performed a number of military and non-military roles. It's successful design even made it useful in Alaska, where terrible weather was as big a challenge to the pilots and crews as were the Japanese. 16"x 11½" signed and numbered limited edition print.
PV Ventura/Harpoon Units of WW2

Combat Aircraft Vol. 34
Softbound Book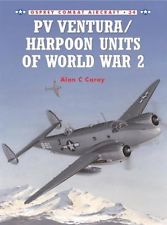 Softbound Book
Carey. The Ventura saw widespread service as a bomber and as an anti-submarine platform with the U.S. Navy and others. Built by Lockheed in response to Britain's need to replace the Hudson, the Ventura succeeded because of its long range and impressive armament. Book details its wartime service with all operators and includes firsthand accounts, scale drawings, tables and more. 96 pages, 98 B&W photographs, 30 color profiles, 7"x 9", softcover.
Vega Ventura
Softbound Book

The Operational History of Lockheed's Lucky Star Stanaway. One of the most overlooked warbirds of WWII. Used for anti-sub, penetration bombing, recon, and night fighting, the plane was fashioned from the Lockheed Model 14 airliner. 112 pgs., 200 photos, 8"x 11", sfbd.

Out of Print Books
PV-1 Ventura in Action
The Lockheed PV-1 Ventura evolved out of the RAF's Hudson bomber and served the U.S. Navy in maritime patrol roles, only to be replaced by the PV-2 variant dubbed the Harpoon. This book examines the development and operational service of the Ventura and its variants with 3-view drawings, 10 color profiles, technical drawings and 80 B&W period photographs. 50 pages, 11"x 8", softcover.
The Lockheed Twins
Marson. This is the ultimate reference on all the commercial and military versions of the Lockheed 10 Electra, Lockheed 12, Lockheed 14, Hudson, Lodestar, Learstar, PV-1 Ventura, PV-2 Harpoon, Saturn, and the many post-war civil conversions. Preserved and civil P-38 Lightnings and P2V Neptunes are also covered. Includes more than 7,000 aircraft histories with over 330 photos. 680 pgs., 8"x 11", hdbd.
* Belt Sanders * Glue Guns * Heat Guns * Lathes *
Paint * Vices * Xacto Knives
Veterans here
Please Note: I took the photo of the clouds used in the background picture
while we were flying from a Northern Siberian city named Khatanga
on our way to the North Pole in April 2002. C. Jeff Dyrek, webmaster
/Models_Bombers/airplane_models_PV-1_lockheed_Ventura.html|13708"
Copyright Dates:
11-27-2010 1-4-2012 06-06-2013