www.YellowAirplane.com
A Beautiful Sunset Photo
The sun is almost down and I'm looking for the flash
the aircraft carrier USS Kitty Hawk, CV-63
1977-1978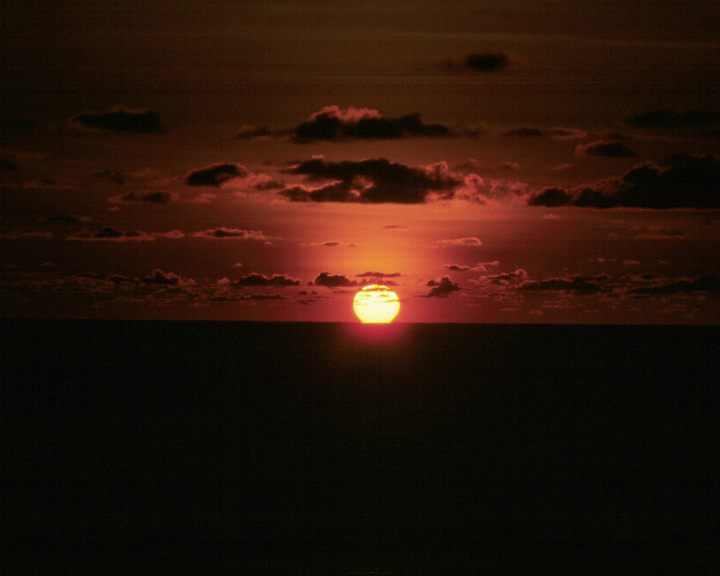 Photo by C. Jeff Dyrek
Airplane Books Airplane Movies Airplane Models Camaros for Sale
The Sky continues to darken. Peace is on earth and my heart rest. But that's just me. There are many crew members still hard at work. We work 12 hours on and 12 hours off, seven days a week. The shifts start at 0800 and end at 2000. When your not at work, what do you do.
There is a school called Chapman College on the ship. I studied mathematics while out to sea. We also had a nice library, a real good weight room, a camera / music store, barber shops, and a lot of things to look at to keep your interest. On the media side, we had several TV stations which covered movies, music, and flight ops. That's right! Every aircraft launch and recovery were video taped and you could watch it live with a sense around system like you wouldn't believe. When a plane took off you felt the whole ship shake. The afterburners were not only on tv, they were ten feet above your head creating the sound of the God almighty.
This was something that you had to experience yourself because there is no discription, no movie that can make it real for you. One minute you're looking at a beautiful sunset, the next second a jet fighter lights its afterburner and cranks up over 42,000 lbs of thrust. This is the sound of the God Almighty. The ship shakes and your body vibrates from within. You can feel the power building more and more then suddenly there is a quick release. The jet shoots down the catapult and you feel the catapult shuttle come to the water brake at the end as the plane is launched off the deck. It's great! A totally fantastic experience and power rush, then back to the tranquility of the sunset as the jet disappears into the darkness of the night.
Click Here's a little story that a person jogged out of my memory today when they talked about going to the beach in Panama.
I miss going to the beach. In California, I used to go to the beach and sit and watch the waves coming over the rocks. There were some old ship wrecks that I found out were from Sir Francis Drake. There are so many wonders at the beach, it's at the edge of another world.
I used to live on a ship myself for a whole year. It was absolutely fantastic. We were in a Typhoon where the waves were coming over the flight deck. It was an Aircraft Carrier that I lived on, so the waves were very, very big, bigger than any that I have ever seen. One time we caught on fire and burned for three days. John saw a movie about the fire, but I never thought that they ever made one about it. One time we were down by Singapore and we were out to sea for thirty five days without seeing any land. The captain said that we were going to take a day off. So we stopped the ship and had bands playing all over the flight deck. We had a special picnic type of dinner and six thousand guys had a great time. I have pictures of this on my website.
I used to live in the Philippines and my friends and I used to go sail boating very often. We also went snorkeling. We weren't too smart though. One time when we went snorkeling, we didn't look at the tide charts. We ended up in such shallow water that we had to take a deep breath to get over the coral reefs. The bad thing was that there were stone fish in that area and they are very, very deadly. We decided to get out of the water and walk across the island. All we had on were our swimming trunks and flippers. So we started walking through the jungle. It's very dangerous to walk through the jungle in the Philippines. But we came upon some old 16 inch guns from WW2. They looked like they were new and the metal looked like it was new. It was incredible and fantastic.
Anyway, we walked out of the jungle on the other side of the island and there was a big open field. As we walked across the field I looked back and there was a bare trail. How could this be, was the question that went through my mind. How could this be, there was no trail in front of us. What it was, was that the field was not grass, but sensitivity plants. Whenever you touched them, they would move away and leave bare ground. That was a fantastic day.
<<< Previous Photo Next Photo >>>
To See All Exhibits in the Yellow Airplane Online Museum, Click Here.

Yellow Airplane Home Base

Airplane Books * Airplane Movies * * Airplane Models * Camaros for Sale * Aircraft Calendars * Jet Fighter Models * Flight Manuals

Exhibits * Museums * RC Boats * Ship Models * Sailing Ships

Tanks * Military Vehicles * * * Action Figures *

( Train Sets ) * Railroad Books * Real Sports Cars for Sale * * * Real Sports Cars for Sale * Adventures * Survival Equipment More Aviation Art * More Models *
Sunset Links
SCENIC, OCEAN , SUNSETS , WATERFALLS, PHOTO MAGNETS
Sunsets from Different Perspectives

Click Here for a list of WW2 Fighter Groups
Click Here to go to the YellowAirplane Online Museum
Look at these exhibits and tell me what these men really fought for.
the 34th fighter Squadron USS Kitty Hawk
About the Webmaster, Why God Send Me to the North Pole

Click her to see how I have to live and what it looks like to be a disabled Vet.
Avitop.com Aviation banner exchange - Join now!