www.YellowAirplane.com
This is the most Beautiful of my Sunset Photos
I took from
the aircraft carrier USS Kitty Hawk, CV-63
1977-1978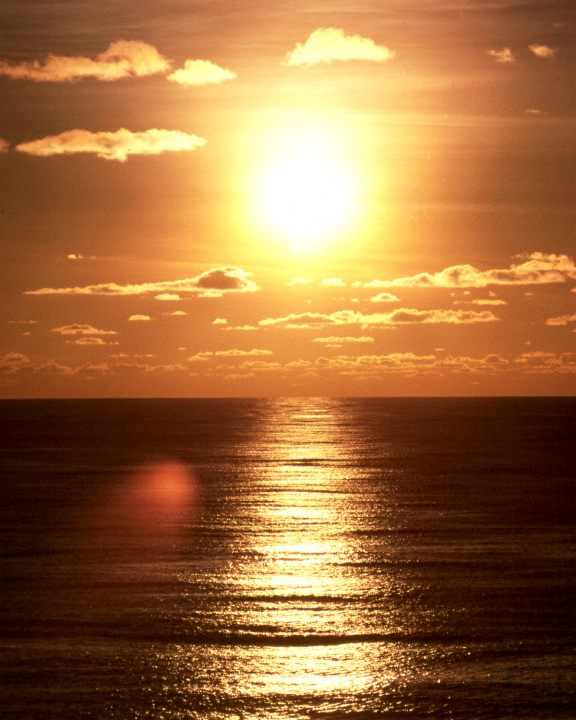 Photo by C. Jeff Dyrek
Airplane Books Airplane Movies Airplane Models Camaros for Sale
I took a lot of sunset photos but I think that this is my favorite.
This photo was taken from the deck of the USS Kitty Hawk, CV-63, somewhere in the Pacific Ocean. I can remember how nice it was, when the seas were calm. The sky was absolutely beautiful with the colors changing from blue to blue-green to gold and then to a bright deep red. The air was fresh. You can breathe so well it was like drinking a smooth wine. I will always remember my friends at sea. You didn't have to worry what was going to happen tomorrow. There were no bills to pay, no phones to answer, no salesman. When you laid down to bed the sea gently rocked the boat like a babies crib. You went into the deepest, most relaxing sleep.
<<< Previous Photo Next Photo >>>
To See All Exhibits in the Yellow Airplane Online Museum, Click Here.

Yellow Airplane Home Base

Airplane Books * Airplane Movies * * Airplane Models * Camaros for SaleAircraft Calendars * Jet Fighter Models * Flight Manuals

Exhibits * Museums * RC Boats * Ship Models * Sailing Ships

Tanks * Military Vehicles * * * Action Figures * Train Sets * Railroad Books * Real Sports Cars for Sale * ; Real Sports Cars for Sale * Adventures * Survival Equipment More Aviation Art * More Models *

Sunset Links
SCENIC, OCEAN , SUNSETS , WATERFALLS, PHOTO MAGNETS
Sunsets from Different Perspectives

Click Here for a list of WW2 Fighter Groups
Click Here to go to the YellowAirplane Online Museum
Look at these exhibits and tell me what these men really fought for.
the 34th fighter Squadron USS Kitty Hawk
About the Webmaster, Why God Send Me to the North Pole

Click her to see how I have to live and what it looks like to be a disabled Vet.
Avitop.com Aviation banner exchange - Join now!
/pics/CV63_Sunset_3.html|36862"