www.YellowAirplane.com
A Flying Fish photo in the South China Sea.
taken from
the aircraft carrier USS Kitty Hawk, CV-63.
1977-1978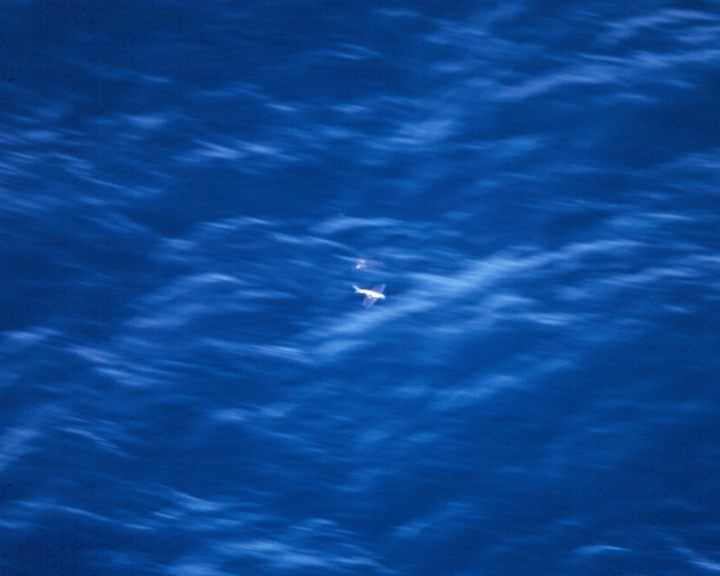 Photo by C. Jeff Dyrek
There are more flying fish than any other kind of fish, at least that's the way it seemed.
When you went out onto the sponson and watched the water. Every few seconds you saw a flying fish jumping from wave to wave. I must have wasted, and I mean wasted, several rolls of film trying to get a close-up photo of a flying fish. You needed a spotter to help you locate the fish. He would yell, "There's one to your left." Maybe, since we were in the Navy he should have used the word, "Port" instead of left and it would have been easier to get the picture. Just kidding!
The flying fish would jump out of the waves sometimes two or three at a time. They wouldn't really fly by flapping their wings, they would just use the peak of a wave to assist their jump into the air. The fish would glide for a long way just above the water, then they would fold their wings and swim like a fish. I bet they thought they were like Jonathan Seagull by trying to see who could stay in the air the longest.
In this photo, you can see another flying fish just below the water right next to the flying fish in the air.
<<< Previous Photo Next Photo >>>
To See All Exhibits in the Yellow Airplane Online Museum, Click Here.

Yellow Airplane Home Base

Airplane Books * Airplane Movies * * Airplane Models * Camaros for SaleAircraft Calendars * Jet Fighter Models * Flight Manuals

Exhibits * Museums * RC Boats * Ship Models * Sailing Ships

Tanks * Military Vehicles * * * Action Figures * Train Sets * Railroad Books * Real Sports Cars for Sale * ; Real Sports Cars for Sale * Adventures * Survival Equipment More Aviation Art * More Models *
Flying Fish Links
Barbados : Flying Fish
New Scientist f l y i n g f i n s

Click Here to go to the YellowAirplane Online Museum
Look at these exhibits and tell me what these men really fought for.
the 34th fighter Squadron USS Kitty Hawk
About the Webmaster, Why God Send Me to the North Pole
/pics/CV63_Flying_Fish.html|40388"