Click on Pictures Below for Much Larger Views
Click Here's the Lib that started it all with me and military aviation history
This is the
John Bybee
B-24 Liberator Research
Home Page

Jeff,
Click Here's the Lib that started it all with me and military aviation history. I would guess around 1954/1955 the old man stopped for a beer at some bar in Canton, IL. I locked onto the completed model of "Buffalo Bill" atop a TV and I was hooked.
Ciao.
John
B-24 Liberator, "Tulsamerican"
The Very Last B-24 Liberator to be built
in Tulsa Oklahoma.
Construction of Willow Run Ford KD kit B-24J-10-DT #42-51430
"Tulsamerican" begins at Douglas-Tulsa.
L to R: Ina Overstreet, C.D. Pitts, Marguerite Foster, C.W. Kilgore. Inside: Clara W. Campbell
Hi Jeff and Ben,
Speaking of Willow Run B-24s--another Ford Willow Run KD kit assembled by Douglas-Tulsa was B-24J-1-DT,
#42-51226, "I Walk Alone". #226 was assigned to the 8th AF, 482nd BG, 36th RCM (Radar Counter Measures) Squadron attached to 100th Group RAF. #226 (Sq code R4-L) was on a nighttime spoofing mission on 10 November 1944. At 0200hrs the 566th and 563rd SAW (Signals Aircraft Warning Sqs.--Hattonville) vectored in error a 425th NFS P-61 to the B-24's location. The P-61 destroyed #226's #4 engine and damaged #3. #226 crashed at about 0230 about 1,000 yards north of Tincourt-Boucly, Dept of the Somme, France. Three crewmen died in the crash.
B-24J-5-FO #42-51546 was replaced #226 was painted with the same serial number and nickname.
Aerospace historian and author

Willis "Sam" Cole Jr.

(www.ww1.org) has spent over sixteen years researching and made over forty field trips to France to verify his thesis that the shoot down of #226 was covered up. On 9 November 1944, 15 1/2 hours before and 138 miles from where #226 crashed, a 452nd BG, 729th Sq. B-17G-35VE #42-97904

"The Lady Jeannette"

badly damaged by flak and fighters, had failed in its attempt to land at the emergency French airstrip A-72. The B-17 slammed into the ground and exploded. Author Cole maintains that the B-17's crash was transposed in flight history and location to cover the crash of #226. The bodies of the dead airmen from the B-17 were moved to #226's crash site. Author Cole has published two books, THE LAST FLIGHT OF

THE LADY JEANNETTE AND THE BEST KEPT SECRET OF WWII which give considerable credence that a "cover up" spiraled upwards through the 9th AF and reached General Eisenhower and was link to the "accidental" death of General Patton.
Perhaps there is room for the inclusion of Mr. Cole's research and conclusions into the body of the forthcoming movie "

Willow Run

"?
Regards.
John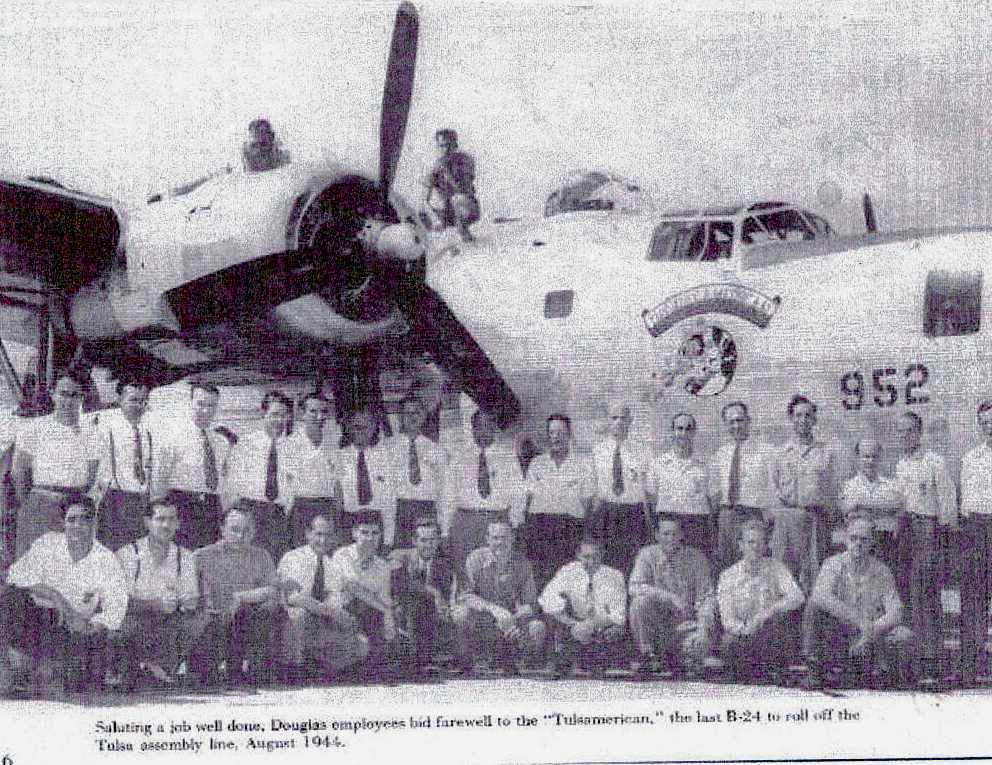 Saluting a Job Well Done,
Douglas employees bid farewell the the "Tulsamerican."
the last B-24 to roll off the Tulsa Assemble Line, August 1944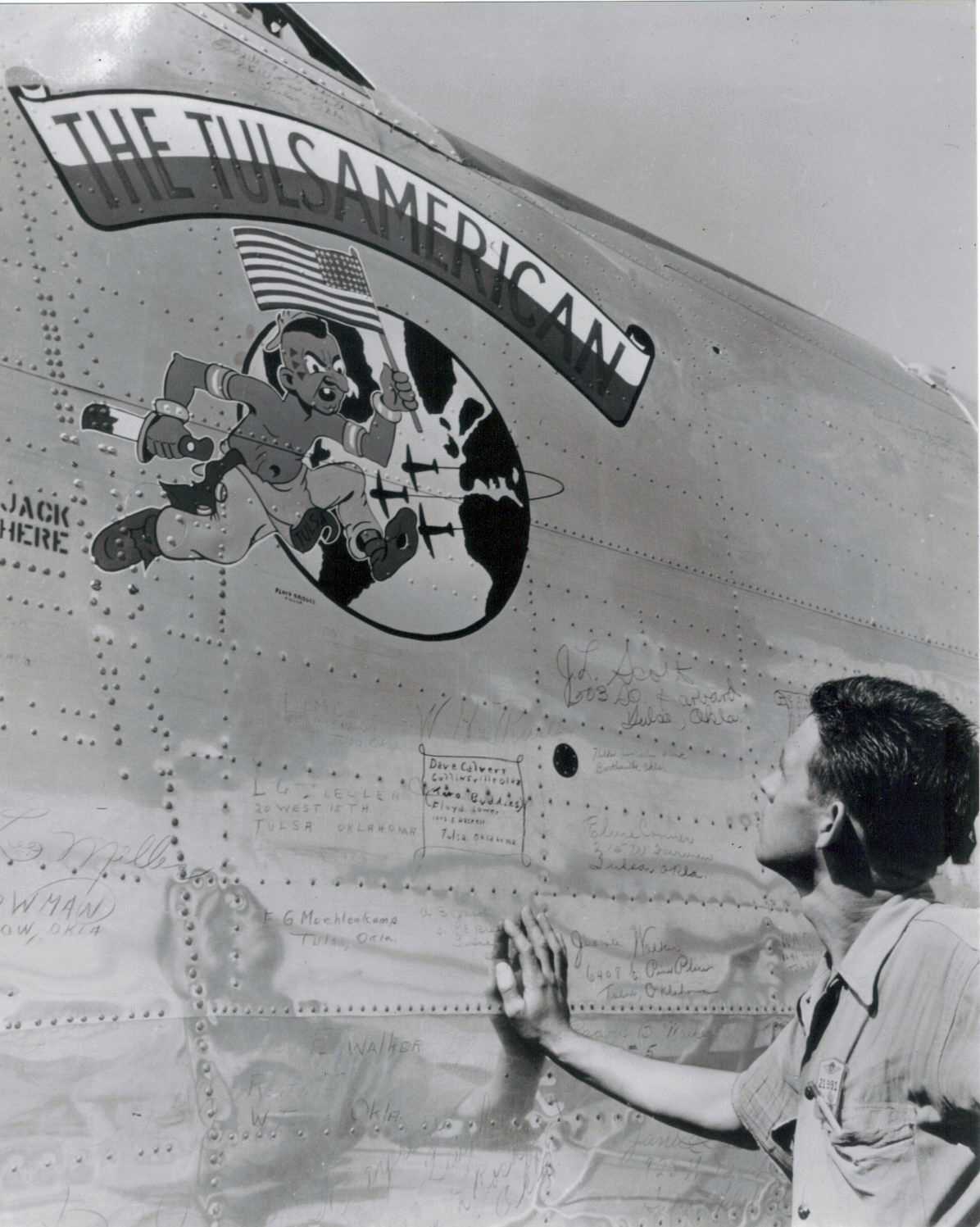 The Tulsamerican Nose Art
Click Here's some of the names that are signed on the aircraft.
L. Miller, F. G. Mochlcakamp, Tulsa, Okla. E. Walker, Okla. LG. Wleylen, 20 West 1stH. Tulsa Oklahoma. J. L. Scott, 503 So. Harvard, Tulsa, Okla. Elaine Connelas. J. Walker 6409 E ??, Tulsa. Dave Calvert, Floyd Lowes
Mans Badge Number 21891
From the Webmaster. This is the best that I can do trying to read the signatures printed on this aircraft. But click on the photo and look at the rivets very closely. You will notice that the rivets are not drilled straight and, by today's standards, this plane would not pass any inspection for aircraft quality. These rivets just had to be close and that was it. This shows the difference in the technology of yesterdays aircraft and today's.
Now the rivets on modern aircraft are flush mounted and perfectly straight. Also, even more advanced, there are no rivets, instead many components are either welded or bonded. As far as stealth, every rivet is a radar reflection point.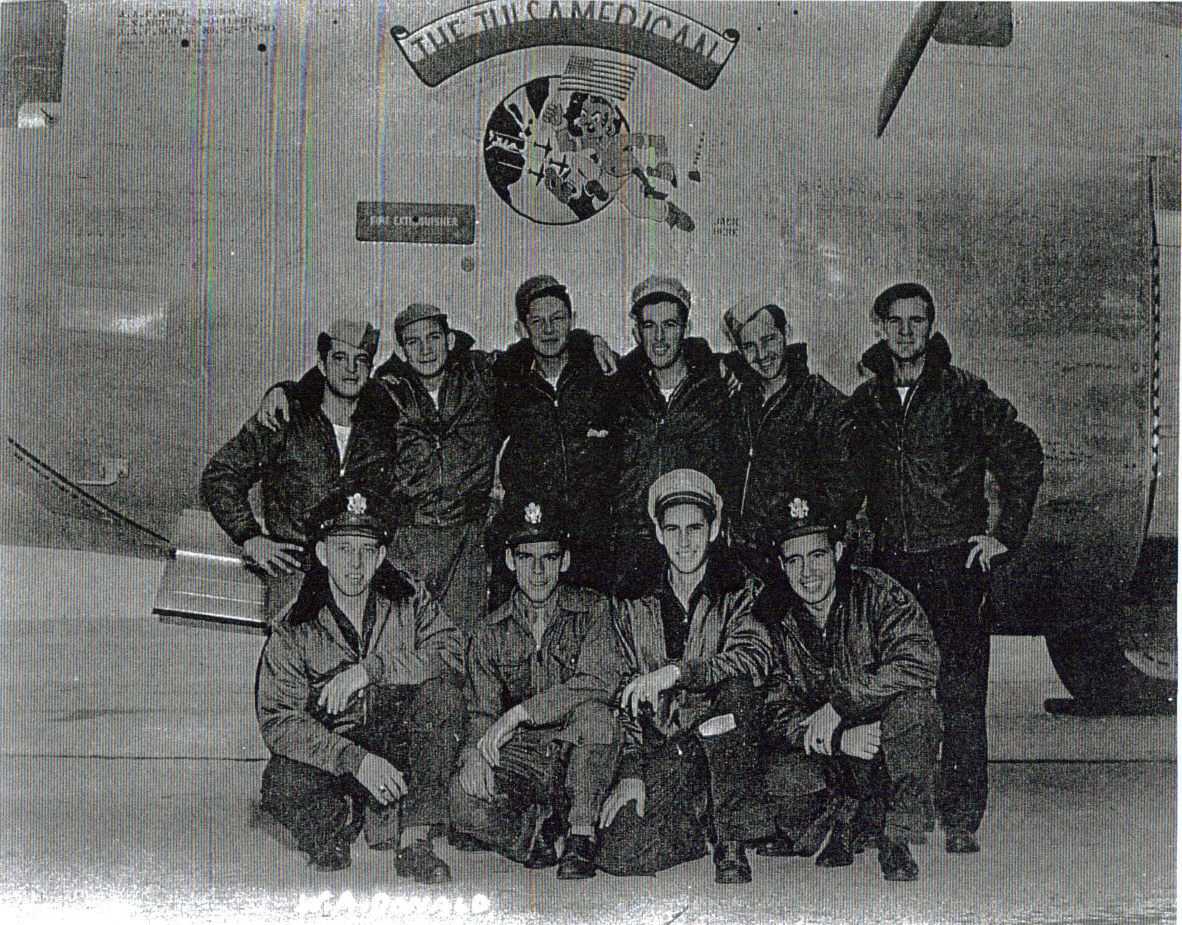 William Donald

crew flew Tulsamerican to Italy.

The 461st Bomb Group, 765th Bomb Squadron
"The Tulsamerican" Ship Number 24
S/N 42-51430. White Cowling, Red Tails.
B-24J-10-DT #42-51430. 15th AF, 461st BG, 765 BS.
Ford KD Kit arrived 7 July 1944 by truck convoy @ Doulas-Tulsa.
Crashed into Adriatic Sea @ 1412hrs Sunday, 17 December 1944.
Pilot 1Lt.

Eugene P. Ford

, Navagator

Lt. Russell Landry,


Flight Engineer

SSgt. Charles Priest

went down with the B-24.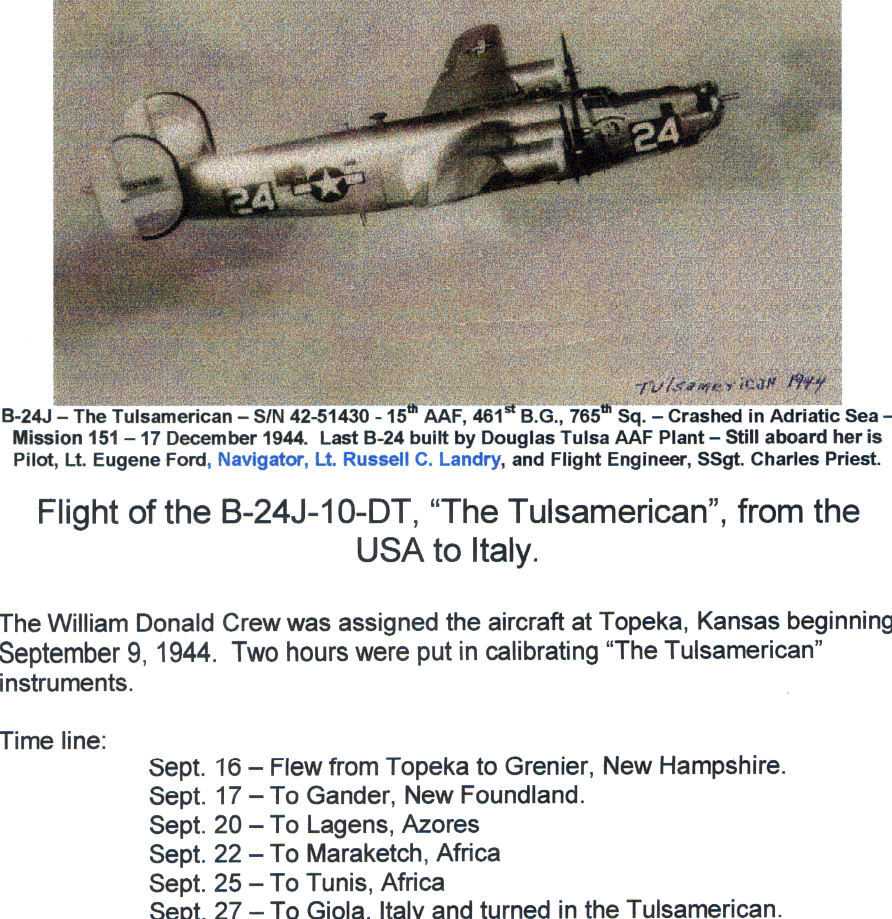 B-24J - The Tulsamerican - S/N 42-51430-15 AAF, 461 B.G., 765 Sq. - Crashed in the Adriatic Sea Mission 151 - 17 December 1944. Last B-24 built by Douglas Tulsa AAF Plant - Still aboard her is Pilot, Lt. Eugene Ford, Navigator, Lt. Russell C. Jandry, and Flight Engineer, SSgt. Charles Priest.
Flight of the B-24J-10-DT, "The Tulsamerican", from the USA to Italy.
The William Donald Crew was assigned the aircraft at Topeka, Kansas beginning September 9, 1944. Two hours were
pun in calibrating "The Tulsamerican" instruments
Time Line:
Sept. 16 - Flew from Topeka to Grenier, New Hampshire.
Sept. 17 - To Gander, New Foundland.
Sept. 20 - To Lagens, Azores
Sept. 22 - To Maraketch, Africa
Sept. 25 - To Tunis, Africa
Sept 27 - To Giola, Italy and turned in the Tulsamerican.
Oct 2001, Springfield, IL. L to R: Paul Beard, John Bybee, Norma "Joy" (Ford) Beard.
Norma was six months old when her father 1Lt. Eugene P. Ford was killed aboard the "Tulsamerican"
Prop blade and wheel off the
461st B-24J "Tulsamerican"
lost off Hvar on 17 Dec 1944.
B-24 Liberator, "I Walk Alone"
ECM capable B-24J-1-DT, 42-51226, 8th AF, 482nd BG, 36th RCM Sq., attached 100th Group RAF.
Shot down by 425th NFS P-61 on 10 November 1944, Tincourt-Boucly, France
Polish Air Force B-24 Liberator
Former 465th BG B-24J-35-CF #44-10339
RAF/Polish AF: Lib

B.VI

, GR-U, KG-834
Brindisi, Italy, Christmas 1944
Polish 1586 SD (Special Duty) Flight
138th Special Squadron, Flight C
Covert missions to Poland
A/C scrapped 3 March 1947
From the Webmaster: Do you see all of these men in the pictures in this exhibit? They knew that they had a one in four chance of coming back alive. Many of these men are listed as KIA and many are totally disabled. We have to give them all of the respect in the world because they knew that their chances of coming home again were almost none, yet they stood in long lines to defend our country.
But what happened to our country. Read about Roy Carlson and you will understand what happened to our country. We have enemies right in our homeland and we call them great men and women. We call them celebrities and we call them stars. Look at what these celebrities are doing to our kids. Listen to the music, the TV commercials and the TV programs and Hollywood movies. Terrorism comes, in it's greatest form, in the way of psychological warfare. Read this article about dangerous cartoons then watch Family Guy on TV and you will soon see why kids are now killing their parents. Watch a kid play the game, "Grand Theft Auto" and you will see why there is so much crime in America and with only 5% of the worlds population, the United States has 25% of the worlds prisoners. Don't think about it, watch these programs and think for yourself.
One day the news talked about Paris Hilton getting a DUI and I never heard about Paris Hilton before this time. Fox TV gave her most of their newscast, every day, for weeks. I never heard of Paris Hilton. So I typed into the search engine, "Paris Hilton, Pardon" to see if she would get a pardon from Arnold Schwarzenegger would give her a pardon. Click Here, Here's what I found. Tell me this, what did these guys fight for? What? I listen to parents today say that they don't want their kid to go to the military because they don't want their kid to be killed in a war, yet in Chicago alone, this year, 2008, there were more murders than U.S. Soldiers killed in all of the world's wars today. But they don't tell you that on TV.
It's Psychological Warfare being fought against the United States, right in front of our noses, and we say it's freedom of speech. Did you every see a good murder movie? How could a murder movie be good in any way? Think about it. How many of our kids are having their lives ruined by drugs. Yet, it's freedom of speech for the music to sing about drugs, sex, murder and gangs glorifying all. Did you get to vote on any of these freedom of speech laws? When Hugh Heffner started Playboy, the United States Postal Service had him arrested and took him to court because sending pornography in the mail was illegal. Now kids in high school are wearing playboy icons on their jewelry and clothing and they are head banging to the music. Listen to the music today and listen to what they say. Many times the music is embedded with code word for Meth and other drugs, code words that the average person cannot understand. This is why I say, "What did these soldiers fight for. Why did they give their lives. Was it for our current form of Freedom of Speech or so all of the Presidential Candidates are not allowed to take part in the Debates?" Think about it!
C. Jeff Dyrek, Webmaster and Disabled Veteran.
Capt. Jack R. Cody
Capt. Jack R. Cody, 15AF, 49th BW, 461st BG, 765th BS
Shot down Sunday, December 17, 1944
B-24J-5-FO, 42-50953, "Flying Finger" 2Lt. Phillip J.

Crossman

crew.
2 Lt. Philip J. Crossman's crew with Jack Cody not in Photo.
Capt. Jack R. Cody was the 461/765 Gunnery Officer and he was manning the upper turret on Phil Crossman's B-24 on 17 Dec 1944. This is Crossman's crew, Jack Cody not in photo.
Young Officer, Jack Cody, Commands Air Base Unit
Lieutenant Cody, 22, Directs Squadron at Pocatello Center
Tribune Intermounntain Wire
Pocatello, Idaho -- At 22 years of age, First Lieutenant Jack R. Cody is already an "Old Man"
Jack Cody Reported Prisoner of Germans
First Lieut. Jack R. Cody, husband of Mrs. Mary Lou Cody, 2913 North Edith, who was reported missing in action on Dec. 17, 1944, has been reported a prisoner of war of the Germans, according to a telegram received by his wife from the War Department. He was gunnery officer in a B-24 Liberator group of the Fifteenth Air Force in Italy. Before entering the service, Lieut. Cody was an employee of the Continental Oil Co. here. He has been in service three years and over seas one year.
Lieut. Cody Liberated
First Lieut. Jack R. Cody, whose wife, Mrs. Mary Lou Cody, lives at 2913 North Edith, has been liberated from a German prison camp and is on his way home, according to word received by Mrs. Cody. He had been a prisoner since December. He was gunnery officer of a B-24 of the 15th AAF based in Italy.
Promote Officers
WASHINGTON, The war department announced the temporary promotion of Jack Riley Cody, 3005 Mesa Verde Dr., Albuquerque, and Davis Matthias Santa Rita, N.M. from first Lieutenant to Captain in the air corps. Lt. Col. Clarence Frederick Vogel, Albuquerque, was ordered to active duty in the Army of the United States.
Cody is Retired from Army Duty
Capt. Jack R. Cody, 604 W. Iron, after four years service with the U.S. Army Air Forces, has been retired from Active duty. He served as a gunnery officer in a heavy bombardment group of the 15th Air Force based in Italy. He was shot down on a mission over Vienna and was liberated from a German prisoner of war camp near Munich, last April by Patton's Third Army. He has been decorated with Distinguished Flying Cross Air Medal with clusters, Purple Heart and Presidential Unit Citation with clusters.
Jack Cody's Mission #151 Odertal, Germany
Dear Frank
In answer to your recent request, enclosed is a write up of the December 17, 1944 Odertal Mission. This is only one man's recollection of events that happened 42 years ago, so I'd like to hear from other people, who also lived through that awful day.
You may want to clean up the language in a couple of spots for publication in the "Liberaider", but I'm telling it like it happened.
Write if you get the opportunity, and in the meantime I'm looking forward to seeing you in New York next Fall. Hugh Hanley.
Mission #151 ODERTAL, GERMANY, MY 10th MISSION
by Hugh Hanley -- 765th Squadron.
Having checked the flight board on the evening of Dec. 16th, and finding our crew scheduled for tomorrow's mission, we all went to bed early. We were awakened at 4 AM with the terse notification, "briefing in an hour" After coffee and a light breakfast (we didn't have a big appetite on those days we were flying), we went to the briefing room. As we entered, and saw that grin black line due almost direct northeast into Eastern Germany, someone muttered, Oh ----, Blechanner again!". Bill McClain, our Navigator replied, "No, it's East of that area".
S-2 began the briefing by telling us that the target today was Odertal, a small oil refinery near the Polish border. There would be little if any flack. Ball turrets would not be lowered until we came to the IP, Zuckmantel. Loading was 6,500 lb GP's and 2700 gallons of fuel. Altitude would be 26000 ft. (What else?) Almost as an afterthought, he mentioned that we would likely catch fighter opposition. In retrospect, this would have to qualify as the understatement of the year, if not the century.
We set at the flight line, our crew consisted of following: Phil Crossman - Pilot; Whitey Kreps - Co-pilot; Bill McClain - Navigator; yours truly - Bombardier; Larry Eidsmore - Nose gunner: Lenny Geier - Engineer; Val Barnson - Radio Operator; Bill White - Ball Turret; Johnny Sainio - Waist Gunner; and Bernie Freeman - Tail gunner. In addition to our regular crew, 1st Lt. Jack Cody, Squadron Gunnery Officer, would fly with us, and man the Top Turret. This necessitated moving Barnson to one of the waist guns.
The green flare arched into the sky and the mission was underway. A typical Italian winter day, weather overcast and somewhat chilly. Takeoff was uneventful and we began our climb t altitude to formation. Over the spur of the "boot", and out over the Adriatic, - climbing all the way. Strictly routine, as in the previous nine. Oxygen checks - crew banter. All of a sudden, somebody is in TROUBLE. "Horizontal" Moore is aborting - engine trouble. Lucky so and so. Through the alley between Vienna and Bratislava. Always NNE. Check arming, five minutes to IP. Routine up to here.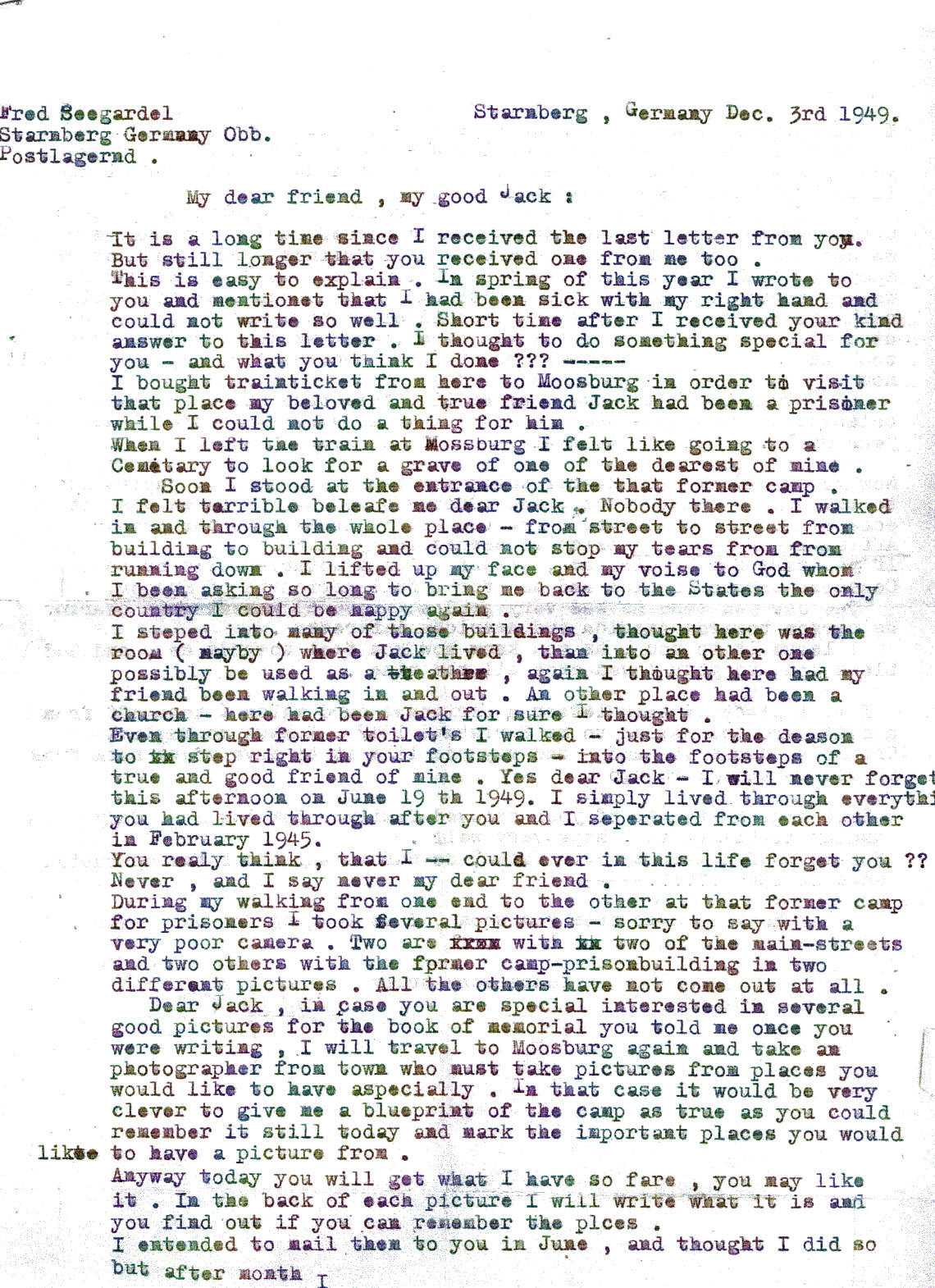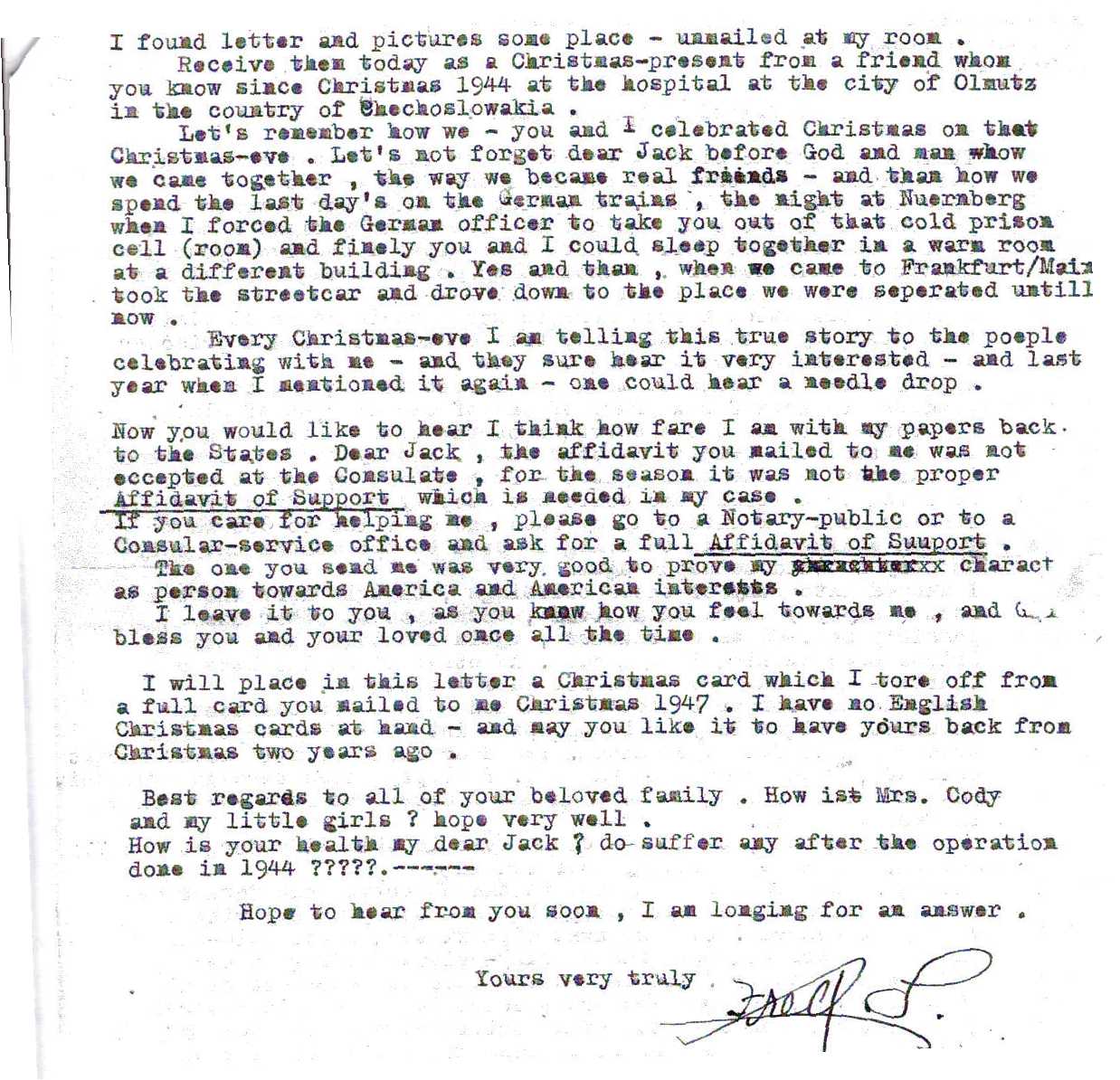 Christmas

1944: Jack was a

POW

. Jack befriended a German citizen Fred Seegardel, who in turn forced a German officer to allow Jack out of the POW compound for a night in warm room in Nurenberg.
Fred Beegardel
Stamberg Germany Obb.
Postlagernd
Starmberg, Germany Dec. 3rd 1949.
My dear friend, my good Jack:
It is a long time since I received the last letter from you. But still longer that you received one from me too. This is easy to explain. In spring of this year I wrote to you and mentioned that I had been sick with my right hand and could not write so well. Short time after I received your kind answer to this letter. I thought to do something special for your - and what you think I done??? ----- I bought train ticket from here to Moosburg in order to visit hat place my behooved and true friend Jack had been a prisoner while I could not do a thing for him. When I left the train at Mossburg I felt like going to a Cemetery to look for a grave o one of the dearest of mine.
Soon I stood at the entrance of the that former camp. I felt terrible beliefs no dear Jack. Nobody there. I walked in and through the whole place - from street to street from building to building and found not stop my tears from running down. I lifted up my face and my voice to God whom I been asking so long to bring me back to the States the only country I could be happy again.
I stepped into many of those buildings, thought here was the room (maybe) where Jack Lived, then into another one possibly be used as a theater, again I thought here had my friend been walking in and out. Another place had been a church - here had been Jack for sure I thought. Even through former toilet's I walked - just for the reason to step right in your footsteps - into the footsteps of a true and good friend of mine. Yes dear Jack - I will never forget this afternoon on June 19th 1949. I simply lived through everything you had lived through after you and I separated from each other in February 1945.
You really think, that I -- could ever in this life forget you?? Never, and I say never my dear friend. During my walking from one and to the other at that former camp for prisoners I took several pictures - sorry to say with a very poor camera. Two are with two of the main streets and two others with the former camp prison building in two different pictures. All the others have not come out at all.
Dear jack, in case you are special interested in several good pictures for the book of memorial you told me once you were writing, I will travel to Mossburg again and take an photographer from town who must take pictures from places you would like to have especially. In that case it would be very clever to give me a blueprint of the camp as true as you could remember it still today and mark important places you would like to have a picture from.
Anyway today you will get what I have to fare, you may like it. In the back of each picture I will write what it is and you find out if you can remember places. I intended to mail then to you in June, and thought I did so after month I found letter and pictures some place - un-nailed at my room.
Receive them today as a Christmas present from a friend whom you know since Christmas 1944 at the hospital at the city of Olmutz in the country of Czechoslovakia.
Let's remember how we - you and I celebrated Christmas on that Christmas Eve. Let's not forget dear Jack before God and man how we came together, the way we became real friends - and then how we spend the last days on the German trains, the night at Nuermberg when I forced the German officer to take you out of that cold prison cell (Room) and finally you and I could sleep together in a warm room at a different building. Yes and then, when we came to Frankfurt/Main took the streetcar and drove down to the place we were separated until now.
Every Christmas Eve I am telling this true story to the people celebrating with me - and they sure hear it very interested - and last year when I mentioned it again - one could hear a needle drop.
Now you would like to hear I think how fare I am with my papers back to the States. Dear Jack, the affidavit you mailed to me was not accepted at the Consulate, for the season it was not the proper Affidavit of Support which is needed in my case.
If you care for helping me, please go to a Notary Public or to a Consular Service office and ask for a full Affidavit of Support.
The one you send me as very good to prove my character person towards America and American interest.
I leave it to you, as you know how you feel towards me, and God bless you and your loved ones all the time.
I will place in this letter a Christmas card which I tore off from a full card you mailed to me Christmas 1947. I have no English Christmas cards at hand - and may you like it to have yours back from Christmas two years ago.
Best regards to all of your beloved family. How is Mrs. Cody and my little girls? Hope very well.
How is your health my dear Jack? Do suffer any after the operation done in 1944?????.------
Hope to hear from you soon, I am longing for an answer. Yours very truly Fred S.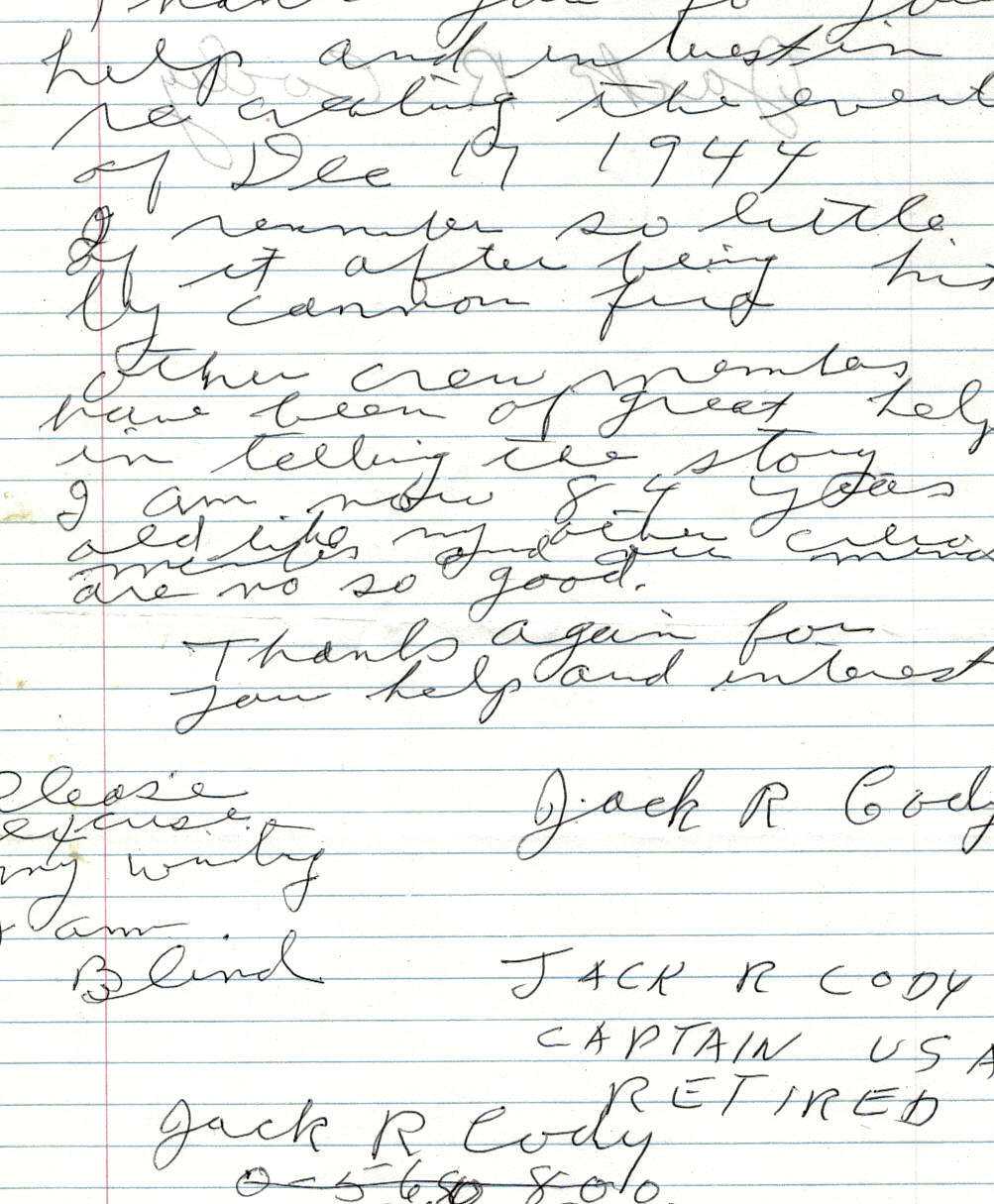 Jack Riley Cody, Wounded in Battle 1944
Thank you for your help and interest in regarding the event of Dec. 17, 1944. I remember so little of it after being hit by cannon fire. Other crew members have been of great help in telling the story. I am now 84 years old, like my other crew members and our members are not so good. Thanks again for your help and interest. Jack R. Cody. Please excuse my writing, I am blind. Jack R. Cody, Captain USA, Retired.
On December 17, 1944, Capt.

Jack Riley

Cody was wounded in the head by a 20mm shell from an II JG300 FW-190A-8. Jack has passed on, but this is a short letter he wrote me when he was 84 and blind. John Bybee
Jack Cody's Grave with a B-24 Liberator Propeller over it.
Capt. Robert T. Chalmers
Robert Chalmers crew of #23 "Judy R".
Two crewmen were in hospital when photo taken on afternoon of 17 Dec 44. "Judy R" was scrapped.
Capt. Robert T. Chalmers' #23 "Judy R"
touching down at Torretto, Italy after returning from Odertal on 17 Dec 1944.
L to R: 1Lt. Eugene P. Ford --TA pilot KIA 17 Dec 1944
Capt. Robert Chalmers

. He was Ford's #2 on 17 Dec 1944 and the only 765th Sq B-24 that returned to Italy.

Lt. Tom Lightbody

B-24 Liberator, "The Peace Maker" #41

15th AF, 304th BW, 455th BG, 743BS,

San Giovanni, Italy

.

1Lt. William B. Richards Jr.

B-24H-20-DT, #41-29892. "The Peace Maker"

Leroy Harvey Hewit, bombardier, kneeling third from left.

This Aircraft was downed on 17 Dec 1944. Adony, Hungary

B-24 Liberator #66

15th AF, 49th BW, 461st BG, 767th BS.

B-24J-5-DT, #42-51322

SQ# 66

Downed 17 Dec 1944 Adony, Hungary

Standing L to R: 2Lt. Howard E. Munson, 1Lt. Charles V. Lang (P), unknown, 1Lt. Arthur W. Mohlman

Kneeling L to R:

Cpl

. Lon N. Reed, Cpl. Guy V.

Bosso

, Sgt. Wilfred A. Engelke

Sitting L to R: Cpl. Hjalmar O. Johansson, Cpl. Harold R. Norton, Cpl. James M. Rutter

Clair Alexander's #12

15th Air Force, 49th Bomber Wind, 461st Bomber Group, 764th Bomber Squadron
Clair Alexander's #12, Hank Davies on Wing.

Clair Alexander's #12, Spring of 1945, Torretto, Italy. The Poppies Blooming in the Foreground.
1st Lieutenant Robert A. Galvan
461st Bomb Group, 767th Bomber Squadron, 15th Air Force, WWII,
1st Lieutenant Robert A. Galvan, standing on far right. (Lee Cock)
Robert Galvan Czech Republic Reunion 2000
Arsenic & Lace #66
R. Modrovsky; Ball Turret Gunner, Ed Kussler; Bombardier, Robert Galvan;
Robert A. Galvan 1942 of the Galvan Family.
1955 TDY Lakenheath -- Trondheim, Norway
Left:
Capt. Robert A. Galvan
Right:
Capt. Bruce "Bucky" Harris
Gloria and Robert Galvan Wedding July 24th 1944
Gloria and Robert Galvan Wedding 1944
Photo by Ed Kussler
William H. Zumsteg
Col. Gallien has passed away,
I'll ask Lee Cook how old the photo is.
Click Here's a scan of the metal, fabric and plexiglass pieces
from

Lt. William H. Zumsteg's B-24H-1-CF 41-29169

recovered from

Manzanar, CA.


Zumsteg's B-24 lost in a storm and low on fuel made a downwind night

crash landing

there on 5 December 1943. Four months later, following a midair collision, Zumsteg and his crew were KIA on 2 April 1944 over Bihac,

Yugoslavia

. I have a draft of an article detailing these events.
William H. Zumsteg's B-24 Liberator Airplane Crash
Zumsteg's B-24 lost in a storm and low on fuel made a downwind night crash landing there on 5 December 1943.
William H. Zumsteg's Crashed Airplane Side View
Standing L-R: SSgt. Woodrow P. Clayton; SSgt. James A hatch; SSgt. Alvin J. Kadlecek (R)
Lt. Joseph J. Repko (N); Lt. Georg M. Felber (B)
Kneeling L-R: SSgt Antonio P. Lerrna (E); Sgt. Richard Karl: Lt. John C. Fuller (CP):
SSgt Andrew J. Allocco; Lt. William H. Zumsteg (P)
Four months later, following a midair collision,
Zumsteg and his crew were KIA on 2 April 1944 over Bihac, Yugoslavia
Bob Brown and his B-17s
Bob Brown January 2nd, 1944 with the B-17 "Pistol Packin Mama" and it's Crew
Pilot, Francis; Co-Pilot Brown; Bombardier, Wiseman; Navigator, Myers "Spud"
Flight Engineer Murray; Tail Gunner, Anderson; Left Waist Gunner, Walters "Rocky"
Ball Turret Gunner, Davis; Right Waist Gunner, House; Radio, Martin.
Bob Brown, March 3rd, 1944 with the "Blues In The Night" and Crew.
Pilot, Bob Brown; Co-Pilot, McDaniels; Navigator, Tilton; Top Turret - Flight Engineer, Claypool;
Radio, Patton; Tail Gunner, Roberts; Ball Turret Gunner, Green; Right Waist Gunner, Roundhill "Limey"
Ground Chief, Rockman; Crew Assistant, Whitt; Assistant, Miller; Left Waist Gunner, Edikita "Whitey"
He even gave me one of his 8th AF shoulder patches. John Bybee
Arab-Israeli War, 1948
John Augarten
Arab-Israeli War, 16 October 1948
American Volunteer Israeli 101st Fighter Squadron,
Rudy Augarten's German Me-109 WW2 Aircraft
with a British Spitfire in the Background
Flying an Avia S-199 (Czech-built version of the Me-109) for the Israeli's 101st Fighter Squadron, American Volunteer Rudy Augarten was patrolling between Majdal (Near Gaza) and Beersheba on 16 October 1948. As he cruised just below 10,000 feet, he spotted a pair of Egyptian Spitfires a few thousand feet below, heading in the opposite direction. A quick wingover and shallow dive put him behind the unsuspecting pilot of the rearmost Spitfire. Closing in, he fired short burst, scoring hits on the Egyptian fighter, Pouring smoke, the Spitfire went down to crash near a coastal sand dune.
Augarten went on to score three more victories in the Arab-Israeli War. Adding the two Me-109s he shot down while flying P-47s with the 976 fighter Group in World War II. He became one of the six Americans to achieve ace.
Letter to John Bybee
Click Here's a letter from

Dick Keech

a former Marine and NAA employee,
he read the 2-inch thick German rocket report handed by

Dip Ing Helmuth Schelp,


aide to

Adolf Baumker

(CO of German AF Experimental Institute Nuremberg) at Zell See,
Austria to

Charles A. Lindbergh

on 18 May 1945.
John
1Lt. Charles W. Ward
This is the only photos of full face views of Capt. Bruce "Bucky" Harris
and 1Lt. Charles W. Ward.
Robert F. Darden
Oct 1954. Coronado Heights near Lindsborg, KS
L:

2Lt. Robert F. Darden Jr

. R:

Robert F. Darden
40th Bomber Wing Logo
25th Bomber Squadron "The Executioners)
by Robert F. Darden Jr.
Robert F. Darden Jr. was Capt Galvan's regular copilot,
he missed that fatal flight because he was on emergency leave to attend his grandmother's funeral.
Left:
1Lt Robert F. Darden Jr.
Right:
Capt. Robert A. Galvan
McConnell AFB.
Ajax-18 B-47
This Col. John Gallien, 40th BW, 25BS, he was pilot in command of
B-47E "Ajax-12" on 26 June 1956. Then Captain Gallien landed without incident
on the same runway about 15 minutes behind Capt. Galvan ill-fated Ajax-18.
Col. Gallien, "If God himself had been flying Galvan's B-47, it still would have crashed."
Crew Chief Lee Cook
40th Bomber Wing, 25th Bomber Squadron, Smoky Hill Air Force Base
Ajax-18 the B-47 story is there because Capt. Robert A. Glavan was a B-24 aircraft commander in WWII with the 15AF,
49th BW, 461st BG, 767th Sq. Galvan was deputy lead on the 17 Dec 1944 Odertal Mission.
Galvan was flying B-24H-15-DT, 41-28913, #67. FW-190A-8s from II JG300 damaged Galvan's B-24 and he made a
forced landing at Roszyne, Hungary and the crew all became POWs.
Ajax-18 was Galvan's call sign.
Capt Galvan's B-47E crashed in Kansas as did the DC-4M-2 over Nigeria.
This photo from Hugh Burt-Staffordshire, UK. His father took in mid 50s at Entebbe.
BOAC
Canadair DC4M-2 Argonaut
BOAC Canadair DC-4M-2 Argonaut, G-ALHE crashed on climb out from runway 25 @ Kano, Nigeria on 24 June 1956 @ 1721hrs. There were t-storms in area but none close to the DC-4M-2. From 1956-1976 the official cause was listed as pilot error. The late Dr. Ted Fujta's research into macro/microburst changed that verdict. As I mentioned in my Ajax-18 article, in my humble amateur opinion, Capt Galvan's B-47E encountered the same conditions over Kansas as did the DC-4M-2 over Nigeria, two days prior.

The gent on the right is Gene Vandament an Army and college buddy.
I'm 60. Retired from the BNSF RR out of Beardstown Aug 1. 36 years service, worked in Burlington, IA, and West Quincy, MO for short periods the rest in Beardstown. A grizzled old conductor once told me, "kid when you retire, you'll find you'll just have more time to see the doctor." I thought he was nuts--well I hit a speed bump after retiring--found out I had prostrate cancer. Had the cryotherapy surgery done in Galesburg on 9 Sept and I feel super and they tell me I'm doing super.
Ya, B-24s are one of my favorites. My nickname is Col. Liftgap. Found an article that WWII Soviet pilots claimed the B-24 had a "liftgap" as the mains retracted into the wheel wells and would quit flying. Folks thought I was nuts until I found the article.
Hi Jeff,
Left you a Phone message. I am thrilled and stunned that you are so close and have such an interest in military aviation. Yes, I will call Ben Kidder. The

"Tulsamerican"

was a Ford KD kit and the last B-24 built at Douglas Tulsa. Kevin Gray a Tulsa lawyer is one of the brass hats at the Tulsa Air & Space Museum and they would love to bring back all or part of that aircraft to Tulsa. The pilot, Flight Engineer and Navigator all died in the crash.

The TulsaAmerican was 765 lead and was hit by FW-190A-8s of the II JG300 just before the IP in CZ. They made Split, Yugo on 2 engines and tried for Vis. Last 2 engines ran out of gas and the Lib rolled over into the Adriatic from a 100 feet.

A-4, Falklands--tell me more when you get a chance!

I worked with the IWM on a B-47E story. I've attached a draft. Capt. Galvan was 767 deputy lead on 17 Dec 44 mission. Shot up and made a forced landing, POW and KIA 26 June 1956 in B-47E at Smoky Hill AFB, KS.

Nobuko worked at a department store in Koza, Okinawa, while I was stationed at Henko, Okinawa 1968-1970, of course I didn't know her then.

Gerry Landry who retired from the Cal Tech subsonic wind tunnel, his cousin Russel Landry was the nav.

Ciao.
John


12-9-2008

Hi Jeff,
Very glad to hear from you. You did a super job with the content and presentation of your website. How in the world did I miss the fact that you are in Bushnell?? I've been to your website several times and your data has helped me solve the mystery of the Jesse Pettey's 461, Sq #52 and 451 B-24G #42-78436 "Shady Lady" which went MIA at 1320hrs, 18 Dec 1944 near the center of the Nagykanizsa Oil Triangle in southwestern Hungary.

Have done research for a book on the Sunday 17 December 1944 mission flown by the 49th BW to Odertal, Germany (Kozle, Poland). The 485th BG on the return leg from this mission alleges that they had six B-24s damaged by SAMS at 1414hrs @ 12,000 feet @ 46-33N 16-30E. The "Shady Lady" went MIA in the same general area. The 2nd BG (B-17) recounts they were attacked by

Rheintochter

SAMS over

Wiener Neustadt

in late Dec 1944. I can send you links to a my blog on same. I've been fortunate to have 3 articles published in AIR CLASSICS. This spring I did an article on the 31 March 1931 TWA/Rockne crash for

Randy Reynolds

' TWA /

Jack Frye

website.

Currently, Gary Hyatt of the Davis-Monthan website has asked if I would be a guest editor and do the Fokker page for the website and Dave Powers of the PanAm LOGBOOK magazine desires that I do a piece on TWA.Do you follow the history of Camp Ellis? YES, I would love to have your insights and help for online publishing if I ever get the Odertal book done. I belong to the informal SPG (Same Page Gang) and we think we have found a prop blade and wheel off the 461st B-24J "Tulsamerican" lost off Hvar on 17 Dec 1944. Have attached a photo. Looking forward to your response.
Ciao.
John

Look at John Bybee's Home Page
8-7-2008
Greetings Jesse,
I am doing ongoing research on the Sunday 17 December 1944 mission to Odertal (Kozle, Poland) and Hughes G. gave me your new email address. I read very great interest you article about your book ONE MORE MISSION and the Goia Sgt/Painter that was selling Shady Lady nose art off a stencil. Is it possible that you flew #13, 42-51336 to >Italy, this aircraft lost 24 Aug 1944 at Pesaro with Lt. John R. Wren hr.'s crew? Shady Lady #52,B-24G-16-NT, 42-78436 shows going to 451st on 24 November 1944 and went MIA on 18 Dec 1944 with 451/727, 2Lt. John D. Holland Jr. commanding. #52 went MIA in the center of the Nagykanizsa (Hungary) Oil Triangle. This was the same area that the 485th claimed they had six B-24s damaged by Nazi SAMs on 17 Dec 1944. Let me dig out my notes on Holland etc. Sincerely,
John D. Bybee
Vermont, IL
Jess
Something's amiss big time since you flew 42-78436 over to Italy. You recall any extra electronic equipment like in RCM / ECM / ELINT mode?
John
John, I was a pilot concerned with getting that big box-car fully loaded off the ground, saying the correct prayers while under fire from the Germans, and controlling a crash - called a landing. We had bales of chaff to be thrown out the waist openings. We had no other electronic equipment on the Shady Lady or on any other aircraft I flew. I think I would remember any electronic intelligence devices.
Your research has been a revelation for me, although I have not spent a lot of time worrying about what happened to the Shady Lady. I was informed, probably by rumor, that she had been shot down and I accepted the information because about 50% were lost. Many years later I found on our website the same serial number for an airplane that a Lt. Wren piloted over Persaro and was MIA. Much later I stumbled across a photo of someone stenciling a Shady Lady in the 451st. I naturally assumed that someone was stenciling many aircraft with the same stencil, which I though was humorous. Now you uncover, with convincing evidence, that the aircraft was transferred from the 461 to the 451 in November and was later MIA. Since I was not consulted or asked for my permission to transfer the Shady Lady by the top command, I will accept your account of "The rest of the Story" of the Shady Lady.
Jess
Click Here for North Pole Global Warming
Go to Yellow Airplane's own Online Museum