www.YellowAirplane.com
A Beautiful Sunset Picture in the South China Sea.
Picture taken from the aircraft carrier USS Kitty Hawk, CV-63
1977-1978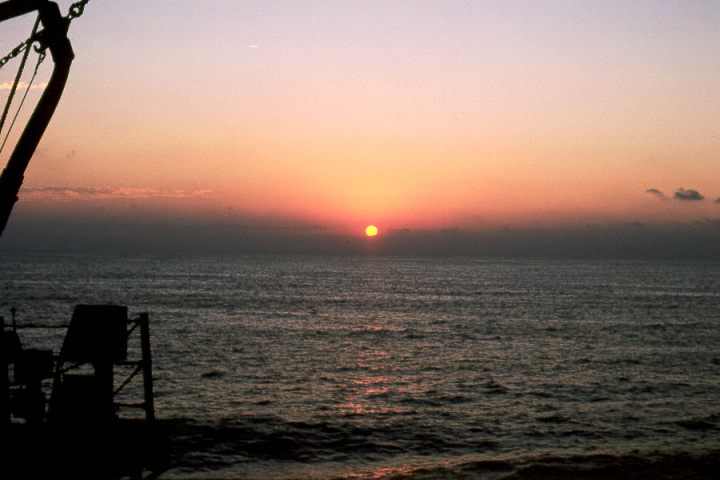 Photo by C. Jeff Dyrek
Airplane Books Airplane Movies Airplane Models Aviation Art
There are still some sunsets to come.
They only get better.
As the sun sets you feel peace and relaxation. I can remember how beautiful the view was. I wish I could do it all again. There's one interesting thing about a sunset at sea. I have never seen it myself, and this is one reason that I took this picture, but I've been told by many of old seamen that when the sun just goes down all the way, there is a blue or green flash. Is this true? If so, please send me e-mail. I would like to know all about this phenomenon.
For an answer to this question, look at the sunset links below. They show many pictures of this strange phenomena.
Bob Johnstone <rjohnsto@www.gsdi.org>
Hi ( from a plank owner), I've had your page bookmarked for a while, but never got through it all, until today. Nice pics, I wish I had some to offer, but long ago, when I was aboard, I was too young to know better.

I joined the Kitty Hawk, right out of boot camp, in April of 1962,
while she was still being outfitted in the Camden Shipyard, in
Philadelphia. My post was in CIC as an Air Traffic Controller. Quite a new world for a 17 year old, right out of New York City. I was the youngest fellow in the U.S. Navy for about 4 months and was even put on a Philly TV show, "Morgan in the Morning", with the oldest, a master Chief with an arm full of hash marks.
I was on the ship for over a year, traveling initially out and back for ORI inspections, then finally to Norfolk for ammunition loading (stories), then south to Guantanamo and the Caribbean and further around South America, Cape Horn and up the west side, terminating in Oakland, CA. We crossed the Equator and had the required festivities, also visited 3-4 ports (stories+) in S.A. and always had to stop to show off the weapons and air capability, to the Latin American Generals, who would get flown out to the ship. (Stories) Left the Hawk in mid 1963 for school on the east coast. My time aboard the Kitty Hawk was one of
the best in my life. The Navy was a great place to be, I'll never
forget any of it. Thanks for the memories and the great website.
I forgot the reason for writing / The sunset flash is true and is caused when the waning top of the fireball just dips down below the horizon. If the weather is good and clear and the sea is in the correct state, the ebbing light rays will be magnified by an errant wave and will appear as a green flash on the horizon. I've seen this myself, not only at sea. Thanks again.
Bob Johnstone
Great Falls, VA
Dear Bob,
Thank you very much for your letter. Please excuse me for taking so long to get back to you. I have placed your letter on the Sunset_2 page. I was very sick in 2004 with my disabilities and many letters got lost in the spam. I am cleaning my mailbox now and finding a wealth of letters from many people on the Hawk and from the Navy.
I too loved my time on the USS Kitty Hawk, and if I had my choice to do everything again, I would have spent my whole six years on sea duty. It was great. I keep trying to tell the kids in our rural town that the Navy was a better life than the civilian one, but Hollywood and the news give a truly distorted view of the true service life.
If you would want to add anything to this letter, I would greatly appreciate it.
Thanks again and Thank you for serving in the U.S. Navy.
C. Jeff Dyrek, Webmaster
<<< Previous Photo Next Photo >>>
Kitty Hawk Photo Page

To See All Exhibits in the Yellow Airplane Online Museum, Click Here.

Yellow Airplane Home Base

Airplane Books * Airplane Movies * * Airplane Models * Camaros for SaleAircraft Calendars * Jet Fighter Models * Flight Manuals

Exhibits * Museums * RC Boats * Ship Models * Sailing Ships

Tanks * Military Vehicles * * * Action Figures * Train Sets * Railroad Books * Real Sports Cars for Sale * ; Real Sports Cars for Sale * Adventures * Survival Equipment More Aviation Art * More Models *
SCENIC, OCEAN , SUNSETS , WATERFALLS, PHOTO MAGNETS
Sunsets from Different Perspectives

Click Here for a list of WW2 Fighter Groups
Click Here to go to the YellowAirplane Online Museum
Look at these exhibits and tell me what these men really fought for.
the 34th fighter Squadron USS Kitty Hawk
About the Webmaster, Why God Send Me to the North Pole
Avitop.com Aviation banner exchange - Join now!
/pics/CV63_Sunset_2.html|36846"