www.YellowAirplane.com
The Destroyers bow dips under the waves
This Destroyer is the USS Sample DE-1048
Later redesignated the FF-1048
1977-1978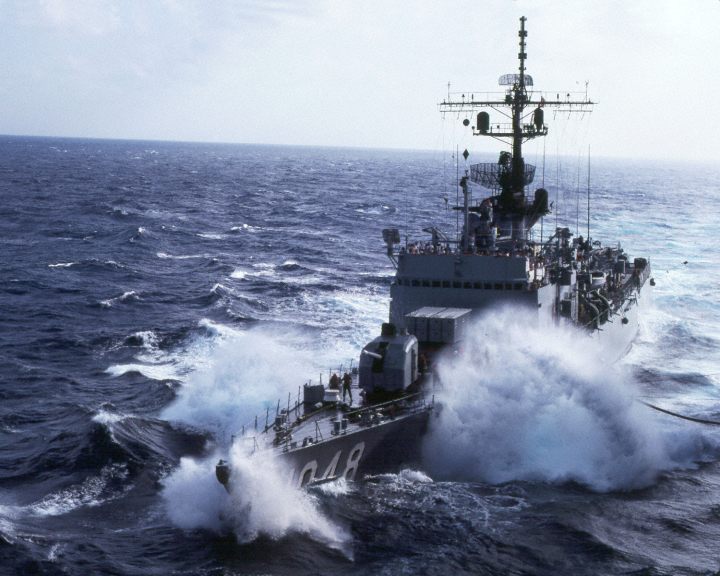 Photo by C. Jeff Dyrek
Airplane Books Airplane Movies Airplane Models Camaros for Sale
This is photo #3 of 3. You can see what these guys go through while on a destroyer. They must hold on the the deck like they had cats claws. While these guys were getting wet, very wet, we were high and dry on the deck of the Kitty Hawk.
I see on site that you want to know how life on board the USS Sample DD-1048. What was it like in rough seas. Do you remember down at the fishing hole when you make a rock skip over the water, The USS Sample DD-1048 would do that because of the design of the sonar and the ECM system, but we had a great crew we could handle any task. from k - to Taiwan straits to Okinawa
. We had many plane guard ship duties. We had many bad times, once we were in the south and it got so cold we had to rotate the watch in 15 min. intervals even with our cold weather gear on. That was the the coldest I have been in my life. We had time to play games with the Russian IGS or troller which we called spy ships.
Have a great day will be back . BM3 - Campbell
To See All Exhibits in the Yellow Airplane Online Museum, Click Here.

Yellow Airplane Home Base

Airplane Books * Airplane Movies * * Airplane Models * Camaros for SaleAircraft Calendars * Jet Fighter Models * Discount GuitarsExhibits * Museums * RC Boats * Ship Models * Sailing Ships Tanks * Military Vehicles * * * Action Figures * ( Train Sets * Railroad Books * Real Sports Cars for Sale * ; Real Sports Cars for Sale * Adventures * Survival Equipment More Aviation Art * More Models *
Destroyer Links
Ships of the U.S. Navy, 1940-1945
DD-21 Zumwalt a future class navy destroyer
Destroyers Escorts Frigates, Destroyers online

Take a trip to the North Pole, for real, Click Here!

Click Here to go to the YellowAirplane Online Museum
Look at these exhibits and tell me what these men really fought for.
the 34th fighter Squadron
USS Kitty Hawk
About the Webmaster, Why God Send Me to the North Pole
Avitop.com Aviation banner exchange - Join now!
/pics/CV63_Refueling_6.html|30882"