www.YellowAirplane.com
A Destroyers Bow jumps out of the water
This Destroyer is the USS Sample DE-1048
Later redesignated the FF-1048
1977-1978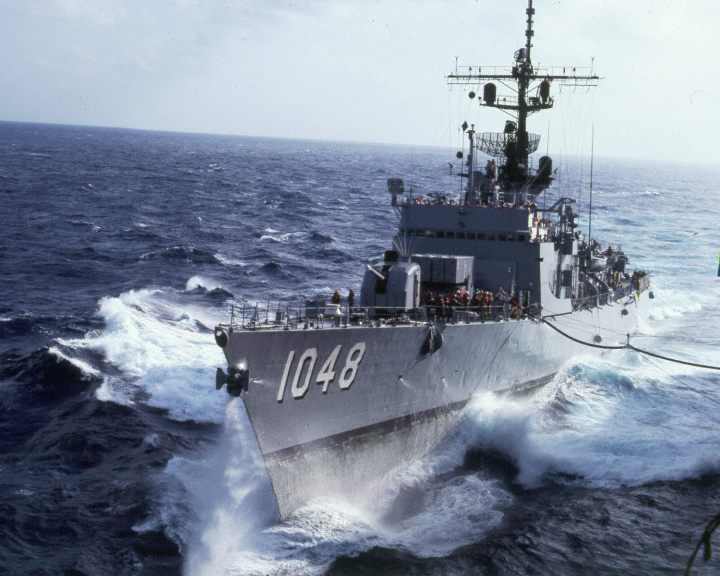 Photo by C. Jeff Dyrek
Airplane Books Airplane Movies Airplane Models Camaros for Sale
This is the second of three photo's showing how a destroyer acts in the waves. Look at the men on the deck and you can see the scale of this photo . The Destroyer is the DE-1048, USS Sample.
Can anyone tell me about this ship. If you have photo's and a story I would like to put it on this site. Send e-mail to the webmaster
<<< Previous Photo Next Photo >>>
Here's the Complete USS Sample Operations Manual
To See All Exhibits in the Yellow Airplane Online Museum, Click Here.

Yellow Airplane Home Base

Airplane Books * Airplane Movies * * Airplane Models * Camaros for SaleAircraft Calendars * Jet Fighter Models * Discount GuitarsExhibits * Museums * RC Boats * Ship Models * Sailing Ships Tanks * Military Vehicles * * * Action Figures * ( Train Sets * Railroad Books * Real Sports Cars for Sale * ; Real Sports Cars for Sale * Adventures * Survival Equipment More Aviation Art * More Models *
Destroyer Links
Ships of the U.S. Navy, 1940-1945
DD-21 Zumwalt a future class navy destroyer

Take a trip to the North Pole, for real, Click Here!

Click Here for a list of WW2 Fighter Groups
Click Here to go to the YellowAirplane Online Museum
Look at these exhibits and tell me what these men really fought for.
the 34th fighter Squadron USS Kitty Hawk
About the Webmaster, Why God Send Me to the North Pole

Click her to see how I have to live and what it looks like to be a disabled Vet.
Avitop.com Aviation banner exchange - Join now!
/pics/CV63_Refueling_5.html|30754"