YellowAirplane.com
The World Famous Golden Dragons
A-7E Corsair II from VA-192 Picture.


A-7E Corsair II picture on the deck of the aircraft carrier USS Kitty Hawk, CV63
1977-1978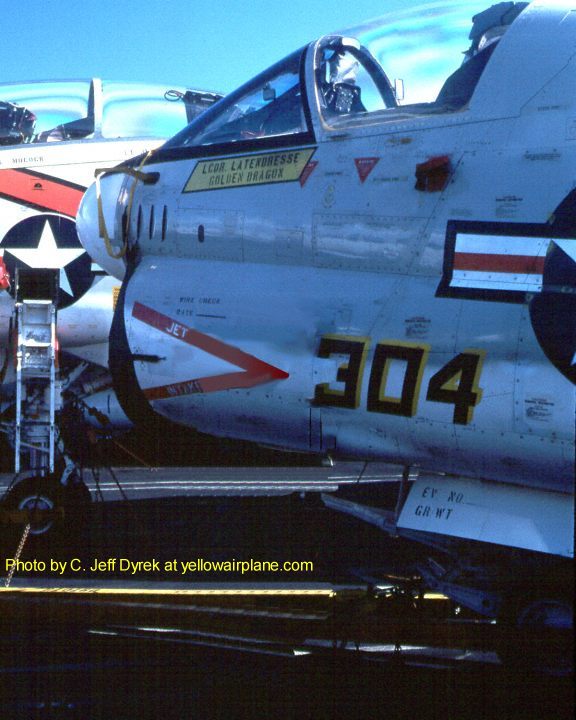 Photo by C. Jeff Dyrek
On the picture above, you can see the Pitot tube just behind the radome at the very front of the canopy. I can't remember for sure but it seemed like there was one on the other side also. The Pitot tube provides ram air pressure to the Air Speed Indicator. As you fly higher, since the air is much thinner and the ram air pressure is much less, your airspeed will decrease while your actual speed (ground speed) stays the same.

The big jet intake on this aircraft was said to be a man eater. As a Avionics Technician I had to work on this plane while it was running on the line.

0009788ALT="A-7D Corsair II 1/48 Airplane Model Kit" HSPACE=10 VSPACE=10 BORDER=2 height=105 width=250 >
A-7D Corsair II
1/48 Plastic Model Kit


Many times it was necessary to cross from one side of the plane to the other. In order to do this it was necessary to crawl just in front of the nose gear. This was very close to that big intake. I could feel the jet intake pulling on my clothes. The noise was so loud, since we had about 18 aircraft running, you couldn't hear yourself scream. You could barely hear yourself think. You absolutely had to THINK or you were gone and there were no second chances.
It was hot, really hot! When we worked on the jets the flight line temperatures were in excess of 125 degrees and you were instantly drenched in sweat. It was hard, hot work and I wish I was there again. The Navy was great. I got to work on super advanced electronic and aviation systems and I was only 20 years old. You cannot do this anywhere else. No company will provide you with this high level of training and pay you in the process.

6-20-2008
I was in VA-192 from 1975-1977. I'm looking for a cast replica of an A7E corsair with all the paint and polish from the afore mentioned area. Do you sell such a model and if so for how much. Please send me a picture and the size. so I would be interested in any other memorabilia you may have as all my photos and the like were destroyed in a fire some years ago.

I hope you are doing well my brother. God Bless you, AMS-3 Scott Stephens. Contact Scott Here

3-17-2002

Hi Jeff,
Just a note to say thanks for your work with the memory of the Golden Dragons. I was a dragon on the 75 westpac cruise. My name is Bob Cook and I was an AQ-2. I worked nights in QA as a QAR for 5 work centers. Just seeing that the Hawk is still doing its' job brings
emotions.

Thanks again, Bob

Click Here to see Clocks from other ships and submarines
<<< Previous Photo Next Photo >>>

Kitty Hawk Photo Page
Click Here to fly in a Real Russian Sukoi Jet Fighter
To See All Exhibits in the Yellow Airplane Museum, Click Here.

Yellow Airplane Home Base

Airplane Books * Airplane Movies * * Airplane Models * Camaros for SaleAircraft Calendars * Jet Fighter Models * Flight Manuals

Exhibits * Museums * RC Boats * Ship Models * Sailing Ships

Tanks * Military Vehicles * * * Action Figures * Train Sets * Railroad Books * Real Sports Cars for Sale * ; Real Sports Cars for Sale * Adventures * Survival Equipment More Aviation Art * More Models *
Specifications for the A-7E Corsair
Please note that these specs are only for one version of this aircraft. Other versions probably have different engines and other specifications

Manufacturer
LTV Vought
Length
46'
Height
16'
Span
38'9"
Area
375 sq. ft.
Empty Weight
19,490 lbs.
Max. Weight
42,000 lbs.
Engines
1
Powerplant
Allison TF41-A-2
Thrust
15000 lbs.
Range
2280
Max. Speed
602 kts
Click Here for a list of WW2 Fighter Groups
Click Here to go to the YellowAirplane Online Museum
Look at these exhibits and tell me what these men really fought for.
the 34th fighter Squadron USS Kitty Hawk
About the Webmaster, Why God Send Me to the North Pole

Click her to see how I have to live and what it looks like to be a disabled Vet.
Avitop.com Aviation banner exchange - Join now!
/pics/CV63_A7_2.htm|6771"