YellowAirplane Home
Base
Exhibits at the YellowAirplane Museum
Aviation Books
Aviation Movies
Aviation Art
Survival Equipment - Survival Supplies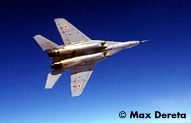 Take a ride in a real Russian MiG 29
The last updates on the museum listings were added 18 Jan 2011
Due to legal changes in Illinois, I will not be updating this list until further notice.
These museums change their information and locations very often.
Please try to contact the museum before you try to visit it, it may not be there anymore.
RHODE ISLAND Quonset Air MUSEUM
Located at the former Quonset Point Naval Air Station. Planned
location for the home of the now retired USS SARATOGA (CV-60)
Aviation Museum: Quonset Air Museum - Quonset Air Museum
488 Eccelston Ave.
North Kingston, Rhode Island 02852
401-294-9540
Information thanks to William E. Stevens
Update thanks to Pat Curry
17 Aircraft
| | |
| --- | --- |
| Memoirs of the Korean War. Captain Peterson shows pictures and talks about the experience that he had after fighting in both World War 2 and the Korean War. He flew the F4U Corsair in both of these wars. A pictorial view by Captain Bernard W. Peterson Exhibit Added 9-Dec-2000 | |

Last spring the North Pole temperature was only -25 degrees F.
We flew an ultralight, 6 balloon pilots logged their North Pole flights,
We had five jumpers who entered their jumps in their logbooks,
there was a man in a wheelchair who made it to the pole,
We had several helicopters, a home built airplane, a jet
and an An-2 Biplane there. Everyone got to visit Star City (Russia's NASA)
the Kremlin Armory, and Red Square. The Expedition members flew in
Russian Military aircraft including the An-24, An-74, and the Mi-8. They also
visited Khatanga and saw the Woolly Mammoth Digs, and Shrednii Island's
Russian, formerly secret, ICBM base and more. The trip was inexpensive
and you can go to the north pole site or go with us next by clicking here