9-29-2002
On April 17, 1945 I was a Naval fighter pilot from VF-24 leading the second section of a four-plane division of F6F Hellcats. We were from the USS Santee CVE 29, an aircraft carrier of the Sangamon Class keeled originally to become an Oilier.
Our mission was to fly to Ie Shima and report to a Ground Director for his selected assignments. The call came to attack just ahead of a ground Marker sheet to quiet a group of Japanese who were mortar firing our troops just fifty to 75 feet away.
I recall saying to the director that he would get our links and casings on the troops heads as the terrain allowed only a run over his position. He responded that would not be as bad as he was getting now.
A shallow run would surly increase his danger and a steep run would offer a better angle but would require a higher altitude break-off to effect a recovery from the dive this would also increase the range and shorten the time of firing. I chose a 60 degree angle which was routine for dive-bombing but slowed well below the usual 320 Knots. The close proximity of our troops obviated the use of bombs or rockets which we carried. After two delicate runs we got a thanks and goodbye. When I landed back on the Santee around midday I heard that Ernie Pyle had been killed on Ie Shima. No particulars were available. My god! I did it.
It wasn't until early evening that we heard that he was killed by a sniper while in a Jeep. Years later I heard of the machine gunning.
Hope that this helps complete your picture.
Contact Irving "Cowboy" Mayer-
irvmayer@cox.net
Incidentally I was searching for info on Jack Singer a War Correspondent who was also killed in action. He was a cousin to my first wife, by marriage. During World War II, INS correspondent Jack Singer was among the 193 men who died when the aircraft carrier USS Wasp sank in the Pacific in September 1942. He was awarded the Purple Heart and a liberty ship was named after him, the USS Jack Singer.
In the search I ran across Raymond Clapper another war correspondent. He was killed in front of me on Jan 29, 1944 by a fellow pilot of mine in a pre-dawn launch into a storm and post launch midair collision from the Belleau Wood CVL 24. but that's a story for another day.
Because of the fight-to-the-death policy of the Japanese Superiors and the Bushido Code plus the high casualty rate among the enemy on the large island of Okinawa, I suspect the survival rate on Ie Shima -- a relatively small island --was Zero.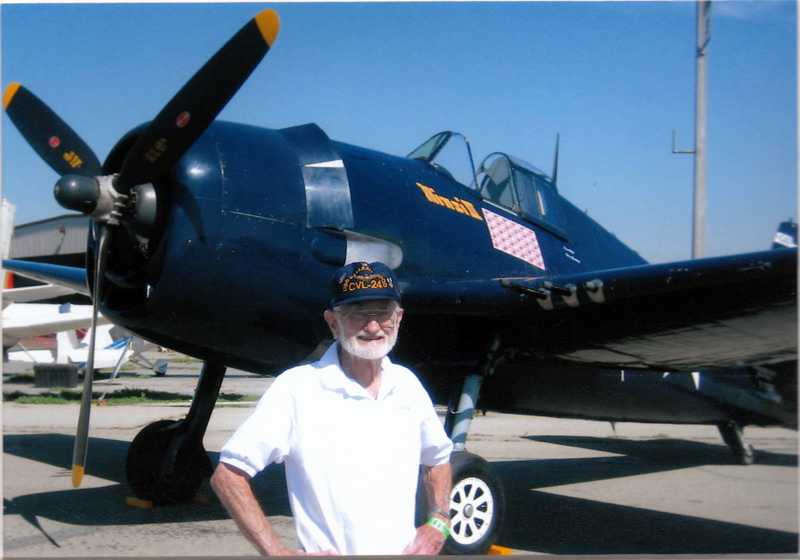 Corona Air Show F6F Hellcat -- Logged 149 Carrier Missions from Kwajalein thru Okinawa with VF-24 On the Belleau Wood CVL24; Jan '44 thru July '44 and Santee CVE29; Jan '45 thru May '45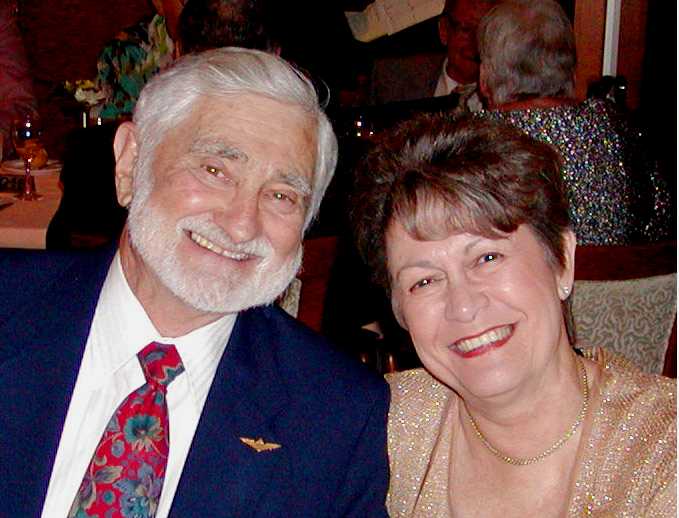 Irving and his wife Linda in 2002