If you know about Kenny Cox from the 494th Bomber Group, 867th Bomber Squadron, World War 2, Please let me know.

Kenny Cox
On the island of Ie Shima

Picture of World War 2 P-47 Thunderbolt named Passionate Patsy. This World War 2 Thunderbolt was located on the island of Ie Shima. Kenny Cox served in the 494th Bomb Group, the 867th Bomb Squadron and on Saipan. If you know him or have served in any of these squadrons, let me hear your story.
Kenny Cox shows this picture of the P-47 Thunderbolt named Passionate Patsy in World War 2.
Go to the 34th Fighter Squadron home page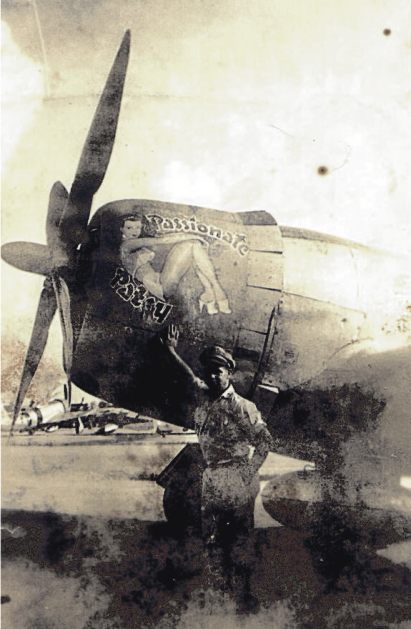 This plane is called Passionate Patsy

My Dad Kenneth A. Cox is pictured in front of this P-47 Thunderbolt.
He was a pilot that served with the 494th Bomb Group 867th Bomb Squadron,
but also served in Saipan.
| | |
| --- | --- |
| Click the arrow to see the Next Kenny Cox Page | |
Click on the Right Arrow to Start Tour.
Go to the 34th Fighter Squadron Home
Listing of Bomb Groups
Go to the YellowAirplane Online Museum
I have no idea where this picture was taken but I know from his discharge papers he was single engine qualified and that MOS was listed for 8 months. He also was assigned to the WW2 494th Bomb Group and the 867th Bomber Squadron. The length of assignment is unknown. It is clear that while assigned to this group, he was awarded the Air Medal, Bronze Star, and the Soldiers Medal. He drove a fuel truck away which was on fire to protect the American airplanes on the flight line. Afterwards he organized a fire brigade to fight the fire. No contacts have been able to tell me what he flew, number of hours, what missions etc. Everyone one has been real helpful and I am sure the answer is right around the corner. I just have not been able to give enough appropriate info.
Bob Cox
If anyone knows more about Kenny or his squadrons or airplanes please write to Bob Below
Write to the Webmaster if you know anything about Kenny
34th/1_Kenny_Cox