www.YellowAirplane.com
IAC (International Aerobatics Club)
Chapter 61, Litchfield Illinois
Roger Smith flying his Pitts Aerobatic Airplane.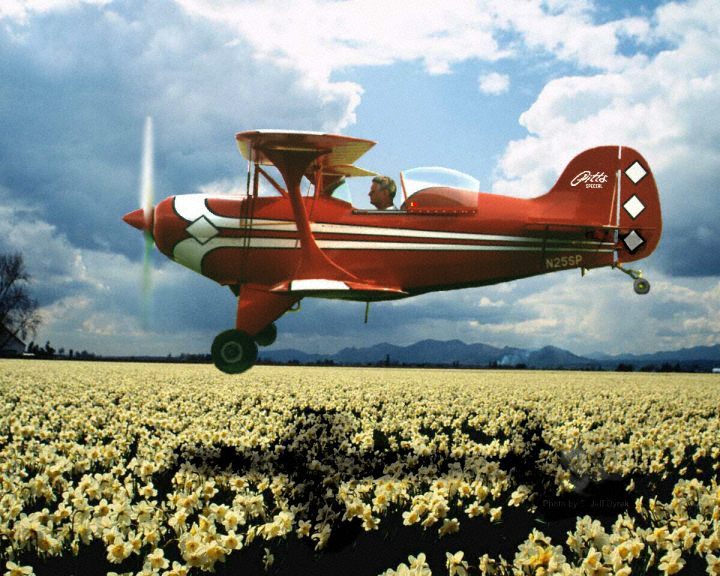 Roger Smith Heading West
I know I'm low but I'm afraid of heights!

Click Here's a little information about this picture: The photo of this Pitts airplane was taken at Smith Airport in Macomb, Illinois. The engine wasn't running yet and the airplane wasn't even completed and couldn't fly. The background photo was taken from Corel Art Gallery. The airplane was added to the background and the shadow was added to make it look more realistic. All of this work was done in Corel PhotoPaint which was included in the Corel Draw Suite.
Airplane Books Airplane Videos Airplane Models

See the Pitts Action photos See how to build your own Pitts
To See All Exhibits in the Yellow Airplane Online Museum, Click Here.

Click Here to see the Worlds Most Complete List
of Airplane Museums in the United States
Yellow Airplane Home Base

Airplane Books * Airplane Movies * * Airplane Models * Camaros for SaleAircraft Calendars * Jet Fighter Models * Flight Manuals

Exhibits * Museums * RC Boats * Ship Models * Sailing Ships

Tanks * Military Vehicles * * * Action Figures *

( Train Sets ) * Railroad Books * Real Sports Cars for Sale * * * Real Sports Cars for Sale * Adventures * Survival Equipment More Aviation Art * More Models *

Click Here for a list of WW2 Fighter Groups
Click Here to go to the YellowAirplane Online Museum
/pics/Pitts_1.html|5458"