www.YellowAirplane.com
Destroyer Refueling
This Destroyer is the USS Sample DE-1048
Later redesignated the FF-1048
1977-1978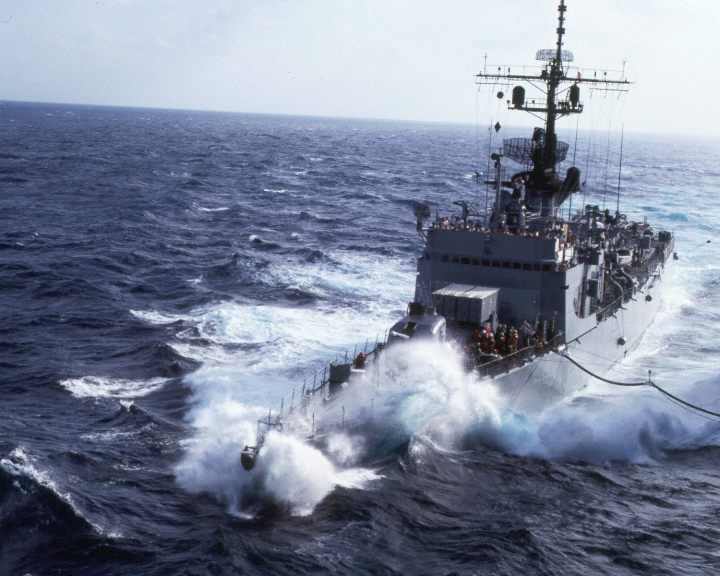 Photo by C. Jeff Dyrek
Airplane Books Airplane Movies Airplane Models Camaros for Sale
This is photo #1 of 3 showing how a destroyer handles the waves while refueling next to the aircraft carrier USS Kitty Hawk. Notice the fuel lines coming from the carrier to the Navy Destroyer, USS Sample DE-1048

Please note that in these photo series that the DD-1048 is also listed as FF-1048 and DE-1048. This is because I discovered that people search for the USS Sample in these three ways and this makes it useful for search engines to find these pages and therefore the search engines are more user friendly.
<<< Previous Photo Next Photo >>>
Here's the Complete USS Sample Operations Manual
To See All Exhibits in the Yellow Airplane Online Museum, Click Here.

Yellow Airplane Home Base

Airplane Books * Airplane Movies * * Airplane Models * Camaros for SaleAircraft Calendars * Jet Fighter Models * Discount GuitarsExhibits * Museums * RC Boats * Ship Models * Sailing Ships Tanks * Military Vehicles * * * Action Figures * ( Train Sets * Railroad Books * Real Sports Cars for Sale * ; Real Sports Cars for Sale * Adventures * Survival Equipment More Aviation Art * More Models *
Destroyer Links
Ships of the U.S. Navy, 1940-1945
DD-21 Zumwalt a future class navy destroyer
Destroyers Escorts Frigates, Destroyers online

Take a trip to the North Pole, for real, Click Here!

Click Here to go to the YellowAirplane Online Museum
Look at these exhibits and tell me what these men really fought for.
the 34th fighter Squadron USS Kitty Hawk
About the Webmaster, Why God Send Me to the North Pole
Avitop.com Aviation banner exchange - Join now!