www.YellowAirplane.com
A good look at the Arresting wires
on the USS Kitty Hawk Aircraft Carriers.
the US Aircraft Carriers
USS Kitty Hawk, CV63.
1977-1978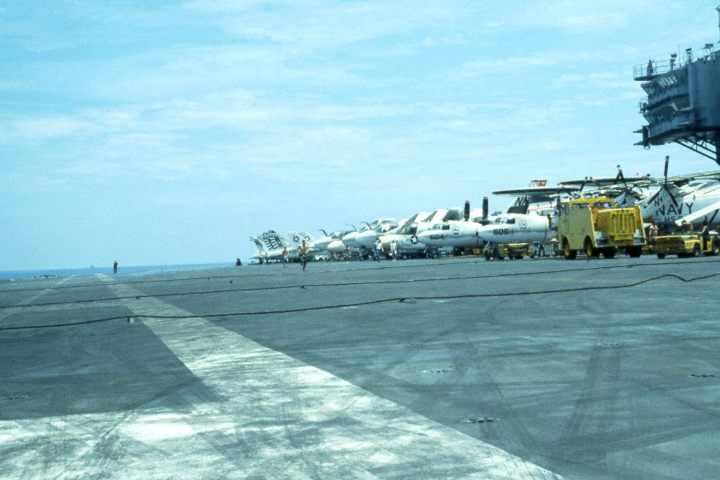 Photo by C. Jeff Dyrek
Airplane Books Airplane Movies Airplane Models Camaros for Sale
Arresting Wires also called Arresting Cables.
I believe there were five arresting wires on the Kitty Hawk. These wires were about one and a half inch steel cables which caught the tail hook on the aircraft landing on the deck. When the planes would land, they would go to full power just before touchdown so if they did miss the arresting wires. they would have enough power to lift off of the deck and return to the air safely.
E-2 Hawkeye Early Warning AWACS aircraft from VAW-122.

On the right side of the deck you can see two propeller aircraft with what looks like 0009144ALT="E-2C Hawkeye 1/72 model airplane Kit photo" HSPACE=10 VSPACE=10 BORDER=2 height=170 width=315 align=RIGHT>flying saucers on top. These airplanes are E-2 Hawkeye 's, and the saucers on top are radar dishes or RaDomes. When I was a kid I always wondered how these planes flew. If you look at the side of the radar dishes you will see that they are very aerodynamic. The Radome is actually a lifting surface too.
When this airplane is sitting on the deck ready for takeoff, you can see that the dishes are slowly turning. This is how you can see the sweep on the radar screen go round and round. When you see a radar on most television programs, you see a big round screen with a line that starts in the center extending to the side which sweeps around the center point. The rotating antenna sweeps at the same rate as this line does. The line is where the radar is actually looking at that particular time.
I did take a tour of the inside of this airplane and I have to tell you that this was highly classified and if I tell you very much I will have to shoot you. If you need shot please write to me at the bottom of this page. What I can tell you is that there are several radar 0005298HSPACE=10 VSPACE=10 BORDER=2 height=264 width=200 align=RIGHT alt="The Worlds Great Aircraft Carriers Photos">operators sitting inside watching what is going on in the battle area. These are AWACS aircraft. They are designed to be early warning and battle zone control aircraft used to assist airborne combat forces from the carrier.
Flying in the Grumman E-2C "Hawkeye" aircraft, providing early warning for the Kitty Hawk is the Carrier Airborne Early Warning Squadron VAW-122.
The E-2C "Hawkeye" aircraft is equipped with the "Airborne Tactical Data System" which is linked to data systems aboard the Kitty Hawk and provides detection and analysis of possible airborne threats at extreme range and can vector interceptors to their targets with complete accuracy, a job that the "Steeljaws" do with pride.
The Commanding Officer on this cruise was CDR Lawrence Permenter, XO was CDR. R. Malla
Previous Photo Next Photo Kitty Hawk Photo Page
To See All Exhibits in the Yellow Airplane Museum, Click Here.

Yellow Airplane Home Base

Airplane Books * Airplane Movies * * Airplane Models * Camaros for SaleAircraft Calendars * Jet Fighter Models * Flight Manuals

Exhibits * Museums * RC Boats * Ship Models * Sailing Ships

Tanks * Military Vehicles * * * Action Figures * Train Sets * Railroad Books * Real Sports Cars for Sale * ; Real Sports Cars for Sale * Adventures * Survival Equipment More Aviation Art * More Models *
Click Here to go to the YellowAirplane Online Museum
Look at these exhibits and tell me what these men really fought for.
the 34th fighter Squadron USS Kitty Hawk
About the Webmaster, Why God Send Me to the North Pole
Avitop.com Aviation banner exchange - Join now!
/pics/CV63_Flight_Deck.htm|40688"