The Boxing Ring
on the aircraft carrier USS Kitty Hawk, CV-63
1977-1978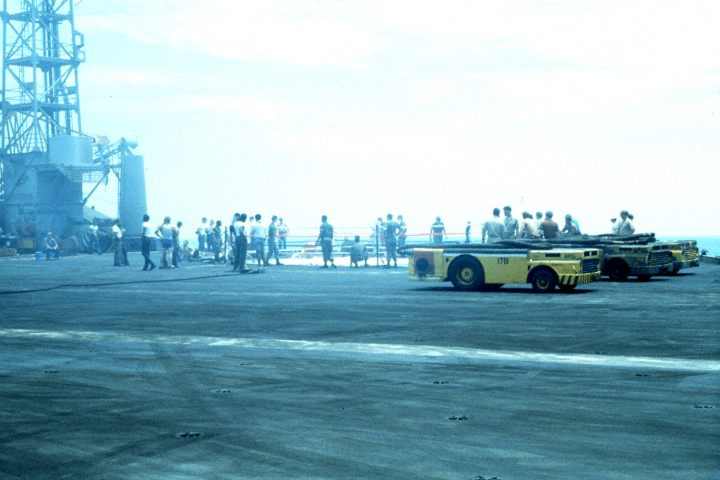 Photo by C. Jeff Dyrek
There were many activities to keep the crew occupied. One of these activities was boxing.
I watched this boxing for a while and most of the guys were pretty evenly matched. Suddenly a new guy came into the ring. He looked like he was Puerto Rican. This guy was tough. No-one had a chance. He knocked them down one after another. This wasn't like regular boxing where when a guy had one fight every several weeks. When a person fought here he was able to get into the ring again and again, if he wanted to. This man was tough and he fought one opponent after another, knocking them down like a pile driver, left and right. I guess in the Navy you can't say left and right, you must say port and starboard. So he knocked them down port and starboard. Regardless, he was fast and tough. Now I know the difference between someone who thinks their tough and someone who is tough.
<<< Previous Photo Next Photo >>>

To See All Exhibits in the Yellow Airplane Museum, Click Here.

Yellow Airplane Home Base

Airplane Books * Airplane Movies * * Airplane Models * Camaros for SaleAircraft Calendars * Jet Fighter Models * Flight Manuals

Exhibits * Museums * RC Boats * Ship Models * Sailing Ships

Tanks * Military Vehicles * * * Action Figures * Train Sets * Railroad Books * Real Sports Cars for Sale * * Railroad Videos * Thomas the Tank Trains

Real Sports Cars for Sale * Adventures * Survival Equipment More Aviation Art * More Models *
Click Here for a list of WW2 Fighter Groups
Click Here to go to the YellowAirplane Online Museum
Look at these exhibits and tell me what these men really fought for.
the 34th fighter Squadron
USS Kitty Hawk
About the Webmaster, Why God Send Me to the North Pole

Click her to see how I have to live and what it looks like to be a disabled Vet.
Avitop.com Aviation banner exchange - Join now!