www.YellowAirplane.com
Bluegrass Band on the Kitty Hawk
on the aircraft carrier USS Kitty Hawk, CV-63
1977-1978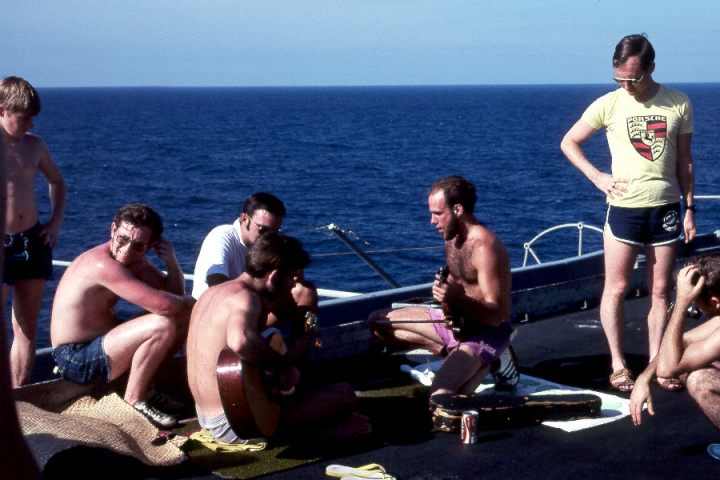 Photo by C. Jeff Dyrek
Airplane Books Airplane Movies Airplane Models Camaros for Sale
This one of the bluegrass bands that were playing on the deck during our party.
We were out to sea for 35 days and the captain said, "We need a Break" So we had a party. It was great. We had all the food we could eat, free soda's, and just a good time. There were several bands playing at various places on the flight deck. One band was playing drums. They had one set of Bongo's and the rest were waste paper baskets, trash cans and trash can lids. Their music was pretty good if you like the sound of a bunch of trash cans.
It wasn't on this day but I thought I should mention it because is was a lot of fun. It was a nice day in the South China Sea. You could see rain storms in the distance. I was up in the crows nest relaxing when the captain came over the loudspeaker and said, "OK, lets rense these planes off," He sailed the ship through one of he rain storms. Then he said, "Let's get these planes scrubbed down." You could see a bunch of squadron personnel scrubbing these wet planes down. He came over the loudspeaker again and said, "Time for the rinse cycle." We sailed the rain storm again to rinse the planes.
Hey! Even the captain needs to have fun.
Do you think these guys can compete with the blues brothers or Brittney Spears?
<<< Previous Photo Next Photo >>>

To See All Exhibits in the Yellow Airplane Museum, Click Here.

Yellow Airplane Home Base

Airplane Books * Airplane Movies * * Airplane Models * Camaros for SaleAircraft Calendars * Jet Fighter Models * Flight Manuals

Exhibits * Museums * RC Boats * Ship Models * Sailing Ships

Tanks * Military Vehicles * * * Action Figures * Train Sets * Railroad Books * Real Sports Cars for Sale * ; Real Sports Cars for Sale * Adventures * Survival Equipment More Aviation Art * More Models *
Click Here for a list of WW2 Fighter Groups
Click Here to go to the YellowAirplane Online Museum
Look at these exhibits and tell me what these men really fought for.
the 34th fighter Squadron
USS Kitty Hawk
About the Webmaster, Why God Send Me to the North Pole