www.YellowAirplane.com
Alert 5 F-14 Tomcat
moves onto the cats of
the aircraft carrier USS Kitty Hawk, CV-63.
1977-1978.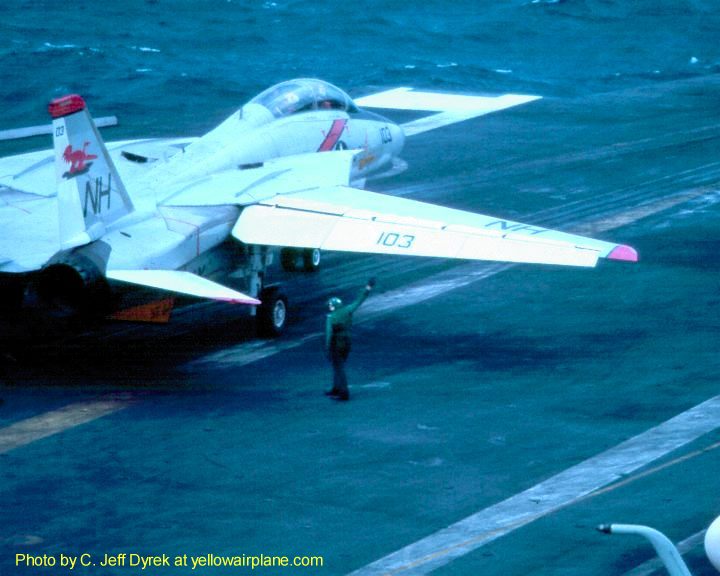 Photo by C. Jeff Dyrek

This F-14 Tomcat is the Alert 5 and is moving onto the cats to wait for action.
The pilots take a four hour shift. You commonly see them reading a book while sitting in the cockpit. An Alert aircraft is an aircraft which is ready in a 0009159ALT="F-14A Tomcat 1/48 Airplane Model Kit" HSPACE=10 VSPACE=10 BORDER=2 height=135 width=250 align=RIGHT>moments notice for takeoff to defend the ship. In this case, the alert 5 must be off the deck within five minutes of an alert of an aircraft coming toward the ship. These incoming aircraft must be intercepted before they reach the 200 mile defensive radius. All aircraft carriers maintain a defensive radius and consider all uniden
<<< Previous Photo Next Photo >>>

To See All Exhibits in the Yellow Airplane Museum, Click Here.

Yellow Airplane Home Base

Airplane Books * Airplane Movies * * Airplane Models * Camaros for SaleAircraft Calendars * Jet Fighter Models * Flight Manuals

Exhibits * Museums * RC Boats * Ship Models * Sailing Ships

Tanks * Military Vehicles * * * Action Figures * Train Sets * Railroad Books * Real Sports Cars for Sale * ; Real Sports Cars for Sale * Adventures * Survival Equipment More Aviation Art * More Models *
*
Click Here for a list of WW2 Fighter Groups
Click Here to go to the YellowAirplane Online Museum
Look at these exhibits and tell me what these men really fought for.
the 34th fighter Squadron USS Kitty Hawk
About the Webmaster, Why God Send Me to the North Pole
Avitop.com Aviation banner exchange - Join now!
/pics/CV63_Anti-Aircraft_2.html|51400"