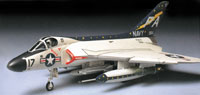 F4D Skyray Museum Quality Model Airplanes
A List of Air and Space Museums in Hawaii.
Hawaii is the most remotely located island in the world. It has many volcanoes and is extremely beautiful. Hawaii also has the most diverse climate in the world for example, Maui goes from an extremely dry desert on one side to extreme rain fall of over 300 inches per year on the other. Hawaii has snow and ski slopes on the big island and if you wish, in the same day you can go scuba diving. Hawaii is also noted for the most famous military attack and probably the most famous military base at Pearl Harbor. Hawaii is nicknamed the Aloha State. Aloha means both hello and goodbye. The land area of Hawaii is 6,423 square miles, number 47 of the 50 states. It has a population of 1,115,300 people which is number 40 of the 50 states. The capitol city of Hawaii is Honolulu, Honolulu is also its largest city. The highest point in Hawaii is Mt. Mauna Kea which is 13,796 feet located on the big island.