www.YellowAirplane.com
A Destroyer next to the aircraft carrier USS Kitty Hawk
This Destroyer is the USS Sample DE-1048
This Ship is Dipping in and out of the water
Later redesignated the FF-1048
1977-1978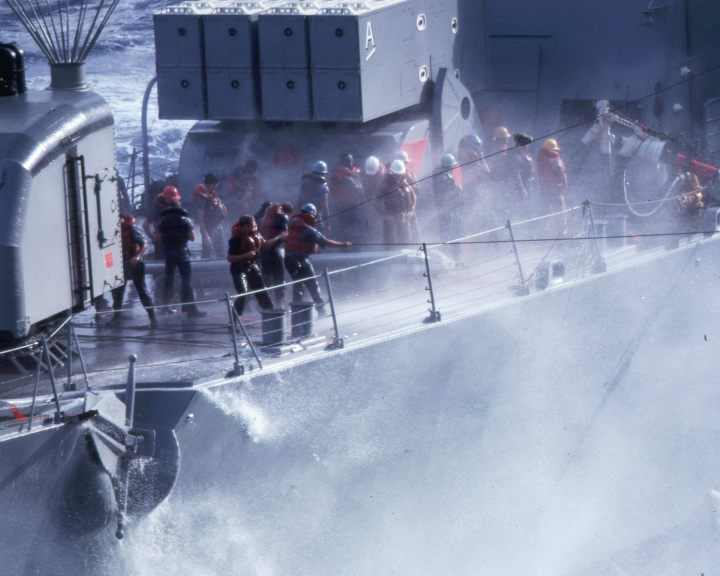 Photo by C. Jeff Dyrek
Here's the Complete USS Sample Operations Manual
Airplane Books Airplane Movies Airplane Models Camaros for Sale
The seas are rough, but these men are used to it. I was on an aircraft carrier and we only had conditions like this when we were in a severe storm.
When I took these pictures, our ship felt like it was sailing on calm seas. There were times when our aircraft carrier felt like it was a little cork bobbing in the open sea. I am wondering what these ships felt like in those rough seas. I just can't imagine what it would be like.
I would like to hear stories and receive photos from sailors on destroyers. If anyone can send me some photo's and information I will make a web page with this information.
Dear Webmaster,
I was aboard the Sample from Jan 1972 until Sept 1973. Some of those guys in the picture look familiar but I do not think they would have still been aboard from 1977-1978. I think the Sample was changed to an FF in 1975 so is it possible these pictures were taken in 1974 or 1975?
I remember being one of the two forward lookouts in rough seas where I had to duck a couple of waves. They eventually invited us into the bridge to be lookouts from there. I also remember keeping a plastic bag next to my bunk in case my stomach could not take the wild rides anymore. It's fun remembering the times we had but I was not having fun at the time.
Tom Rancatore
<<< Previous Photo Next Photo >>>
To See All Exhibits in the Yellow Airplane Online Museum, Click Here.
Yellow Airplane Home Base

Airplane Books * Airplane Movies * * Airplane Models * Camaros for SaleAircraft Calendars * Jet Fighter Models * Discount GuitarsExhibits * Museums * RC Boats * Ship Models * Sailing Ships Tanks * Military Vehicles * * * Action Figures * ( Train Sets * Railroad Books * Real Sports Cars for Sale * ; Real Sports Cars for Sale * Adventures * Survival Equipment More Aviation Art * More Models *
Take a trip to the North Pole, for real, Click Here!
Destroyer Links
Ships of the U.S. Navy, 1940-1945
DD-21 Zumwalt a future class navy destroyer

Click Here for a list of WW2 Fighter Groups
Click Here to go to the YellowAirplane Online Museum
Look at these exhibits and tell me what these men really fought for.
the 34th fighter Squadron USS Kitty Hawk
About the Webmaster, Why God Send Me to the North Pole
Avitop.com Aviation banner exchange - Join now!
/pics/CV63_Refueling_2.html|30370"