www.YellowAirplane.com
Grumman F-14 Tomcat Jet Fighter Airplane.
Just before Touchdown
on the aircraft carrier USS Kitty Hawk, CV-63.
1977-1978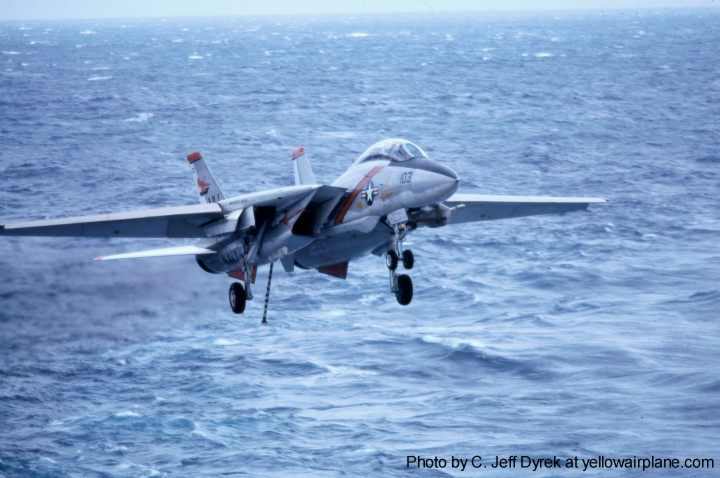 Photo by C. Jeff Dyrek
A Letter from Mike Perkins, One or our readers,
Cat shots were loud and so were the recoveries. When the arresting cable was played out, it sounded like a thousand wildcats screaming in your ear at the same time. I slept in forward berthing under the bow cats. After awhile I could sleep through anything, even flight ops. I had an upper rack and that simple foam mattress was better than any posturepedic. I had also purchased a small black and white TV which I installed in my rack locker. I got some coax from one of the ships 0009199ALT="USS Forestal Aircraft Carrier model kit Photo" HSPACE=10 VSPACE=10 BORDER=2 height=133 width=300 align=RIGHT>company guys and over a period of days, usually during the night hours when no one was around, I used a splitter and tied into the ships cable system then ran approximately a hundred feet of the stuff, hiding it above ducting, inside cable and wire bundles, etc to the back of my rack. I was able to watch all of the ships programming, flight ops and what have you from the comfort of my rack.
0009199
USS Forrestal 1/400 Kit0009199

Build your own replica of the world's first super carrier with this detailed plastic kit. Ship measures 21¼" in length with a beam of 5". 195 pieces, assembly required. .....#0009199
<<< Previous Photo Next Photo >>>
To See All Exhibits in the Yellow Airplane Museum, Click Here.

Yellow Airplane Home Base

Airplane Books * Airplane Movies * * Airplane Models * Camaros for SaleAircraft Calendars * Jet Fighter Models * Flight Manuals

Exhibits * Museums * RC Boats * Ship Models * Sailing Ships

Tanks * Military Vehicles * * * Action Figures * Train Sets * Railroad Books * Real Sports Cars for Sale * ; Real Sports Cars for Sale * Adventures * Survival Equipment More Aviation Art * More Models *
Click Here for a list of WW2 Fighter Groups
Click Here to go to the YellowAirplane Online Museum
Look at these exhibits and tell me what these men really fought for.
the 34th fighter Squadron USS Kitty Hawk
About the Webmaster, Why God Send Me to the North Pole

Click her to see how I have to live and what it looks like to be a disabled Vet.
Avitop.com Aviation banner exchange - Join now!
/pics/CV63_F14_8.html|13629"