www.YellowAirplane.com
Photo of the Webmaster
standing in front of an F-14 Tomcat
from VF-114 the Flying Aardvarks.
the Flying Aardvarks from VF-114
on the deck of the aircraft carrier USS Kitty Hawk, CV63 1977-1978.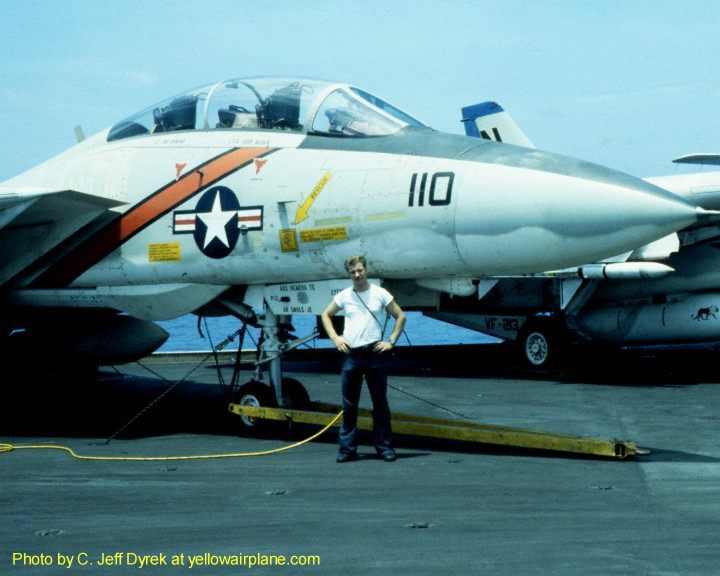 Photo by C. Jeff Dyrek
Jeff,
Hope your day is going well. Your website is the best CV-63 and VF-114 site I have seen, but I am trying to get in touch with my shipmates from the 77-78 cruise. I was a plane captain for VF-114 and based at Miramar with the Aardvarks. Any suggestions on sites or resources to find some old buddies.
Mark Platt
AD-3 VF-114
Mark Platt <Send a Letter to Mark Platt>
10 June 2008
Hi Jeff, I found your web site by chance. I was a plane captain on the '77-'78 westpac. . I served with Gary Guevin, Steve Lanius, Tom Demers, Randy Helea, Mike Noonan, Tom Johnson and many others. I made 3rd Class on that cruise. Tell me about yourself as I can't remember you and I do not remember your face from the picture. Maybe I have Alzheimer's. We had a great crew and we all got along great. I think of the guys alot and pray for them often.
Kevin McGuire
Mpls. MN
kevin.mcguire@target.com
I beg to differ with you about the first deployment of the F-14 Tomcat, but it was most definitely NOT the 77-78 Kitty Hawk cruise. I was on the cruise that had the first deployment of F-14s. It was the 1974-75 deployment of the USS Enterprise, CV(N)-65, and the Tomcat squadrons that deployed on the Big "E" were VF-1 and VF-2. I was an AT with the Rooks of VAQ-137 on that cruise.

The 1974-75 cruise was most notable for its end... the evacuation of Saigon, A.K.A. Operation Frequent Wind. We were tasked with flying air cover for the evacuation on Saigon, so I would assume that the F-14 flew its first combat missions at that time.

This is not to diminish anything about the USS Kitty Hawk, however. I served on her on the 1981 cruise, this time with the Black Ravens of VAQ-135. I was assigned to AIMD, working in the VANS... the trailers hung from the overhead in the forward section of hangar bay 1 that housed the test benches for the ECM gear of the EA-6B. It was nice work, as the test benches required to be kept at about 65º F. This meant that the trailers were at a comfortable temperature for wearing shirt-sleeves at all times (in fact, some times we had to wear our working jackets, even as the guys on the flight deck were soaked with sweat!)

I also was a DJ on KHWK-FM, the ship's radio station. I covered the "AM Drive" time slot from 7-10 AM with the "Dawn Treader" show, a top 40 and oldies mix. It was my first experience on radio, but not my last, for sure!

Otherwise, the website, what I've seen of it, is great. I'm going to bookmark it and wander through it at my leisure. Thank you for all your work.

Regards,
Ed Senior
Former AT-1
That's right, this plane is not only called a F-14 Tomcat, it is also called an Aardvark. Aardvark refers to the squadron name which in this case is VF-114. The F-14 behind this F-14 Aardvark is one from the squadron VF-213, they were called the Black Lions. As you continue looking at this site you will see a good photo of the Aardvark painted on the tail.
The 1977-1978 deployment of the USS Kitty Hawk hosted the first West-Pac deployment of the F-14's. We were very lucky to have these fine planes on our ship. They were very powerful and a thrill to watch. Error Corrections Thanks to Kevin W. Graham
Hi Jeff,
Looking at your pictures brought back alot of memories. I was there, on that flight deck. I worked in the Line Div. as a Plane Captain. Matter of fact I remember I made 3rd class PO on that West Pac cruise. I remember all the press and hubbub in Japan, when we arrived with the first F14's they'd ever seen. Anyway the pictures are great. That cruise is approaching its 25th anniversary this December right? Heard from any of the other guys from that cruise? Anyway thanks again for your website.
Gary Guevin (formally AMH3 Guevin)
<<< Previous Photo Next Photo >>>
Look at This VF-114 F-4 Phantom from LCDR Mike Purcell
North Pole Expedition 2003 Exhibit

Click on a Photo Above to Purchase that Item
To See All Exhibits in the Yellow Airplane Museum, Click Here.

F-14 Books F-14 Movies F-14 Models

F-14 Tomcat Balsa Wood Kit
This unique balsa and tissue kit offers an interesting alternative for jet fighter kit building. Built as a "skeleton" model, it makes an impressive display piece. Tissue covered and decorated with decal insignia, it is an eye-catching replica of its namesake. 1/40 scale kit has a 19" wingspan when completed. Assembly required.


F-14A Tomcat 1/48 Kit

The Navy's most powerful fighter has been flying from the decks of the fleet for over 20 years. This plastic kit features an F-14 upgraded to A-plus specs with Phoenix missiles, an extended crew ladder, and authentic fleet markings. Skill level 2, 155 pieces and approx. 14" in length.
Other F-14 Tomcat links
The F-14A Central Air Data Computer Microprocessor
"a 20-bit, pipelined, parallel multi-microprocessor"
The World's First Microprocessor Chip Set
Designed and Developed 1968-1970
| | |
| --- | --- |
| Manufacturer | Grumman |
| Length | 62'8" |
| Height | 16' |
| Span | 64'2" |
| Area | 565 sq. ft. |
| Empty Weight | 40,100 lbs. |
| Max. Weight | 74,4350 lbs. |
| Engines | 2 |
| Power plant | Pratt & Whitney TF30 |
| Thrust | 41,800 lbs. Both engines on AB |
| Max. Speed | 1,345 kts 1,545 mph |
Click Here for a list of WW2 Fighter Groups
Click Here to go to the YellowAirplane Online Museum
Look at these exhibits and tell me what these men really fought for.
the 34th fighter Squadron USS Kitty Hawk
About the Webmaster, Why God Send Me to the North Pole

Click her to see how I have to live and what it looks like to be a disabled Vet.
/pics/CV63_F14.htm|4241"