YellowAirplane.com
EA-6B Prowler US Navy Jet Fighter
A picture of an EA-6B Prowler
on the deck of the aircraft carrier
USS Kitty Hawk, CV-63
1977-1978.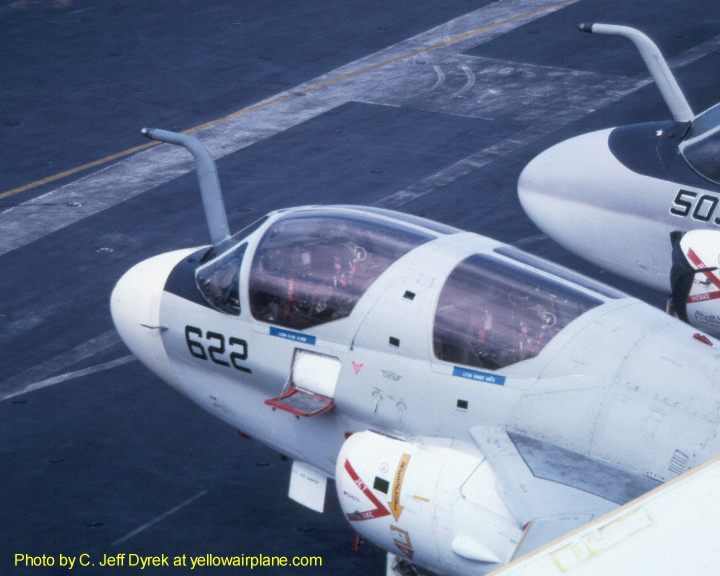 Photo by C. Jeff Dyrek
The EA6B Prowler is strictly built for electronic countermeasures and electronic warfare. You can see that it is built to seat 4 crew members. This aircraft was very classified and high tech. The big thing sticking out above the nose is a fuel boom. Take a close look at the canopy. you can see a slightly golden tint in the windshield. This is because the windshield actually had gold impregnated into it. In real life the gold tint is much more evident. I was told that these special windshields were 500,000 each. The gold was used to protect the sensitive electronic equipment inside.

EA-6B Prowler Model Kit, Click the Picture

0009229ALT="EA-6B Prowler 1/72 Model Airplane Kit" HSPACE=10 VSPACE=10 BORDER=2 height=105 width=250 align=RIGHT>
The gold tint you mention was not used to protect electronic equipment inside the cockpit, it was used to protect the pilots from the radiation produced by the ECM pods. (The pods were hung under the wing or belly hardpoints and were recognizable by the small prop on the front). The aircraft itself had a weight on wheels switch which prevented activation of the pods while on deck. The reason being that if they did activate, anyone with-in range would be cooked from the inside out - much like what being inside a microwave oven would be. Also, on the Vigilante, if you recall, they always placed rubber protective strips along the trailing edges of the rear horizontal stabilizers. The reason was that the trailing edge was so sharp a person could cut themselves if they happened to bump into it.

I was on the cruise also. Worked in Airframes Shop, VA-52 Knightriders. AMH1 M. M. Perkins (1974-1982) Go Navy!!

I was viewing your web page and i read where you said you don't believe the prowler has weapons. The fact is it can hold up to 4 HARM missiles ( high speed anti-radiation missiles) theses missiles can be placed on stations 1,2,4,5 they are used to take out enemy radar. iserved 4 years in the navy working on the prowler.

Sincerely

AD3 Rick K Williams

Click here for A-6 Intruder and Prowler Books.

Click Here for A-6 Intruder and Prowler Models

Click Here for A-6 Intruder Aviation Art.
<<< Previous Photo
Next Photo >>>
To See All Exhibits in the Yellow Airplane Museum, Click Here.

Yellow Airplane Home Base

Airplane Books * Airplane Movies * * Airplane Models * Camaros for SaleAircraft Calendars * Jet Fighter Models * Flight Manuals

Exhibits * Museums * RC Boats * Ship Models * Sailing Ships

Tanks * Military Vehicles * * * Action Figures *

( Train Sets * Railroad Books * Real Sports Cars for Sale * * Real Sports Cars for Sale * Adventures * Survival Equipment
* *
More Aviation Art * More Models *
Specifications of the EA-6B Prowler

Please note that these specs are only for one version of the A-6. Newer versions have more power and different electronics configurations.

Manufacturer
Grumman
Length
59'10"
Height
16'3"
Span
53'0"
Area
529 sq. ft.
Empty Weight
32160 lbs
Max Weight
65000
Engines
2
Powerplant
Pratt & Whitney J52-P-8A
Thrust
9300 lbs each
Range
1628 N Miles
Cruise Speed
482 kts
Max Speed
658 kts
EA-6B Books
A-6 Movies
A-6 Intruder Models
Click Here for a list of WW2 Fighter Groups
Click Here to go to the YellowAirplane Online Museum
Look at these exhibits and tell me what these men really fought for.
the 34th fighter Squadron USS Kitty Hawk
About the Webmaster, Why God Send Me to the North Pole
/pics/CV63_A6_2.htm|6707"