www.YellowAirplane.com
UnRep, an Underway Replenishment
USS Kitty Hawk Aircraft Carrier Photo.
Refueling and Re-supply activities
on the aircraft carrier USS Kitty Hawk, CV-63.
1977-1978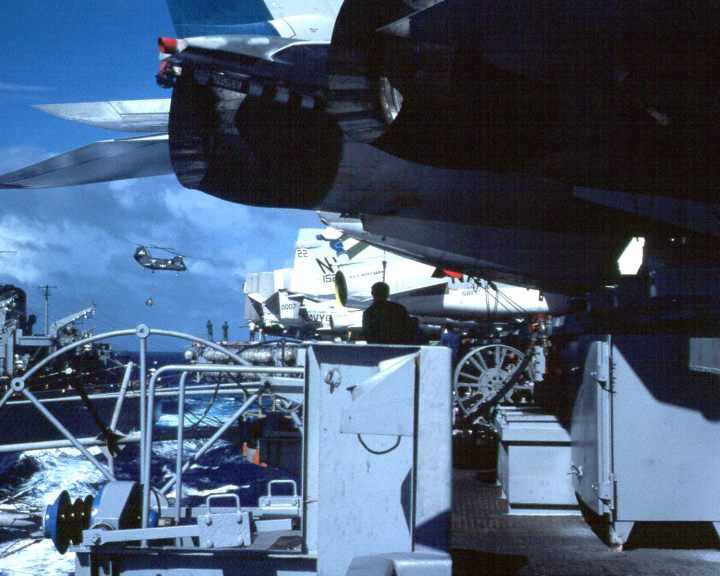 Photo by C. Jeff Dyrek
Airplane Books Airplane Movies Airplane Models Camaros for Sale
A view from the catwalk as operations begin. At this time the Kitty Hawk is having an Un-Rep (Underway Replenishment.
An UnRep is the means that the ship replenishes its supplies.. Refuel and Re-supply 's. Take a look at the ship to the left. This is the USS Sacramento, AOE-1. The Sacramento has fuel hoses coming to the Kitty Hawk carrying0009768ALT="USS Enterprise 1/700 plastic model Kit photo" HSPACE=10 VSPACE=10 BORDER=2 height=125 width=365 align=RIGHT> jet fuel for the aircraft and diesel fuel for our boilers. At the same time there are usually two helicopters carrying food and sodas from the Sacramento to our flight deck. Sometimes personnel are transferred by hanging a basket from a cable and pulling them from one ship to the other.

One thing about the sodas. We drink a lot of sodas. Sodas are also treated like gold much as like in prisons, prisoners use cigarettes for money. Many of the maintenance shops on the Kitty Hawk would have their own refrigerators where we kept our sodas. It was customary to write your name on a piece of tape and stick it on the soda before you put it in the refrigerator.

If you needed a soda, and you didn't have one in the refrigerator, you many times had to stand in line for twenty minutes just to buy one from the soda machines. This is why we treated them like gold. It was terrible to go and have to stand in line to get a soda.
<<< Previous Photo Next Photo >>>
To See All Exhibits in the Yellow Airplane Museum, Click Here.

Yellow Airplane Home Base

Airplane Books * Airplane Movies * * Airplane Models * Camaros for SaleAircraft Calendars * Jet Fighter Models * Flight Manuals

Exhibits * Museums * RC Boats * Ship Models * Sailing Ships

Tanks * Military Vehicles * * * Action Figures * Train Sets * Railroad Books * Real Sports Cars for Sale * ; Real Sports Cars for Sale * Adventures * Survival Equipment More Aviation Art * More Models *
Click Here to go to the YellowAirplane Online Museum
Look at these exhibits and tell me what these men really fought for.
the 34th fighter Squadron USS Kitty Hawk
About the Webmaster, Why God Send Me to the North Pole
Avitop.com Aviation banner exchange - Join now!
/pics/CV-63_Flight_Deck_11.html|46319"